The 25G WDM Transponder Supports Eight Flexible SFP28/SFP+ ports Suitable for Wavelength Conversion and the Transferring Application.

The 25G WDM converter can be used as a transponder or as a repeater and regenerator. It provides a range of options for repeating optical data signals, converting them to other optical or electrical formats, or combining multiple fibers onto a single fiber. With transparent bi-directional forwarding capability between the 2 fiber media, the 25G WDM transponder can be deployed in 10G optical network or 25G optical network, which brings you the best and simplest solution for Metro, Regional and Long Haul WDM optical networks.
Product Details
| | | | |
| --- | --- | --- | --- |
| Transmission Speed | 8Gbps to 28.1Gbps | SMSR | >30W |
| Interface Type | SFP28/SFP+ | Transceiver Slot Number | 8 |
| Equipment Function | 3R Repeater | FMT Chassis Dimensions (HxWxD) | 1.75"x19"x11.81" (44.5x482.6x300mm) |
| Power Consumption | <20W | Housing | Pluggable Module (Occupies 1 slot in FMT chassis) |
| Operation Temperature | 0 ~ 50°C | Storage Temperature | -10 ~ 70°C |
| | | | |
---
Product Spotlight
8Gbps to 28.1Gbps Transparent Transponder

Suitable for Ethernet, SDH, Fiber Channel, and others
Wavelength Conversion for WDM Network

Convert Ethernet signal into the corresponding WDM wavelength
Fiber-Type Conversion

Support conversions from multimode fiber to single mode fiber, dual fiber to single fiber
Function as Fiber Repeater

Convert the weak optical signal into the strong optical signal for long distance transmission
Hot-Swappable

Replacing/adding components without stopping or shutting down the system
Self-developed Management System

Allow the network administrator to configure/monitor the status of line cards
---
Resources
Multi-type Business Solution

Learn more


Explore the New Generation of Our FMT Series

Watch video


---
Product Hightlights
4 Channels 25G Multi-Rate WDM Transponder OEO 3R Repeater
Functions as fiber mode converter or fiber repeater for long distance transmission
Allows SR, LR, CWDM, DWDM, bi-directional and other transmission types
8Gbps to 28.1Gbps Transparent Transponders for Ethernet, SDH , Fiber Channel, and others

---
Excellent Transponder Supporting Wavelength Conversion for WDM Networks
The optical transponder can convert 8G~28.1Gbps Ethernet signals into a corresponding wavelength in CWDM and DWDM network infrastructures. It enables network operators to implement a wide range of media conversions in a compact and flexible design.

---
Optical Transponder for Fiber-Type Conversion and Optical Repeating
The optical transponder can be deployed in the seamless integration of different fiber types by converting multimode fiber to single-mode fiber, dual fiber to single fiber, and it can also be used as a repeater to convert the weak optical signals into the strong optical signal for continuous transmission.

---
Application of the 100G Data Rate Transmission
25G Transponder (OEO) can convert incoming optical signals into precise ITU-standard wavelengths. With 100G QSFP28 to 4x SFP28 AOC (Active Optical Cable), one 100G optical signal can be broken out into 4x 25G signals, and then the 25G OEO will convert them into the corresponding CWDM/DWDM wavelengths to achieve the 100G transmission.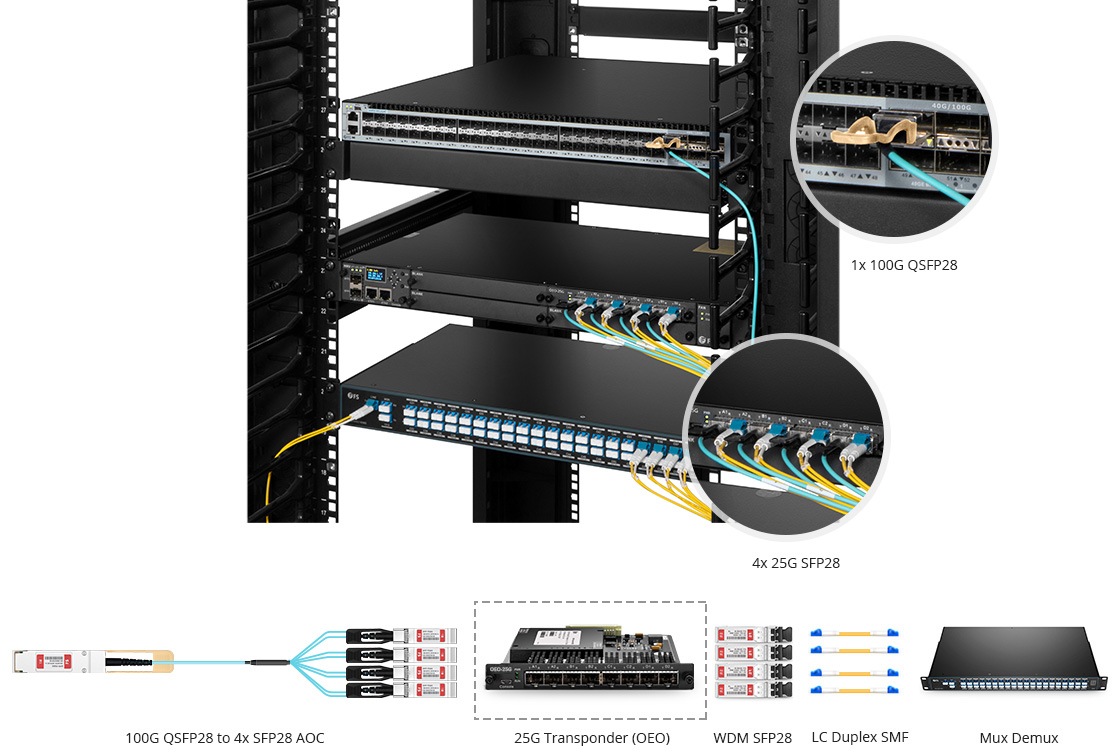 

40 Channels C21-C60, with 1310nm Port and Monitor Port, LC/UPC, Dual Fiber DWDM Mux Demux, FMU 1U Rack Mount
US$ 1,690.00


S5850-48S2Q4C 48-Port 10Gb SFP+ L2/L3 Carrier Grade Switch with 6 Hybrid 40Gb/100Gb Uplink Ports
US$ 5,700.00

1m (3ft) Cisco QSFP-4SFP25G-AOC1M Compatible 100G QSFP28 to 4x25G SFP28 Breakout Active Optical Cable
US$ 445.00


1U Managed Chassis Unloaded, Supports up to 4x EDFA/OEO/OLP Module with Accessories
US$ 370.00


1m (3ft) LC UPC to LC UPC Duplex OS2 Single Mode PVC (OFNR) 2.0mm Fiber Optic Patch Cable
US$ 3.90

Cisco C21 DWDM-SFP25G-60.61 Compatible 25G DWDM SFP28 100GHz 1560.61nm 10km DOM Transceiver Module
US$ 700.00


4 Channels Multi-Rate 25G WDM Converter (Transponder), 8 SFP28/SFP+ Slots, Up to 28.1G Rate, Pluggable Module for FMT Multi-Service Transport Platform
US$ 2,100.00
---
Available for All-in-One Multi-Service Transport System
As a part of multi-service transport system, hot-swappable pluggable OEO card only occupies 1 slot in the 1U/2U/4U chassis.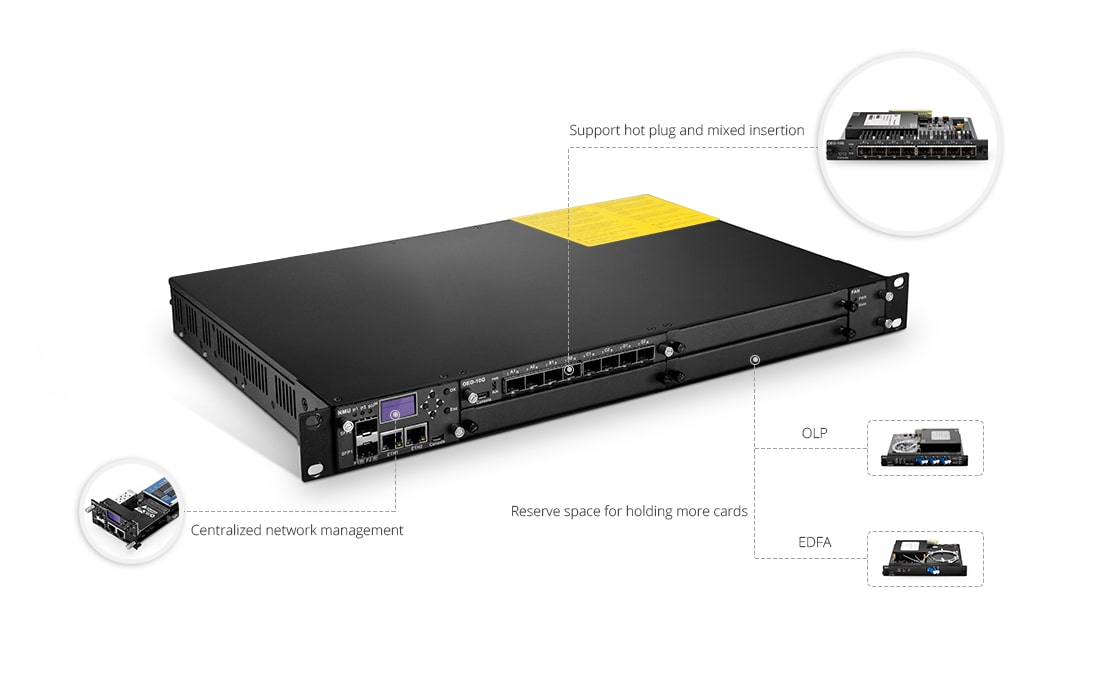 ---
Comprehensive Management System Built to Reduce Complexity
Our Monitor Online based on SNMP is a user-friendly and remote network management system. It monitors network performance, and provisioning, provides fault notification status, etc. The management system simplifies provisioning of complex networks and services that address today's and tomorrow's network management challenges.

Tips:
•FS professional technical support team offers you gratis solution 24/7 online.
•FS always focuses on design, R&D, innovation to provide you optical products. Welcome to contact
tech@fs.com
or
sales@fs.com.
---