40ch C21-C60 Dual Fiber DWDM Mux Demux, AAWG, with 1310nm and Monitor Port

The 40ch Mux Demux is a high density, low loss and standalone passive optical module. It is based on a-thermal AWG technology with Gaussian shaped pass bands. By providing access up to forty 100GHz spaced channels in a 1U package, this unit maximizes the capacity of the C-band range. In conjunction with the transponders and amplifiers, the 40ch mux demux supports a wide range of architectures from simple point-to-point to amplified ring configurations.
Product Details
Wavelength
40 channels C21-C60
Channel Spacing
100GHz (0.8 nm)
1310nm Port Pass Band Width
1260nm~1360nm
Channel Passband
±0.11 nm
Center Wavelength Accuracy
±0.05 nm
Insertion Loss
≤ 5.0 dB, 3.5 dB typical
(with connectors and adapters)
Insertion Loss @ 1% Mon
≤ 26 dB (with connectors and adapters)
Insertion Loss @ 1310 port
≤ 1.5 dB (with connectors and adapters)
Technology
AAWG (Gaussian)
Adjacent channel Isolation
≥ 25 dB
Non-adjacent channel Isolation
≥ 29 dB
Return Loss
≥ 40 dB
Directivity
≥ 40 dB
Polarization Dependent Loss
≤ 0.5 dB
Polarization Mode Dispersion
≤ 0.5 ps
Dimensions (HxWxD)
1.73"x19"x10.28" (44x481.8x261.2mm)
Operating Temperature
-5°C~+65°C
Storage Temperature
-40°C~+85°C
Quality Certification
Quality and standards are the foundation of FS.COM. We are dedicated to providing customers with the outstanding, standards-compliant products and services.
FS.COM has passed many quality system verification, like ISO9001, CE, RoHS, FCC, established an internationally standardized quality assurance system and strictly implemented standardized management and control in the course of design, development, production, installation and service.
Lifetime Warranty
All the fiber optic products in FS.COM are fully warranted against defects in material and workmanship with a lifetime guarantee. This warranty does not cover damage caused by accident, improper care, improper use, negligence, normal wear and tear, or the natural breakdown of colors and materials over extended time and use .
---
500Gbps DWDM Network Service by Overlaying 10Gbps DWDM with 100Gbps
Additional 100G link (by 100G QSFP28) over a 1310nm band pass port on the existing 40 channel 100GHz DWDM passive multiplexer. Totally 500Gbps per fiber pair without effecting the legacy installation.

| Item No. | ID# | Description |
| --- | --- | --- |
| 1 | 29124 | S5850-48S2Q4C (48*10GE+2*40GE+4*100GE) Carrier Grade 100G-uplink Switch |
| 2 | 31238 | 10G DWDM SFP+ C21-60 80km DOM Transceiver |
| 3 | 40191 | 1m LC UPC to LC UPC Duplex 2.0mm PVC 9/125 Single Mode Fiber Patch Cable |
| 4 | 35887 | 40 Channels C21-C60 Dual Fiber DWDM Mux Demux, with 1310nm Port for 40G/100G LR4 |
| 5 | 69350 | 10dB Gain 1310nm Semiconductor Optical Amplifier |
| 6 | 39025 | 100GBASE-LR4 QSFP28 1310nm 10km DOM Transceiver Module |
Product Highlights
FS Low Insertion Loss DWDM Mux/Demux Solution
---
Mux/Demux 40 Channels over Dual Fiber
Built-in Mux and Demux in one unit,working on two network fibers
Completely passive, no power& no cooling required
Fully compatible with all ITU-T DWDM optics

---
3.5dB IL - Advanced AAWG Gaussian Monolithic Technology
Adopting high quality AAWG Gaussian technology, this DWDM Mux provide low insertion loss, excellent channel isolation, ease of fiber handling, and long-term reliability in a compact package, which is the ideal devices for systems requiring high channel counts, superior performance and low cost.

---
Special Service
Monitor/1310nm port for external functions.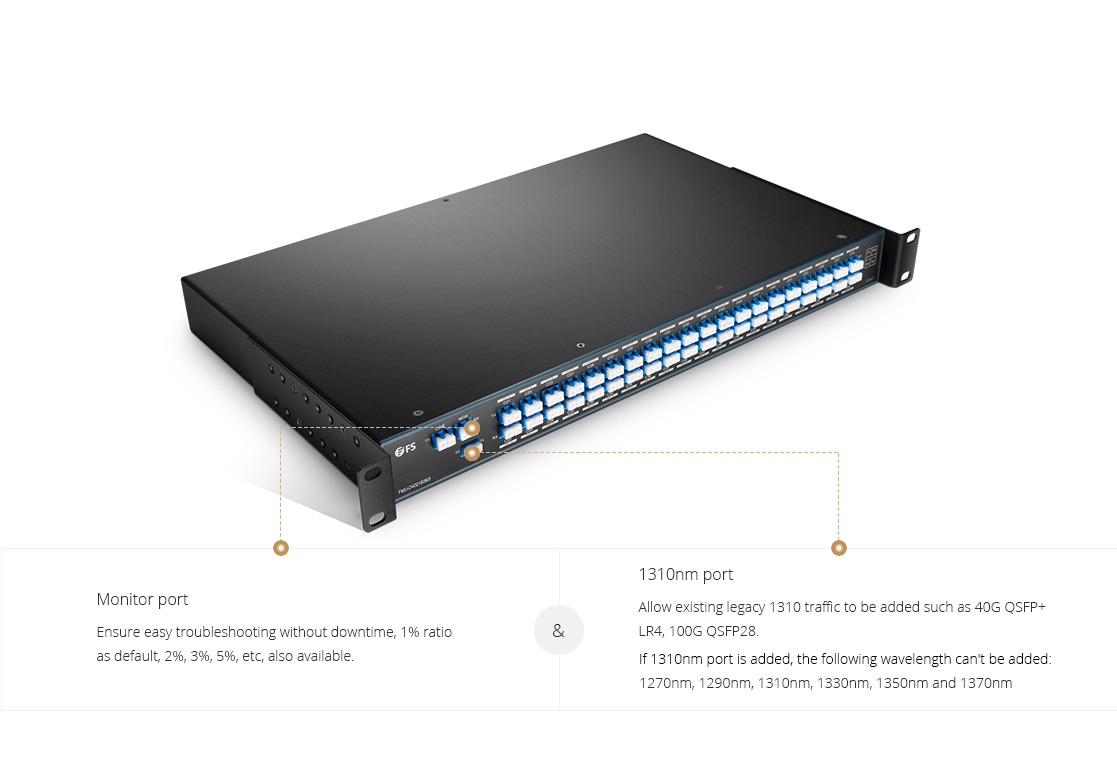 ---
Monitor Port for Easy Troubleshooting without Affecting Traffic
Two different links for monitoring can be provided. Usually at a split of 1% (2%, 3%, 5% also available).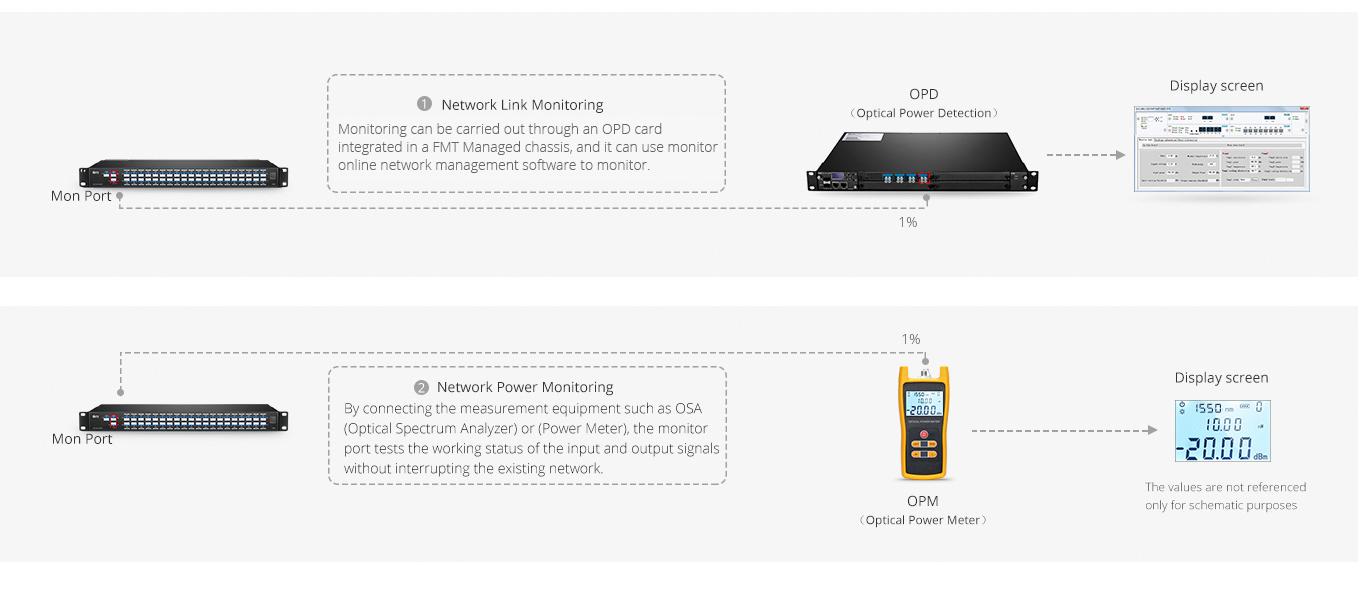 ---
Remarkable Concentration and Manageability
Mux/Demux can increase your network capacity combined with FS Multiservice Transport (such as EDFA, DCM, OEO and so on), which can improve the manageability and interconnectivity of WDM Network.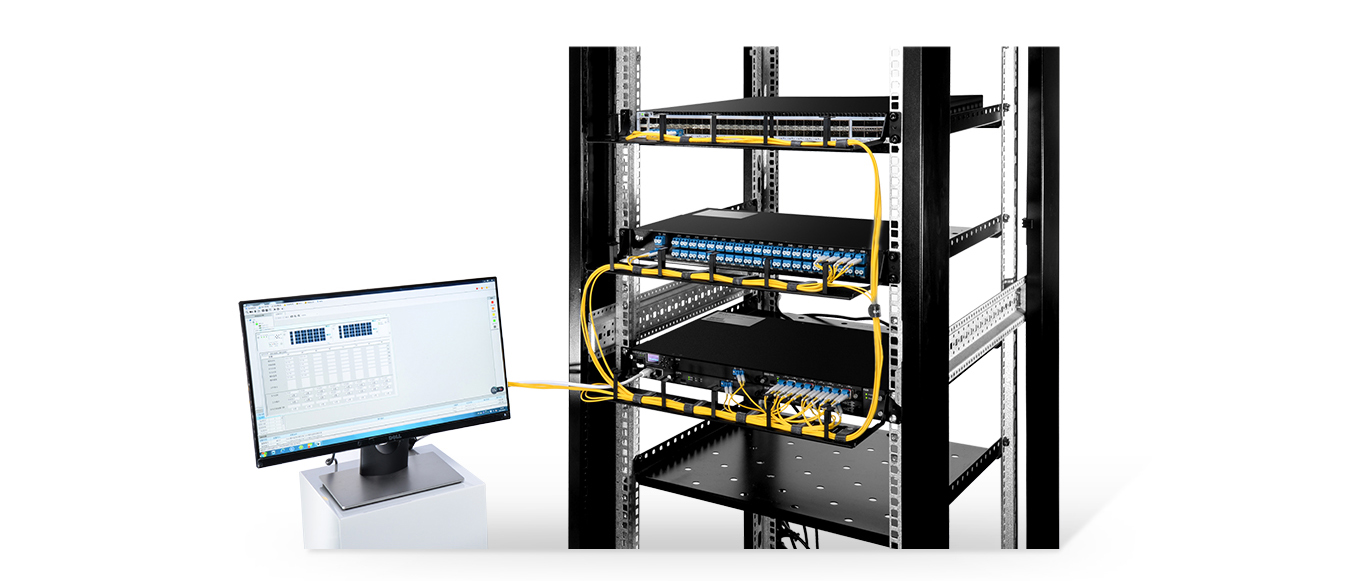 ---
Simple to Test and Maintenance
Taking just several seconds to complete all loss or power measurements and easy to interpret test results with minimal navigation.
Fiber Optic Cleaning is a essential accessory to maintain and guarantee good quality of fiber optic connection.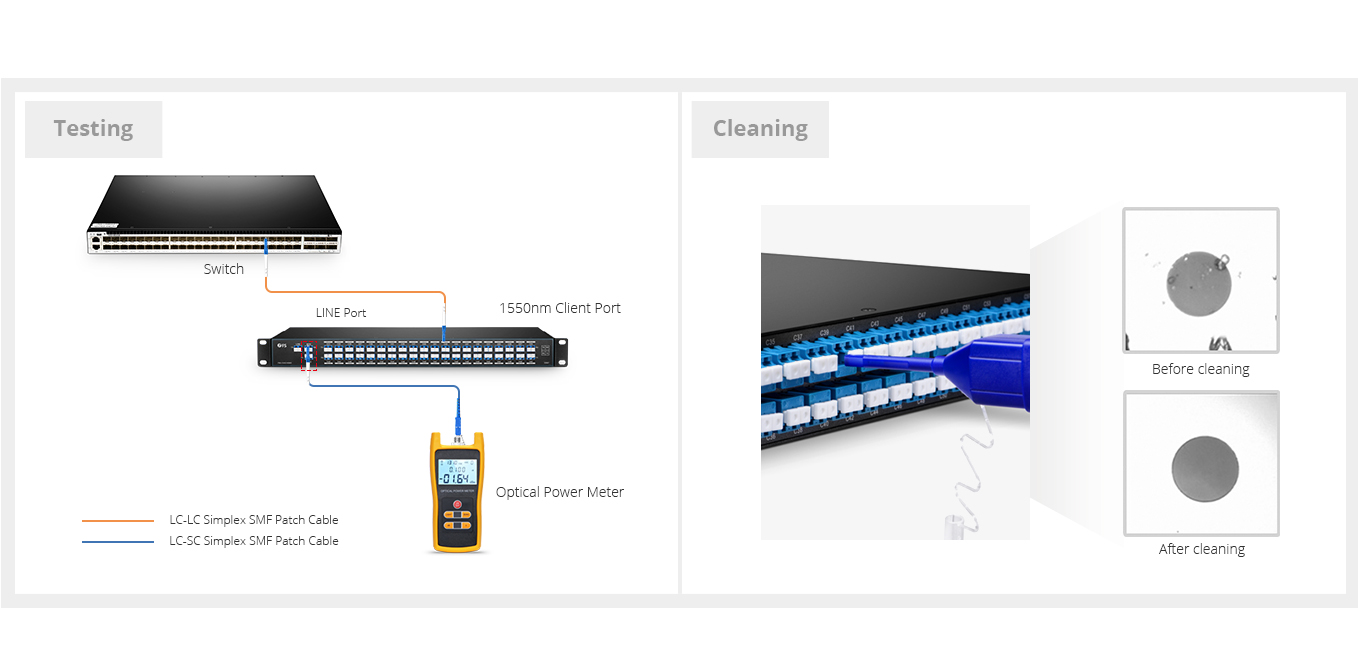 Tips
• DWDM is an optical multiplexing technology used to increase bandwidth over existing fiber networks.
• When it is not in use, please always capped with a clean dust cap, and always keep adapter ports and fiber connectors clean.
• Attached sticker describes the specifications of MUX, which improves deployment flexibility for your WDM system.
• FS.COM always focus on design, R&D, innovation to provide you optimal products. Welcome to contact
tech@fs.com
or
sales@fs.com
.