Purchase Order - A Good Choice for Your Business
A purchase order(PO) is a legally binding document between purchasers and suppliers. It should define every single detail of the purchase, such as quantities, agreed prices, delivery date,
and so on. Under an agreed payment term & condition, purchase orders from purchasers are accepted by suppliers and allow purchasers to buy and receive products or services without immediate payment.
FS now offers standard Net 30 term for purchase orders to approved businesses. Other payment terms such as Net 15, Net 45, etc, are also available per your business requests.
Lower Budget & Internal Control

Delaying cash outflows, companies are better able to manage budgets, understand costs, proactively run projects and meet their financial obligations.

Improved Efficiency & Accuracy

Purchase order systems make the purchasing process more efficient, and allow for better shopping experience, faster delivery and security of payment.

Enhanced Approval Process

FS has a multi-step approval process of purchase orders. The effective usage of PO is a gateway to new opportunities and a vital component to a successful business.

Who Qualifies?

A purchase order mainly works for commercial sales in which the company has solid commercial credit in purchasing, such as school, government and fortune 500 companies, etc.
How Does a Purchase Order Work?
The option to pay via purchase order will appear at check out once a credit account, such as Net 30, has been approved. No matter if it's an online or offline purchase, Net 30 credit account
gets your purchase orders completed successfully, And you just need to remit the payment for the order within the agreed upon 30 days from shipping.
Place a Purchase Order Online
Our online purchase order keeps you in sync anywhere you go.
Simply create a purchase order, choose purchase order payment at your check out, and wait for the delivery of your order.
--Steps
1. Add the products you need into the cart with your FS Account.
2. When you check out, choose "Purchase Order" payment method for the order.
3. Upload your PO file and fill out the PO number for our review.
4. We will process your PO accordingly.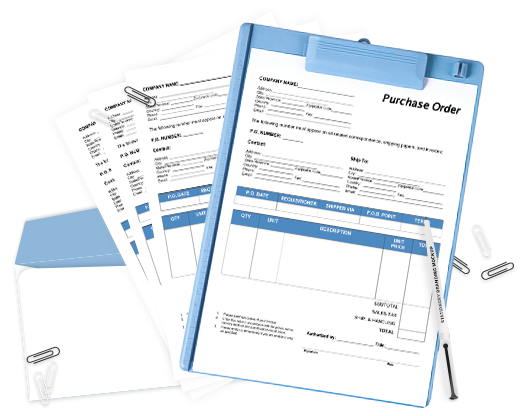 Place a Purchase Order Offline
Offline purchase order is here for you when you do not want to place your purchase order online.
Just confirm every detail about your purchasing, and then send your purchase order to your assigned account manager.
--Steps
1. Confirm all details about your purchasing via emails, such as products, quantities, and prices.
2. Send your PO file to your account manager for review.
3. Your account manager will confirm your PO and send the PI back to you.
4. We will process your PO accordingly.
Apply for Net 30 for Your Purchase Orders
Net 30 is our standard payment term for purchase orders. FS can also provide other payment terms, such as Net 15, Net 45, etc, and contact us for more details.
Apply for a Net 30 account by contacting
your account manager or sending an email to
Finance@fs.com or calling +1 (888) 468 7419.

Download a credit application form, provide
credit reference and at least three Net 30
trade references with other companies.

Submit the information to FS and wait
for the approved credit account.

Start purchasing now with your Net 30 credit
account.
The Easier Way to Get Your Purchase Orders Paid
All amounts of purchase orders placed with FS shall be due and payable within term days(eg: 30 days) from shipping. FS can support different payment methods, like
Paypal, Credit Card, Bank Transfer, Check and etc. For more payment method details, you can visit our Payment Methods or contact your account manager for help.
About Deferred Payment
If the purchaser has a reason of force majeure and informed FS.COM in written notice before due date, the payment can be deferred to 15 calendar days after the due date.
If the purchaser fails to make any payment within 15 calendar days after due date without prejudice to any other right or remedy available to the FS.COM, FS.COM shall limit the purchaser's credit and be entitled to charge purchaser interest at the rate of one percent (1%) per month above base rate from time to time, until payment in full is made (a part of a month being treated as a full month for the purpose of calculating interest).
About Orders Which an After-sales Issue Is Arised
After the purchaser receives the goods, if an after-sales issue is caused by FS.COM, the purchaser is allowed to suspend the payment until the purchaser receives the repaired or replaced product.
If the after-sales issue is caused by the purchaser, the purchaser cannot refuse to pay for the order.
About Canceling the Order
If a purchase order is to be canceled, please inform your sales representative in advance in written notice. FS.COM will audit, give you feedback, and instruct you on the cancellation process.
If the order cancellation is caused by FS.COM (for example defect or wrong products received), the purchaser is allowed to cancel the order.
If the order cancellation is caused by the purchaser, and the purchaser has not formally stated and negotiated with FS.COM in advance, the order cannot be canceled.

A W-9 Form includes fields for a person or business entity to fill in their name and address as well as social security number (SSN) or employee identification number (EIN, also known as
a Federal Tax Identification Number).
FS W9 form can be provided if you need it.


W9 Form Download