S3900-24F4S 20-Port Gigabit Stackable SFP Managed Switch with 4 Combo SFP and 4 10Gb SFP+ Uplinks

S3900 series are advanced Layer 2 Plus (Layer 3 Lite) Gigabit managed stackable switches with 10G uplink perfect for Service Providers (ISPs) and Multiple System Operators (MSOs) to provide home users with triple-play services with up to Gigabit bandwidth. They are also the ideal Gigabit access and aggregation switch for SMB, enterprise, and campus networks. The S3900 series are designed with an advanced feature set that bring high availability, comprehensive security, robust multicast control, and advance QoS to the network edge, while maintaining simple management.
Product Details
| | | | |
| --- | --- | --- | --- |
| Switch Ports | 20x 1GB SFP, 4 Combo SFP and 4 10GB SFP+ Ports | Switch Chip | BCM56151 |
| MAC Address Table | 16K | Switching Capacity | 128Gbps |
| Jumbo Frames | 9KB | Forwarding Rate | 95Mpps |
| Flash Memory | 64MB | Input Power | 100-240V AC, 50/60 Hz |
| DDRIII Capacity | 512MB | Max Power Consumption | 43W |
| Stacking | Yes | Warranty | 4 Years |
Product Highlights
S3900 Gigabit Stackable Switch Stacking Tutorial
---
Performance and Scalability
• Up to 128Gbps/176Gbps switching capacity
• Delivers wire-speed switching performance on all Gigabit ports, taking full advantage of existing high-performance Gigabit CPEs, PCs,11n/ac Wi-Fi Applications etc, significantly improving the responsiveness of applications and file transfer times
• 4 built-in 10G SFP+ ports provide uplink flexibility, allowing the insertion of fiber or copper, Gigabit or 10G transceivers, to create up to 10 Gbps high-speed uplinks and stack links to enterprise or campus networks, reducing bottlenecks and increasing the performance of the access network
Reliability and Energy Efficiency
• The design incorporate high energy efficiency in order to reduce the impact on the environment
• The Green Ethernet power-saving features significantly reduce the power consumption
Robust Multicast Control
• IGMP snooping prevents the flooding of multicast traffic, multicast traffic is forwarded to only those ports associated with an IP multicast receiver
Superior Management
• Industry-standard command-line interface (CLI), accessed through the console port or Telnet
• User-friendly web interface helps to quickly and simply configure switches
Continuous Availability
• IEEE 802.1w Rapid Spanning Tree Protocol provides a loop-free network and redundant links
• IEEE 802.1s Multiple Spanning Tree Protocol runs STP per VLAN base, providing Layer 2 load sharing on redundant links up to 64 instances
---
Flexible Access Switches for Converged Enterprise Networks
Delivers the performance, flexibility, and scalability required for enterprise access deployment. Raising the bar with non-blocking performance and to create up to10 Gbps high-speed for uplinks or stacking.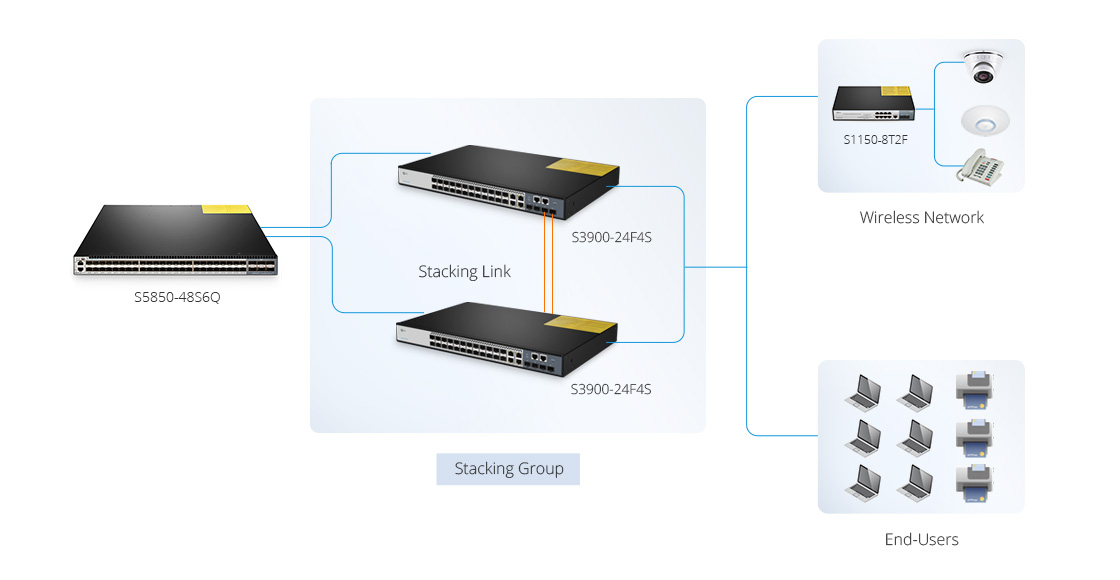 ---
High Performance Switch for Enterprise Networks
S3900-24F4S switch is Layer 2+ gigabit switch that provides fixed GE ports and 10 GE uplink ports. The physical stacking (up to 6 units) feature facilitates management for multiple switches with one single interface.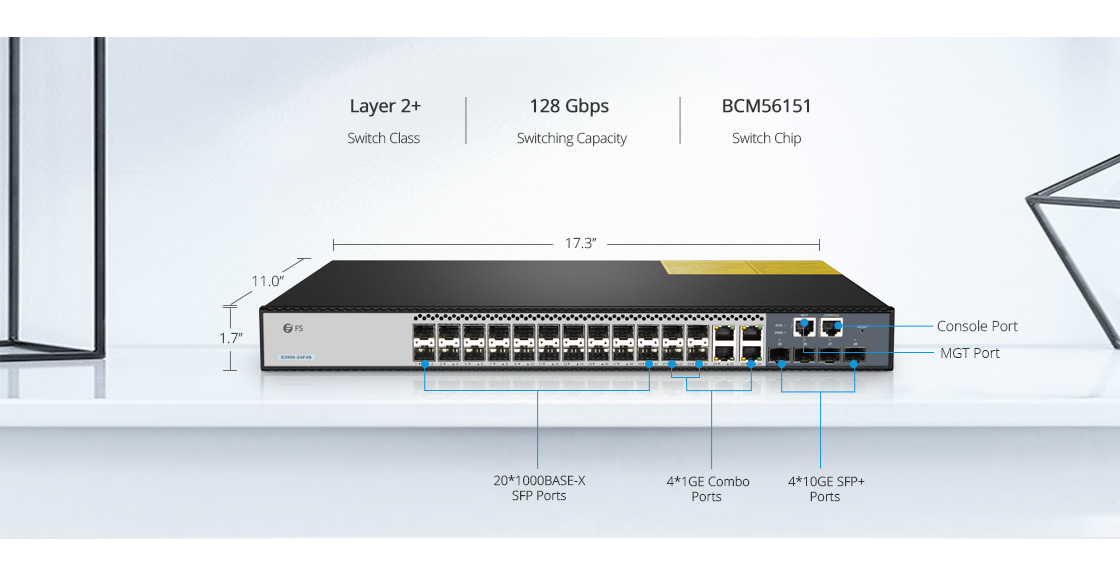 ---
Enhanced Network Reliability
S3900-24F4S switch offers 1+1 redundancy power, smart fans and low power comsuption to ensure high network reliability and availability.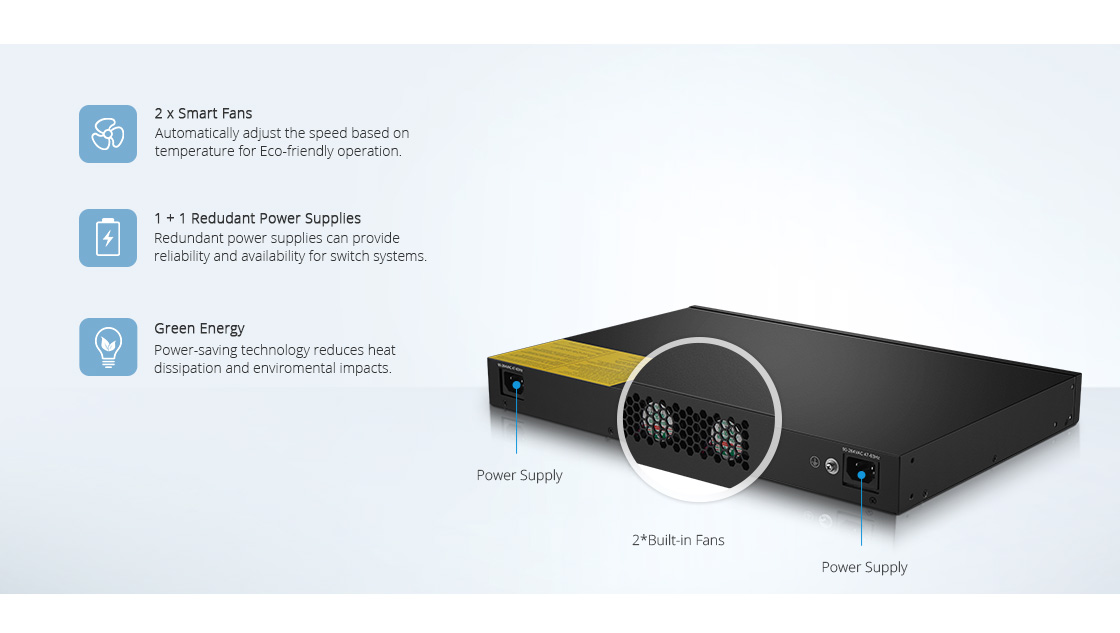 ---
User-friendly & Advanced Management
User-friendly web interface helps to quickly and simply configure switches. Industry-standard command-line interface (CLI), accessed through the console port or Telnet.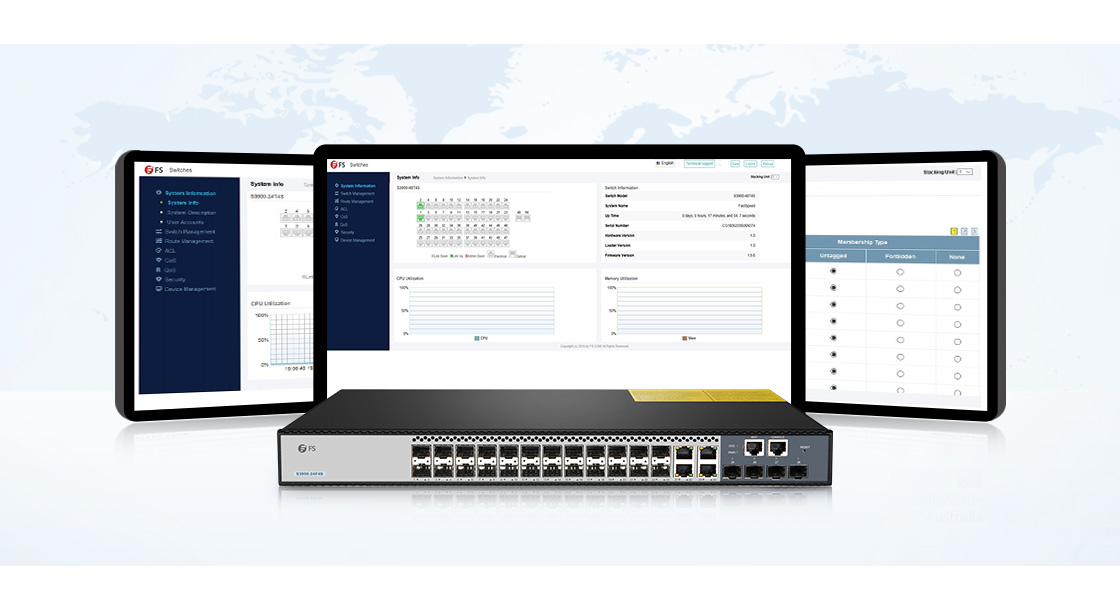 ---
S3900 Series Switches Performance Validation
S3900 Series switches are valid for the IETF RFC2544 standard, which provides an out-of-service benchmarking methodology to evaluate the performance of network devices using throughput, back-to-back, frame loss, and latency tests.

---
Accessories List
S3900-48T4S switch's accessories include--Console Cable*1, Ground Cable*1, Power Cable*2, Rack Mount Bracket*2, Bracket Screw*6, Rubber Pad*4, User Manual*1.