S3900-48T4S 48-Port 10/100/1000BASE-T Stackable Managed Switch with 4 10Gb SFP+ Uplinks

S3900-Series are advanced Layer 2 Plus (Layer 3 Lite) Gigabit managed stackable switches with 10G uplink perfect for Service Providers (ISPs) and Multiple System Operators (MSOs) to provide home users with triple-play services with up to Gigabit bandwidth. They are also the ideal Gigabit access and aggregation switch for SMB, enterprise, and campus networks. The S3900-Series is designed with an advanced feature set that bring high availability, comprehensive security, robust multicast control, and advance QoS to the network edge, while maintaining simple management.
Product Details
| | | | |
| --- | --- | --- | --- |
| Switch Ports | 48x 100/1000BASE-T, 4x 10GB SFP+ Ports | Switch Chip | BCM56150 |
| MAC Address Table | 16K | Switching Capacity | 176Gbps |
| Jumbo Frames | 9KB | Forwarding Rate | 130Mpps |
| Flash Memory | 64MB | Input Power | 100-240V AC, 50/60 Hz |
| Stacking | Yes | Max Power Consumption | 45W |
| DDRIII Capacity | 512MB | Warranty | 4 Years |
Product Highlights
S3900 Gigabit Stackable Switch Stacking Tutorial
---
Performance and Scalability
• Up to 128Gbps/176Gbps switching capacity
• Delivers wire-speed switching performance on all Gigabit ports, taking full advantage of existing high-performance Gigabit CPEs, PCs,11n/ac Wi-Fi Applications etc, significantly improving the responsiveness of applications and file transfer times
• 4 built-in 10G SFP+ ports provide uplink flexibility, allowing the insertion of fiber or copper, Gigabit or 10G transceivers, to create up to 10 Gbps high-speed uplinks and stack links to enterprise or campus networks, reducing bottlenecks and increasing the performance of the access network
Reliability and Energy Efficiency
• The design incorporate high energy efficiency in order to reduce the impact on the environment
• The Green Ethernet power-saving features significantly reduce the power consumption
Robust Multicast Control
• IGMP snooping prevents the flooding of multicast traffic, multicast traffic is forwarded to only those ports associated with an IP multicast receiver
Superior Management
• Industry-standard command-line interface (CLI), accessed through the console port or Telnet
• User-friendly web interface helps to quickly and simply configure switches
Continuous Availability
• IEEE 802.1w Rapid Spanning Tree Protocol provides a loop-free network and redundant links
• IEEE 802.1s Multiple Spanning Tree Protocol runs STP per VLAN base, providing Layer 2 load sharing on redundant links up to 64 instances
---
Flexible Access Switches for Converged Enterprise Networks
Delivers the performance, flexibility, and scalability required for enterprise access deployment. Raising the bar with non-blocking performance and to create up to10 Gbps high-speed for uplinks or stacking.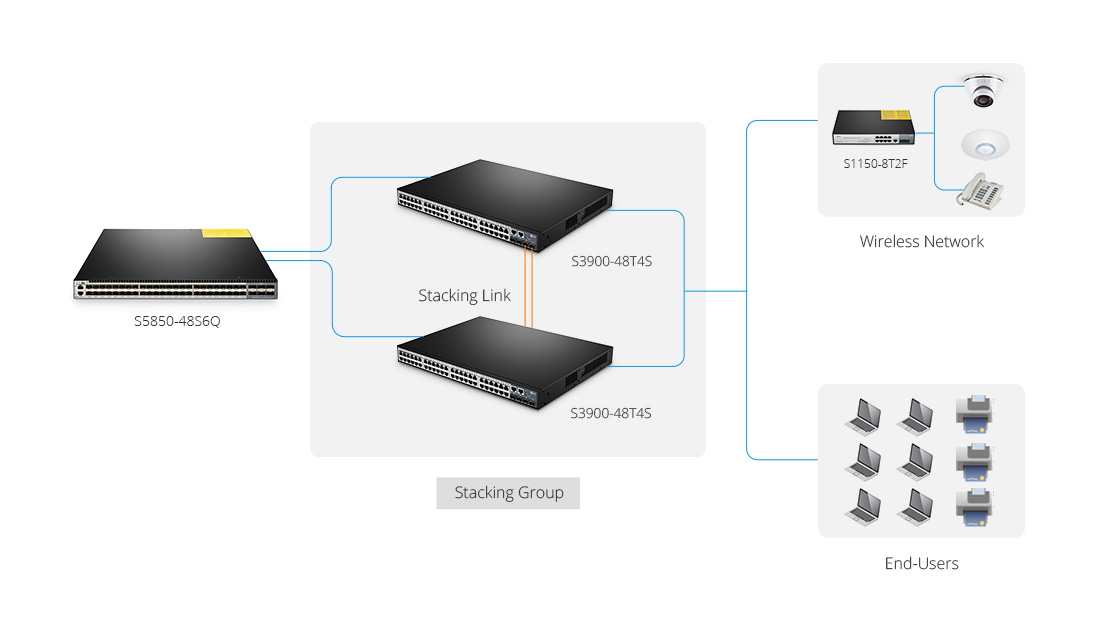 ---
High Performance Switch for Enterprise Networks
S3900-48T4S switch is Layer 2+ gigabit switch that provides fixed GE ports and 10 GE uplink ports. The physical stacking (up to 6 units) feature facilitates management for multiple switches with one single interface.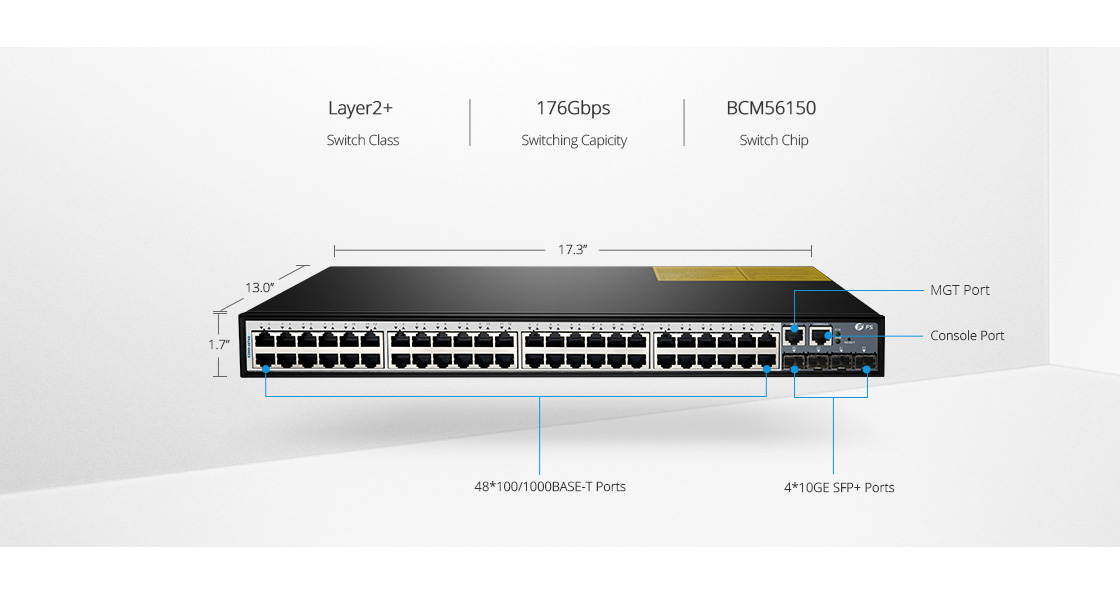 ---
Enhanced Network Reliability
S3900-48T4S switch offers 1+1 redundancy power, smart fan and low power comsuption to ensure high network reliability and availability.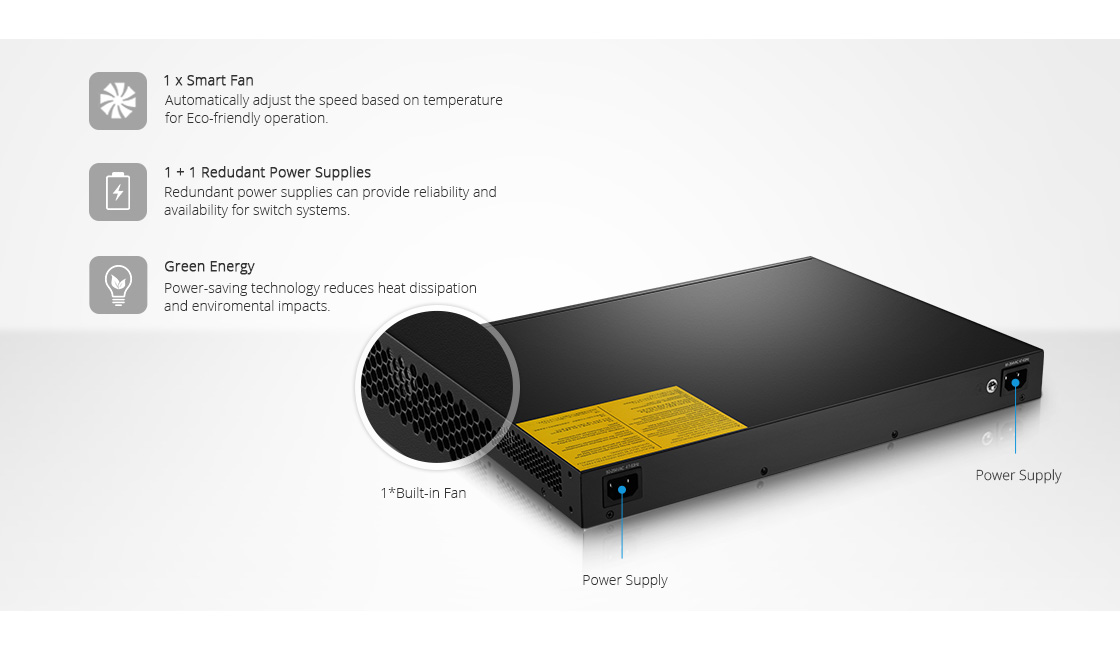 ---
User-friendly & Advanced Management
User-friendly web interface helps to quickly and simply configure switches. Industry-standard command-line interface (CLI), accessed through the console port or Telnet.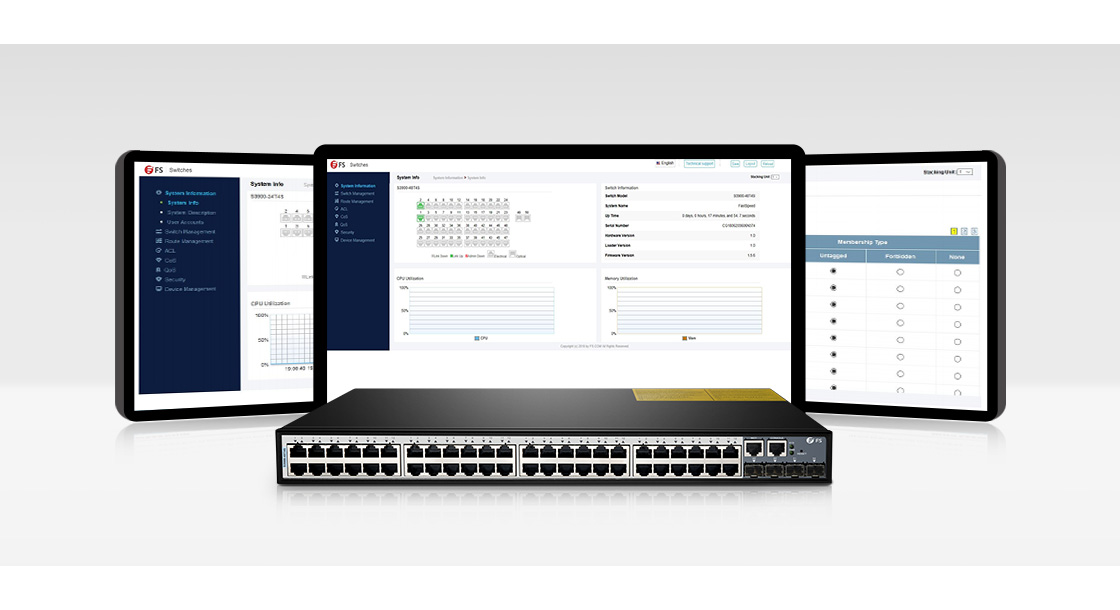 ---
S3900 Series Switches Performance Validation
S3900 Series switches are valid for the IETF RFC2544 standard, which provides an out-of-service benchmarking methodology to evaluate the performance of network devices using throughput, back-to-back, frame loss, and latency tests.

---
Accessories List
S3900-48T4S switch's accessories include--Console Cable*1, Ground Cable*1, Power Cable*2, Rack Mount Bracket*2, Bracket Screw*6, Rubber Pad*4, User Manual*1.