FS 1U Managed Chassis Provides a Managed, Flexible and Scalable Architecture for Fibre Networks

The chassis share both a single software and 4x EDFA fibre amplifier card, WDM transponder card and optical protection card, which allows you to optimize a solution for your specific network needs.

And the managed chassis, available with an Optical Supervisory Channel (OSC), is a platform of low-power consumption that combines state-of-art electronics and superior optical performance which makes it possible to build or upgrade networks to meet the demands of today as well as future multi-services access requirements.

In addItion, FS professional technical team offers gratis DWDM Solutions combined with customer support to ensure your optical transport solution is optimally deployed.

Note: The chassis comes with NMU main control card, cooling fan and power supply.
Product Details
Slot Count
4-slot
Enclosure Type
Rack mountable
Power Supply
Dual power, 100V-240VAC
Power Consumption
50W
Management Type
SNMP, Monitor Online, Simple Management Tool
Network Interface
Ethernet, RS-485, RS-232 interface
Relative Humidity(non-condensing)
5% ~ 95%
Dimensions (HxWxD)
1.75"x19"x11.81" (44.5x482.6x300mm)
Noise Figure
30dB
Temperature
Operating -5°C~ +60°C
Storage -40°C~+80°C
---
Product Spotlight
Flexible Integrated System

Multiple boards can be inserted into one FMT chassis
Modular Structure

Convenient for after-sales and stocking
Convenient for Future Network Expansion

Simply add and configure a new pluggable card to achieve network expansion
Independent Service Card and Main Control Card

The failure of the main control card will not affect the service transmission
Hot-swappable and Replaceable 1+1 Redundant Power

Provide stable power supply for the equipment
Self-developed Management System

Allow the network administrator to configure/monitor the status of line cards
---
Product Tree
FMT 1U Managed Chassis can Support up to 4x Hot-swappable EDFA/OEO/DCM Cards to Fit Your Any Application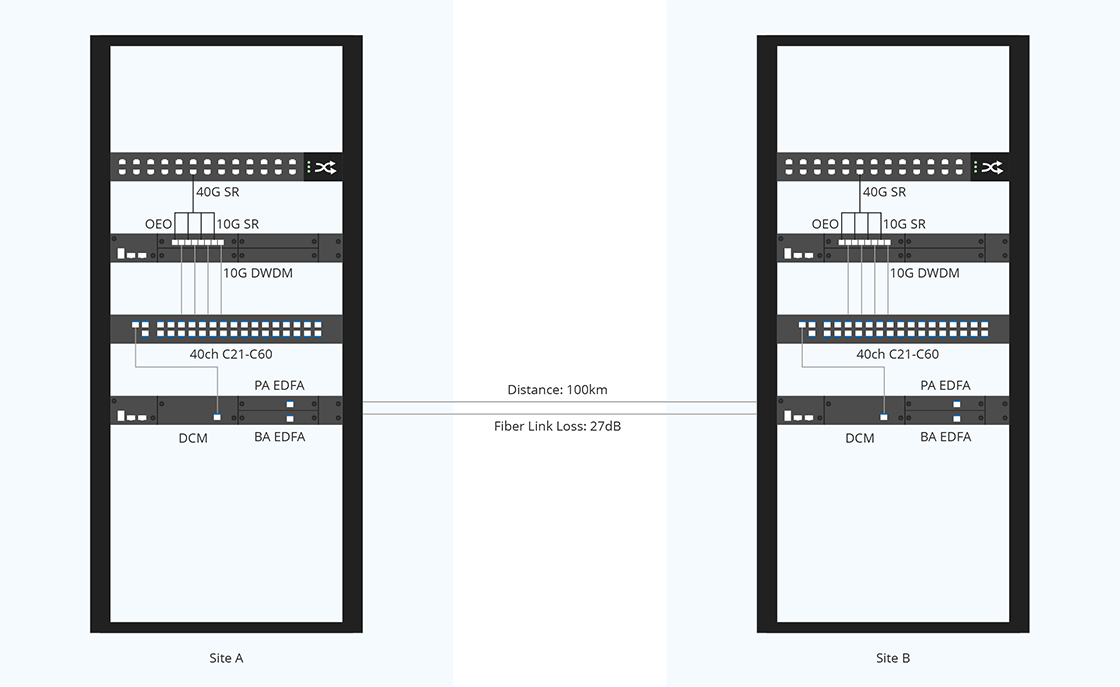 

S5850-48S6Q 48-Port 10Gb SFP+ L2/L3 Data Centre ToR/Leaf Switch with 6 40Gb QSFP+ Uplinks
£2,922.00


Cisco QSFP-40G-SR4 Compatible 40GBASE-SR4 QSFP+ 850nm 150m MTP/MPO DOM Transceiver Module
£32.00


4 Channels Multi-Rate WDM Converter (Transponder), 8 SFP/SFP+ Slots, Up to 11.3G Rate, Pluggable Module for FMT Multi-Service Transport Platform
£620.00


FS for Cisco SFP-10G-SR Compatible, 10GBASE-SR SFP+ 850nm 300m DOM Transceiver Module (Standard)
£15.00


Cisco C21 DWDM-SFP10G-60.61 Compatible 10G DWDM SFP+ 1560.61nm 80km DOM Transceiver Module
£202.00


40 Channels C21-C60, with 1310nm Port and Monitor Port, LC/UPC, Dual Fibre DWDM Mux Demux, FMU 1U Rack Mount
£1,372.00


80KM DCF-based Passive Dispersion Compensation Module, 5.8dB Low Loss, LC/UPC, Pluggable Module for FMT Multi-Service Transport Platform
£925.00


20dB Gain Pre-Amplifier DWDM EDFA C-band 13dBm Output, LC/UPC, Pluggable Module for FMT Multi-Service Transport Platform
£1,063.00


20dBm Output Booster DWDM EDFA C-band 20dB Gain, LC/UPC, Pluggable Module for FMT Multi-Service Transport Platform
£1,420.00


1U Managed Chassis Unloaded, Supports up to 4x EDFA/OEO/OLP Module with Accessories
£300.00


8 Fibres MTP to 4 LC UPC Duplex Plenum (OFNP) OM4 (OM3) Multimode Elite Fibre Breakout Cable, Type B, 1m
£32.00
---
Resources
WDM FMT System Management Operation Guide

Learn more


Get the Best Performance Out of Your Optical Network

Watch video


---
Product Highlights
Highly-scalable Optical Transport Platform
Management type includes SNMP, Monitor Online and Simple Management Tool
Support the entire range of services, giving operators the freedom to configure any type of network
Future in-service network expansion as simple as adding and configuring new modules

---
NMU Main Control Card
Strong ability in data processing, supporting the function module rapid configuration and intelligent management.


Power Supply
Pluggable 1+1 redundant power, providing stable power supply for the equipment.
Cooling Fan
Intelligent Temperature Control System and optimized design of ventilation, ensuring high stability and reliability.

---
High Density and High Integration and Flexible Integrated System
1U management chassis for applications where space, power and environment are key considerations. The chassis supports both DWDM and CWDM for both dual fibre and single fibre configurations and optical amplifiers, OEO (converter), DCM and OLP modules are designed in a modular fashion to accommodate distance extension without service interruption. For more installation instruction, you can take it for reference.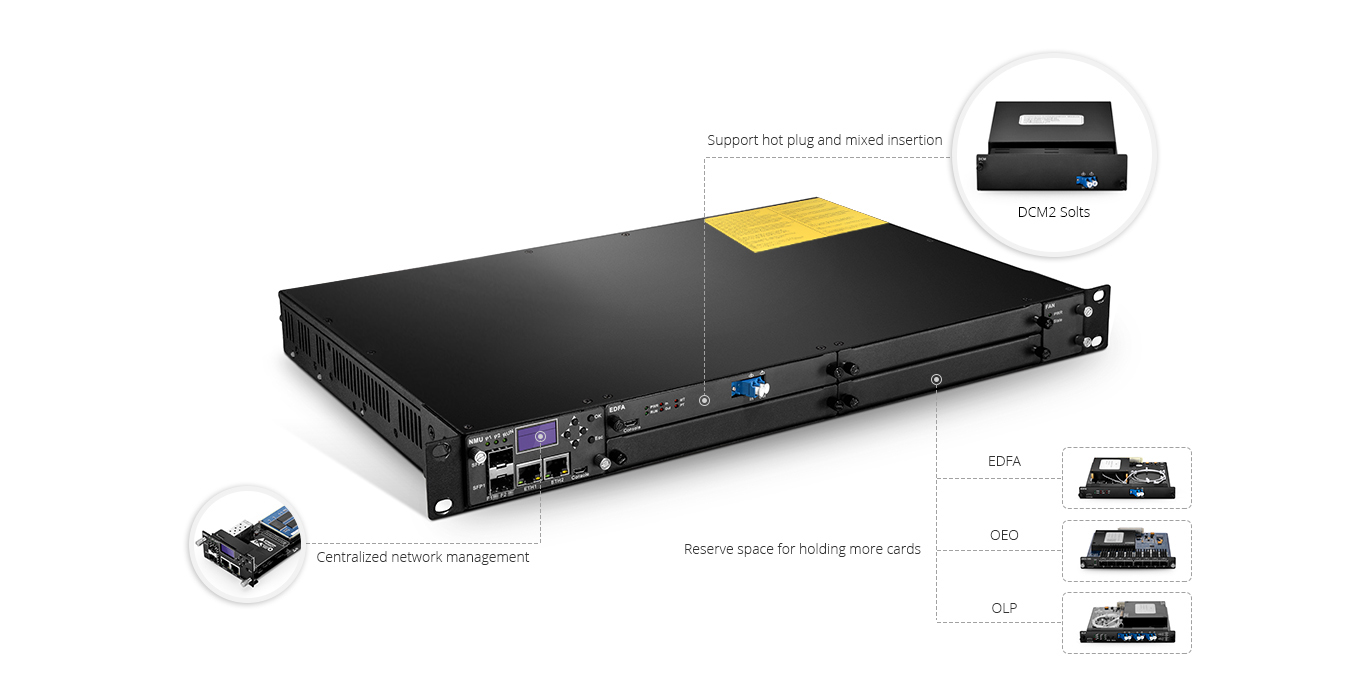 ---
FS FMT Optical Transport Network Management System
FS Network Management Unit (NMU/NMS) is developed with ARM9 control design. NMU/NMS provides full fault, configuration, performance, security management and instant push emails. FMT monitor online management software (a Java-based network management system) built with modular client uses the Microsoftware SQL Server 2008R2 database.

---
Products & Services for Better Networking
Financial Institutions丨Universities丨Service Providers丨Enterprises丨Dark Fibre Providers
Tips:
•Comprehensive user and software manual and test report were positioned inside the box.
•FS professional technical support team offers you gratis solution 24/7 online.
•FS always focuses on design, R&D, innovation to provide you optical products. Welcome to contact
tech@fs.com
or
sales@fs.com.
---