Pay on FS with PayPal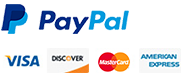 As one of the most common online payment methods, PayPal is a secure and easy way to check out.
Select PayPal as your payment method when you check out. Then you will be redirected to PayPal via a secure online connection where you can complete the payment. You can make your payments either by credit card, debit card or with the balance of your PayPal account.
Our PayPal account is paypal@fs.com.
Under certain circumstances, your payment may need to be reviewed or further processed. The process may take 3-5 working days and your order will remain in pending status during this period. You may check the order status a few days later. If you have any questions, please contact us.
Pay on FS with Credit/Debit Card

We accept American Express, Maestro, Master and Visa Credit/Debit card. We do not add any credit card surcharges. However, a transaction fee might be charged by the issuing bank. You can contact your bank directly if you require more information regarding this.
Note: Orders by credit card can only be made by the named cardholder. For security reasons, credit/debit card payments can only made with online orders. We have strict pre-authorisation provisions in place to protect against card misuse and protect the privacy of customer details.
FS reserves the right to cancel any orders without notification if there is a suspected security breach.
Payment through Bank Transfer
Bank transfer usually takes 2-3 working days. We will deliver your order as soon as the ordered goods are available and your transfer has arrived.
Please use the following bank details:
| | |
| --- | --- |
| Account Name: | FS.COM GmbH |
| Bank Name: | Postbank |
| IBAN: | DE59 5901 0066 0902 5446 61 |
| BIC: | PBNKDEFF590 |
| Account Number: | 0902544661 |
| Bank Code Number: | 590 100 66 |
| Bank Address: | Eckenheimer Landstr.242 60320 Frankfurt |
Note: Before the payment goes through, your order will remain in pending status. If you need the product(s) urgently, you might choose other payment options like credit card or PayPal.
Pay on FS with Purchase Order

You can choose PO payment as long as you have an approved credit account at FS, such as a Net 30 account. FS will process both online and offline orders for this payment method. Once the order is approved, payment is requested within the agreed time after the delivery date.
Online Purchase Order Payment
Once you have been approved for an online purchase payment, sign in to complete your shopping. At the last step of check out you can upload your purchase order to proceed.
Offline Purchase Order Payment
For an offline purchase order payment, contact your account manager to discuss your requirements and place an order. Please make sure all the details are correct regarding your order. You can then send it to your assigned account manager who will assist you with the process upon confirmation of all the details.