1+1 Optical Line Protection System for Fiber Protection, Bi-directional Protection in Dual Fiber, LC/UPC, Pluggable Module

OLP(Optical Line Protection) is a device used in pairs, one at each end of the optical signal to protect network transmission line. It can realize optical power monitoring and automatic switching. In optical communication network, OLP monitors optical power of optical fiber and standby optical fiber at real time. In case the current optical power of optical fiber is less than pre-set switching threshold value, then alarm is on and it would switch to standby optical fiber automatically to protect optical transmission system line.

OLP 1+1 adopts the mode of dual transmitting and selective receiving. It is widely used in Optical Line Protection System like PDH, SDH system, C/DWDM system, electric telecommunication exclusive net as well as CATV optical net.
Product Details
| | | | |
| --- | --- | --- | --- |
| Operating Wavelengths | 1310±50nm/1550±50nm | Return Loss | ≥55dB |
| Insertion Loss | Tx<3.8dB, Rx<1.2dB | Monitoring Power Range | +23~-50dBm |
| Monitoring Power Resolution | 0.01dB | Monitoring Power Accuracy | ±0.25dB |
| PDL | ≤0.05dB | WDL | ≤0.1dB |
| Crosstalk | ≥55dB | Switching Speed | <15ms |
| Management | SNMP | Maximum Optical Power Load | 300mW |
| Connectors | LC/UPC | For Use With | FMT managed chassis |
| Operating Temperature | -10~+50°C | Storage Temperature | -40~+80°C |
| Chassis Type | 1U, 2U, 4U | Housing | Pluggable Module(Occupies 1 slot in FMT chassis) |
Quality Certification
Quality and standards are the foundation of FS. We are dedicated to providing customers with the outstanding, standards-compliant products and services.
FS has passed many quality system verifications, like ISO9001, CE, RoHS, FCC, established an internationally standardized quality assurance system and strictly implemented standardized management and control in the course of design, development, production, installation and service.
Lifetime Warranty
All the fiber optic products in FS are fully warranted against defects in material and workmanship with a lifetime guarantee. This warranty does not cover damage caused by accident, improper care, improper use, negligence, normal wear and tear, or the natural breakdown of colors and materials over extended time and use.
---
60km End-to-End Optical Transmission under the Protection of OLP
By real-time monitoring the power status in working fiber, the traffic will be automatically diverted to the protection line if the working line fails, which greatly reduces the huge loss of data information.

| Item No. | ID# | Description |
| --- | --- | --- |
| 1 | 33485 | 40Ch C21-C60 Dual Fiber DWDM Mux Demux with MON. Port, 3.0dB Typical IL |
| 2 | 66010 | 1+1 Optical Line Protection Switch (OLP), Pluggable Module |
| 3 | 65779 | 80KM Passive Dispersion Compensation, Pluggable Module, LC/UPC |
| 4 | 36501 | 22dBm Output Booster DWDM EDFA C-band 24dB Gain, Pluggable Module |
Product Highlights
1+1 Optical Line Protection Module, Placed in 1U/2U/4U Managed Chassis
High level of integration by plug-in design, which saves space of cabinet
Real-time monitoring, and fast switching between primary and secondary optical lines(<15ms)
Support SNMP Management and Fast, Gigabit and 10 Gigabit Ethernet

---
Fast Switching, 1+1 Point-to-Point OLP Using 1x2 Switches
Dual Transmitting and Selective Receiving
1+1 OLP can protect transmission network from link failures, using an optical splitter to bridge the optical signal to working fiber and protection fiber. Data transmitted over both fibers simultaneously. While for Rx, the optical signal with better quality will be selected.
---
Available for All-in-One Multi-Service Transport System
As a part of multi-service transport system, hot-swappable plug-in OLP card only occupies 1 slot in the 1U/2U/4U chassis.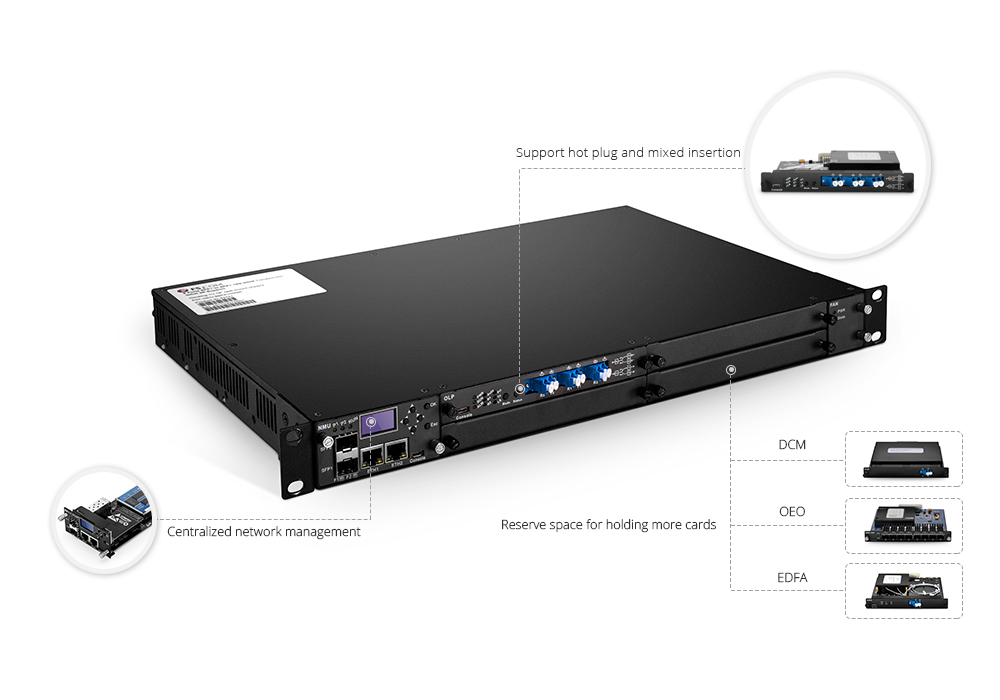 ---
Independent Research and Development of Management System
Our Monitor Online is a user-friendly network management system which is based on SNMP. This system can support hierarchical topology view, network fault management and alarm, user administration and configuration of the devices in the network.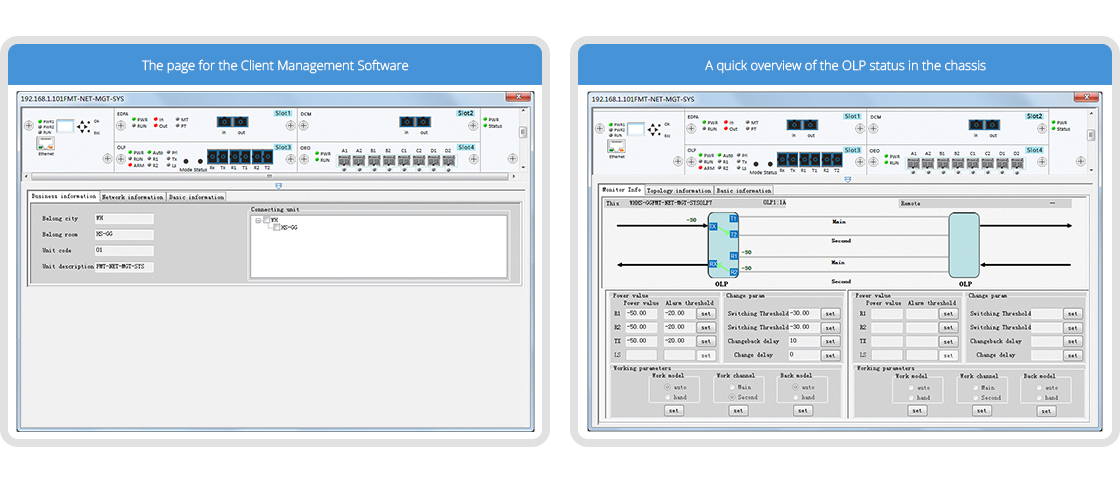 ---
Remarkable Concentration and Manageability
Hot-swappable plug-in OLP card only occupies 1 slot in the 1U/2U/4U chassis, which can be highly integrated with FS management platforms and OEO/DCM/EDFA products. FS Multi-Service Transport (FMT) System is engineered to support low-cost 100G DWDM solutions for high-capacity optical links and conducive to save cabinet space.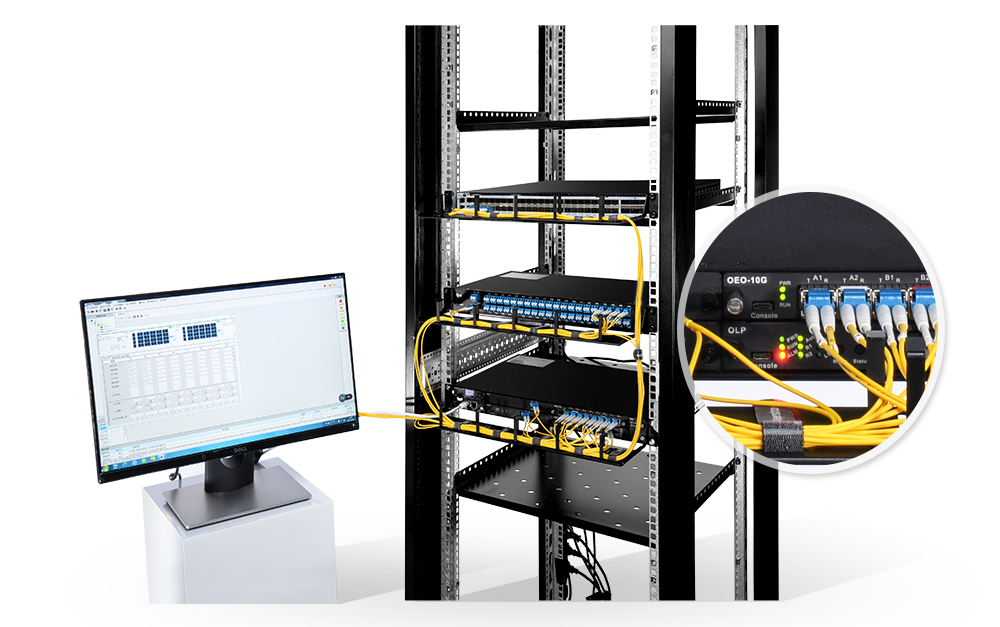 ---
Products & Services for Better Networking
Financial Institutions丨Universities丨Service Providers丨Enterprises丨Dark Fiber Providers
Tips:
•FS professional technical support team offers you gratis solution 24/7 online.
•FS always focuses on design, R&D, innovation to provide you optical products. Welcome to contact
tech@fs.com
or
sales@fs.com.