80KM Passive Dispersion Compensation Pluggable Module

Dispersion Compensation Module (DCM) is designed to fix the form of optical signals that are deformed by chromatic dispersion. The main constituent of DCM is DCF (Dispersion Compensation Fiber) with a negative chromatic dispersion value within the wavelength range between 1528nm and 1564nm. The module offers a high level of compensation while maintaining a low flat insertion loss as well as a low latency. When combined with EDFA and OEO, DCM provides a simple, reliable, and cost-effective long-haul transport solution, making signals go further without regeneration.
Product Specification
| | | | |
| --- | --- | --- | --- |
| Compensation Length | 80km | Wavelength Range | C-Band (1528nm-1564nm) |
| Dispersion (ps/nm) | -1360±3% | Connector | LC/UPC |
| Insertion Loss | 5.8dB max | Power Consumption | ≤1W |
| Polarization Mode Dispersion | 1.2ps max | Polarization Dependence Loss | 0.1dB max |
| Noise Figure | 4.5dB (Typical) | Housing | Pluggable Module (Occupies 2 slots in FMT chassis) |
| Operating Temperature | –5°C ~ 55°C | Storage Temperature | –40°C ~ 85°C |
---
---
Product Spotlights
Low Insertion Loss ≤5.8dB
Low Polarization Mode Dispersion ≤1.2ps
Compensation up to 80km
Protocol Transparent
Completely Passive
Integrated Card Design
---
Product Tree
40ch DWDM Mux Demux Supports 40Gbps (Totally 400Gbps) Data Rate for 100km Transmission by Using Transponder (OEO), EDFA, and DCM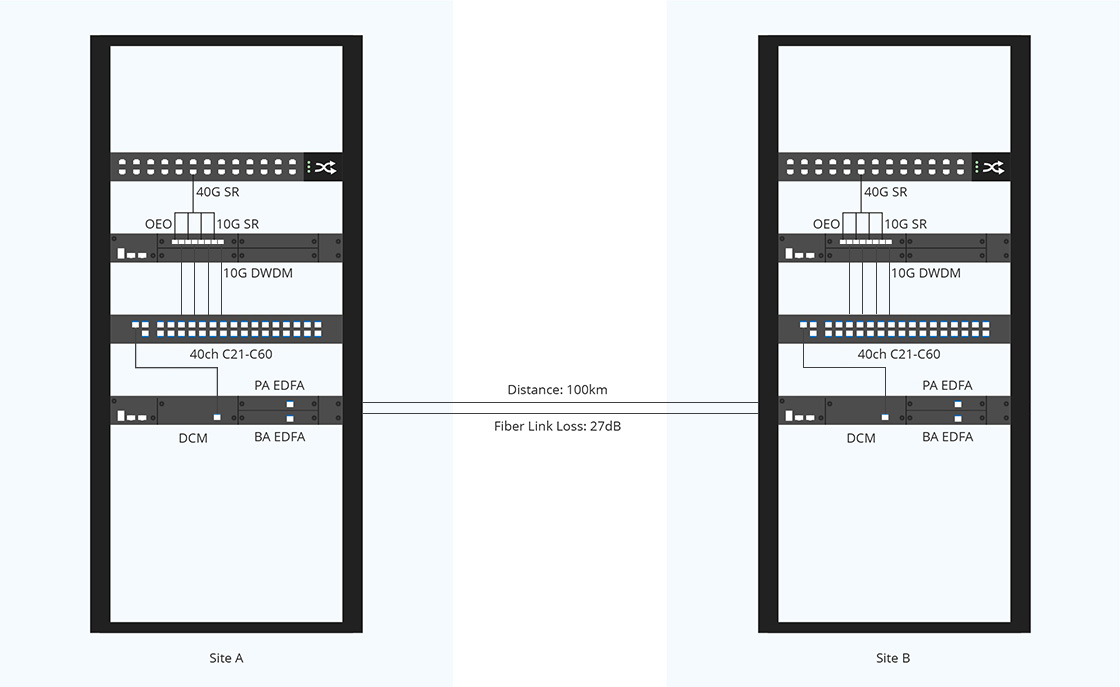 

S5850-48S6Q 48-Port 10Gb SFP+ L3 Managed Ethernet Switch with 6 40Gb QSFP+ Uplinks
US$ 3,600.00


Cisco QSFP-40G-SR4 Compatible 40GBASE-SR4 QSFP+ 850nm 150m MTP/MPO DOM Optical Transceiver Module
US$ 39.00


4 Channels Multi-Rate WDM Converter (Transponder), 8 SFP/SFP+ Slots, Up to 11.3G Rate, Pluggable Module for FMT Multi-Service Transport Platform
US$ 760.00


FS for Cisco SFP-10G-SR Compatible, 10GBASE-SR SFP+ 850nm 300m DOM Transceiver Module (Standard)
US$ 18.00


Cisco C21 DWDM-SFP10G-60.61 Compatible 10G DWDM SFP+ 1560.61nm 80km DOM Transceiver Module
US$ 249.00


40 Channels C21-C60, with 1310nm and Monitor Port, 3.5dB Typical IL, LC/UPC, Dual Fiber DWDM Mux Demux, FMU 1U Rack Mount
US$ 1,690.00


80KM DCF-based Passive Dispersion Compensation Module, 5.8dB Low Loss, LC/UPC, Pluggable Module for FMT Multi-Service Transport Platform
US$ 1,140.00


20dB Gain Pre-Amplifier DWDM EDFA C-band 13dBm Output, LC/UPC, Pluggable Module for FMT Multi-Service Transport Platform
US$ 1,310.00


20dBm Output Booster DWDM EDFA C-band 20dB Gain, LC/UPC, Pluggable Module for FMT Multi-Service Transport Platform
US$ 1,750.00


1U Managed Chassis Unloaded, Supports up to 4x EDFA/OEO/OLP Module with Accessories
US$ 370.00


1m (3ft) MTP Female to 4 LC UPC Duplex 8 Fibers Type B Plenum (OFNP) OM4 50/125 Multimode Elite Breakout Cable, Magenta
US$ 39.00
---
Video
---
Product Highlights
Pure Passive Dispersion Compensation Module for C-band DWDM System
Individual compensation levels & Protocol transparent (10 Mbps to 40 Gbps) & Compact design
Low polarization mode & Wide band dispersion compensation & 100% slope compensation
DCM with high performance provides the perfect opportunity to build SDH/SONET, CATV and DWDM system

---
DCF-based Module Pushes Limits of Transmission Distance
The pure passive DCM guarantees the normal working after the power failure, supporting high reliability. The excellent DCF (Dispersion Compensation Fiber) can properly correct or reverse the dispersion that was realized as the signal traversed the optical fiber, ensuring long-haul transmission.

---
Pre-, Post-, and Symmetrical-compensation by Using DCM

Pre-compensation
Placing between MUX and BA which provides dispersion compensation before the optical signal of the multiplexing segment entering the transmission line.
Symmetrical-compensation
Placing ahead of LA or between PA and BA which can compensate the optical fiber before each amplifier station.


Post-compensation
Placing between PA and MUX which can compensate the transmission fiber of the last amplification segment in the multiplexing segment.
---
Available for All-in-One Multi-Service Transport System
As a part of multi-service transport system, a hot-swappable pluggable DCM card occupies 2 slots in the 1U/2U/4U chassis, which can be highly integrated with FS management platforms and OEO/EDFA/OLP products.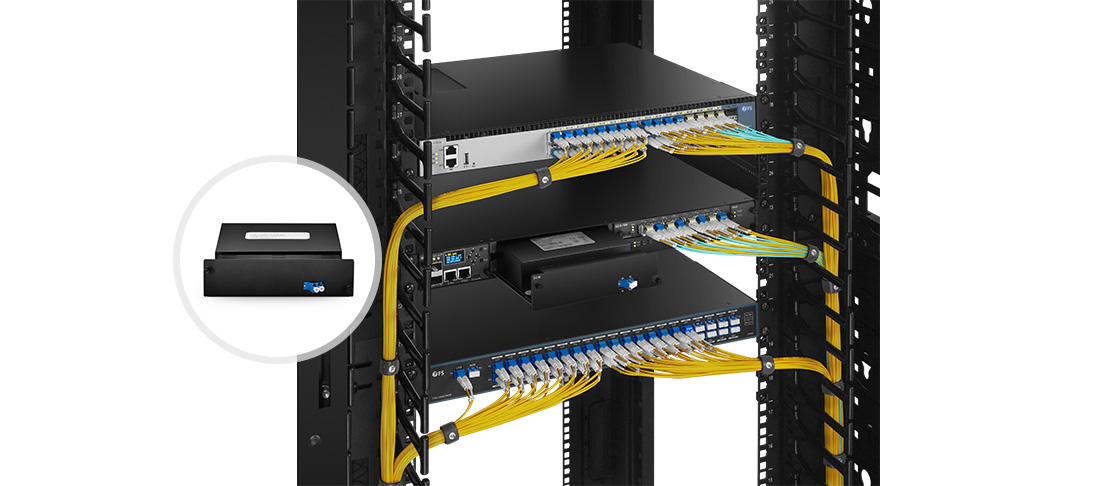 

S5850-32S2Q 32-Port 10Gb SFP+ L3 Managed Ethernet Switch with 2 40Gb QSFP+ Uplinks
US$ 2,990.00


1U Managed Chassis Unloaded, Supports up to 4x EDFA/OEO/OLP Module with Accessories
US$ 370.00


80KM DCF-based Passive Dispersion Compensation Module, 5.8dB Low Loss, LC/UPC, Pluggable Module for FMT Multi-Service Transport Platform
US$ 1,140.00


40 Channels C21-C60, with Monitor Port, 3.0dB Typical IL, LC/UPC, Dual Fiber DWDM Mux Demux, FMU 1U Rack Mount
US$ 1,670.00
---
Products & Services for Better Networking
Financial Institutions丨Universities丨Service Providers丨Enterprises丨Dark Fiber Providers
---