8ch DWDM Mux/Demux Plug-in Module, 100GHz ITU Grid, C21-C35, w/Expansion Port, Side-A

DWDM Mux Demux is usually used for long-haul transmission where wavelengths are packed tightly together over the C-band, up to 48 wavelengths in 100GHz grid(0.8nm) and 96 wavelengths in 50GHz grid(0.4nm). It's protocol transparent and suit applications including 10/1G Ethernet, SDH/SONET, 16/8/4/2/1G Fibre Channel, FTTx and CATV.
Product Details
Wavelength
8 channels C21-C35
Channel Spacing
100GHz (0.8nm)
Channel Passband
±0.11 nm
Passband Ripple
≤ 0.5 dB
Insertion Loss
≤ 4.6 dB (with connectors and adapters)
Insertion Loss @ Exp
≤ 4.3 dB (with connectors and adapters)
Adjacent Channel Isolation
≥ 30 dB
Non-adjacent Channel Isolation
≥ 35 dB
Return Loss
≥ 45 dB
Directivity
≥ 50 dB
Polarization Dependent Loss
≤ 0.2 dB
Polarization Mode Dispersion
≤ 0.1 ps
Temperature
Operating -40°C~ +85°C
Storage -40°C~+85°C
Dimensions (HxWxD)
1.73"x8.35"x10.04" (44x212x255mm)
Quality Certification
Quality and standards are the foundation of FS.COM. We are dedicated to providing customers with the outstanding, standards-compliant products and services.
FS.COM has passed many quality system verification, like ISO9001, CE, RoHS, FCC, established an internationally standardized quality assurance system and strictly implemented standardized management and control in the course of design, development, production, installation and service.
Lifetime Warranty
All the fiber optic products in FS.COM are fully warranted against defects in material and workmanship with a lifetime guarantee. This warranty does not cover damage caused by accident, improper care, improper use, negligence, normal wear and tear, or the natural breakdown of colors and materials over extended time and use .
---
8ch DWDM Single Fiber MUX for 53km Tranmissions
FS focus on providing various and cost-effective solutions according to different requirement. Meanwhile, a full set of OTN products can be offered, including Optical Monitoring System. More details please contact sales@fs.com for help.

| Item No. | ID# | Description |
| --- | --- | --- |
| 1 | 29124 | S5850-48S2Q4C (48*10GE+2*40GE+4*100GE) Carrier Grade 100G-uplink Switch |
| 2 | 31238 | 10G DWDM SFP+ C21-C35 80km DOM Transceiver |
| 3 | 31237 | 10G DWDM SFP+ C22-C36 80km DOM Transceiver |
| 4 | 50117 | 8 Channels C21-C35 Single Fiber DWDM Mux Demux with Exp Port, Side-A, Plug-in Module, LC/UPC |
| 5 | 50116 | 8 Channels C22-C36 Single Fiber DWDM Mux Demux with Exp Port, Side-B, Plug-in Module, LC/UPC |
| 6 | 42273 | 1m LC UPC to LC UPC Simplex 9/125 Single Mode Fiber Patch Cable |
Product Highlights
FMU Plug and Play Solution for Future Expansion
---
Mux/Demux 8 Channels over Single Fiber in a Pair
Low-profile modular design, fits in FMU 2-slot 1U chassis
Completely passive, no power& no cooling required
Qualified to Telcordia GR-1209-CORE and GR-1221-CORE

---
Dynamic Network with Low-Loss Wavelengths
Single fiber DWDM Mux/Demux should be used in pairs. DWDM channels overlap with passband of low-loss CWDM channels 1530 nm and 1550 nm, which inhabit the natural region for low optical losses in glass fiber, allowing to extend maximum reach of DWDM technology.

---
Expansion Port - For Future Bandwidth Increasing
Expansion port makes it possible to increase the network capacity, by connecting it to the line port of another DWDM Mux/Demux supporting different wavelengths.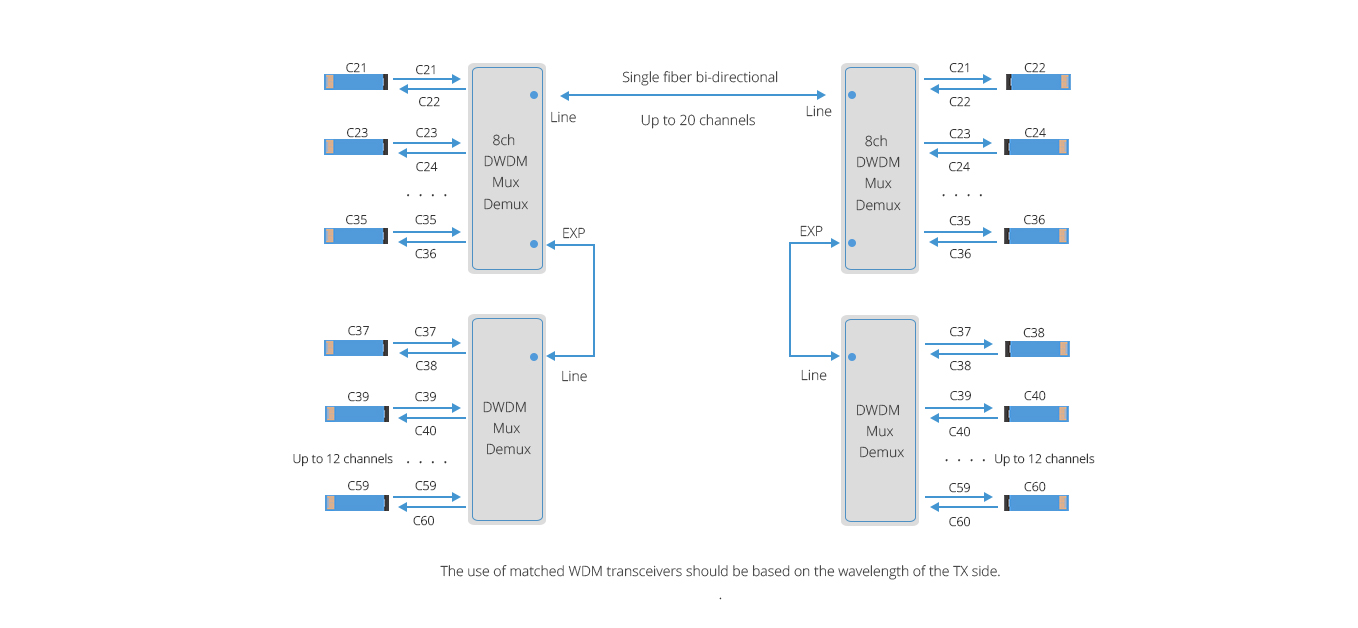 ---
Remarkable Concentration and Manageability
DWDM Mux/Demux interconnect seamlessly with EDFA, Red/Blue Splitter and so on, which can achieve maximum flexibility, scalability, and manageability to create a robust and flexible managed point-to-point or ring network.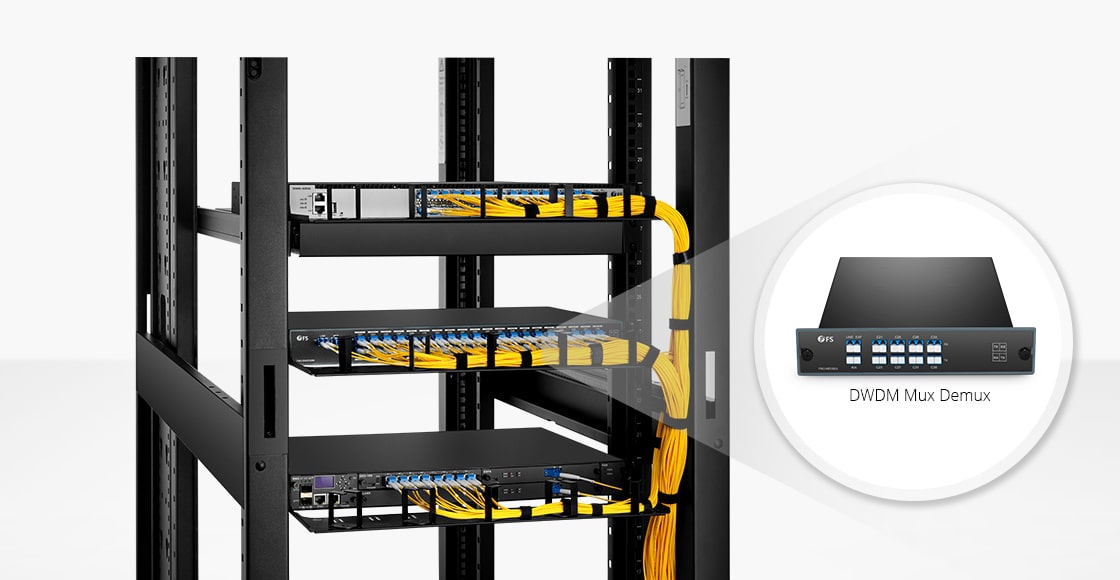 ---
Simple to Test and Maintenance
Taking just several seconds to complete all loss or power measurements and easy to interpret test results with minimal navigation.
Fiber Optic Cleaning is a essential accessory to maintain and guarantee good quality of fiber optic connection.
Tips
• DWDM is an optical multiplexing technology used to increase bandwidth over existing fiber networks.
• When it is not in use, please always capped with a clean dust cap, and always keep adapter ports and fiber connectors clean.
• Attached sticker describes the specifications of MUX, which improves deployment flexibility for your WDM system.
• FS.COM always focus on design, R&D, innovation to provide you optimal products. Welcome to contact
tech@fs.com
or
sales@fs.com
.