8ch DWDM Mux/Demux Plug-in Module, 100GHz ITU Grid, C53-C60, Duplex LC/UPC

DWDM Mux Demux is usually used for long-haul transmission where wavelengths are packed tightly together over the C-band, up to 48 wavelengths in 100GHz grid(0.8nm) and 96 wavelengths in 50GHz grid(0.4nm). It's protocol transparent and suit applications including 10/1G Ethernet, SDH/SONET, 16/8/4/2/1G Fibre Channel, FTTx and CATV.
Product Specification
Wavelength
8 channels C53-C60
Channel Spacing
100GHz (0.8nm)
Channel Passband
±0.11nm
Insertion Loss
≤ 3.0dB (with connectors and adapters)
Passband Ripple
≤ 0.5dB
Insertion Loss @ Exp
≤ 3.0dB (with connectors and adapters)
Technology
TFF (Thin Film Filter)
Isolation
Adjacent channel ≥ 30dB
Non-adjacent channel ≥ 40dB
Return Loss
≥ 45dB
Directivity
≥ 45dB
Polarization Dependent Loss
≤ 0.3dB
Polarization Mode Dispersion
≤ 0.1ps
Operating Temperature
-5°C~ +75°C
Storage Temperature
-40°C~+85°C
Net Weight
1.2kg (2.6lb)
Dimensions (HxWxD)
1.73"x8.35"x10.04" (44x212x255mm)
---
Hybrid Use of CWDM/DWDM Wavelengths on CWDM 1530nm
CWDM/DWDM hybrid is a powerful and cost-effective solution to meet network capacity needs. C52-C61 of DWDM MUX can be connected to the 1530nm port of CWDM MUX, thus existing passive CWDM system can be upgraded without the need to substitute installed components.

| Item No. | ID# | Description |
| --- | --- | --- |
| 1 | 29122 | S5850-32S2Q (32*10GE+2*40GE) High Performance Data Center Switch |
| 2 | 31203 | Cisco Compatible 10G DWDM SFP+ C53-C60 80km DOM Transceiver |
| 3 | 40191 | 1m LC UPC to LC UPC Duplex 2.0mm PVC(OFNR) SMF Fiber Patch Cable |
| 4 | 43099 | 8 Channels 1470-1610nm, with Expansion Port, LC/UPC, Dual Fiber CWDM Mux Demux, FMU Plug-in Module |
| 5 | 30568 | CWDM/DWDM Hybrid Solution, 8 Channels C53-C60 Dual Fiber DWDM Mux Demux, with Expansion Port, FMU Plug-in Module, LC/UPC |
---
Video
---
---
Product Highlights
Mux/Demux 8 Channels over Dual Fiber
Built-in Mux and Demux in one unit, working on two network fibers
Protocal and rate transparent for applications up to 10Gbps
Completely passive, no power& no cooling required

---
Hybrid DWDM over CWDM Network
CWDM wavelengths range from 1260-1625nm, channel spacing is 20nm, which actually cover all the range of DWDM wavelengths (1470-1625nm). And DWDM wavelengths have much smaller channel spaces (0.4nm/0.8nm). Therefore, the CWDM wavelengths near DWDM wavelengths can be used to transmit the DWDM wavelengths.

---
Expansion Port - For Future Bandwidth Increasing
Expansion port makes it possible to increase the network capacity by connecting it to the line port of another DWDM MUX/DEMUX supporting different wavelengths, without the need of installing or leasing additional fibers.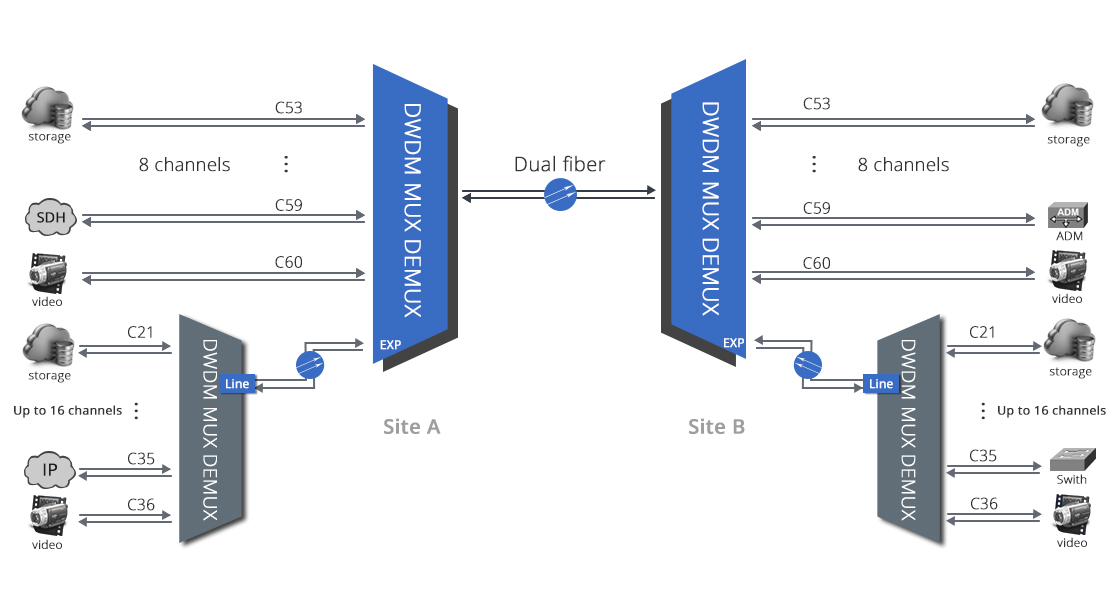 ---
Remarkable Concentration and Manageability
Mux/Demux can increase your network capacity combined with FS Multiservice Transport (such as EDFA, DCM, OEO and so on), which can improve the manageability and interconnectivity of WDM Network.
Tips
• DWDM is an optical multiplexing technology used to increase bandwidth over existing fiber networks.
• When it is not in use, please always capped with a clean dust cap, and always keep adapter ports and fiber connectors clean.
• Attached sticker describes the specifications of MUX, which improves deployment flexibility for your WDM system.
• FS.COM always focus on design, R&D, innovation to provide you optimal products. Welcome to contact
tech@fs.com
or
sales@fs.com
.
---