PCI Express x8 Quad Port SFP+ 10 Gigabit Server Adapter

PCI Express x8 Quad Port SFP+ 10 Gigabit Server Adapter with SFP+ connectivity is the most flexible and scalable Ethernet adapter for today's demanding data centre environments. Data centre networks are being pushed to their limits. The escalating deployments of servers with multi-core processors and demanding applications such as High Performance Computing (HPC), database clusters, and video-on-demand are driving the need for 10 Gigabit connections. This network adapter provides flexible and scalable I/O solutions to meet the rigorous requirements of running mission-critical applications in virtualised and unified storage environments.
Product Details
| | | | |
| --- | --- | --- | --- |
| Card Type | Standard Profile (LP bracket incl.) | Port Configuration | Quad SFP+ Ports |
| Controller | Intel XL710-BM1 | Data Rate Per Port | 10GbE |
| Interface Type | PCIe 3.0 | Speed & Slot Width | 8.0 GT/s x8 lanes |
| Connectivity (VT-c) | Yes | Vertical Segment | Server |
---
Product Spotlight
Key Features

PCI Express (PCIe v3.0, x8, x16)

Full-height and low-profile

Support VMDq and SR-IOV

Intelligent offloads for NAS (NFS, SMB), and SAN (iSCSI)

Network Virtualization offloads including VXLAN, NVGRE, and Geneve

Deliver line-rate performance with low CPU usage for large application buffers
Software Support

VMware ESXi 6.7

Windows 7/8/8.1/10/Vista

Windows Server 2012 R2/2012 R2 Core/2012/2012 Core

Windows Server 2008 R2/2008 R2 Core

Linux Stable Kernel Version 2.6, 4x

Linux RHEL 6.6, 6.7 and 6.8

Linux SLES 11 SP4 and SLES 12 SP1

FreeBSD 10.2, 10.3, 11

UEFI 2.1, 2.3, 2.4
Supported Optical Transceivers and Cables

SFP1G-SX-85

SFP1G-LX-31

SFP1G-ZX-55

SFP-10G-SR

SFP-10G-LR

SFP-GE-BX-1310/1550

SFP-GE-BX-1550/1310

SFP-10G-BX-1270/1330

SFP-10G-BX-1330/1270

SFP-10G-DAC
---
Product Tree
Direct Connection for Network Adapter with Transceiver and Fiber Patch Cables



S5800-8TF12S 12-Port 10Gb SFP+ L2/L3 Switch with 8 Gigabit RJ45/SFP Combo Ports for Hyper-Converged Infrastructure
1.706,00 €


LC-LC UPC Duplex OM4 Multimode Fibre Patch Lead 2.0mm PVC (OFNR) 1m
3,50 €


FS for Cisco SFP-10G-SR Compatible, 10GBASE-SR SFP+ 850nm 300m DOM Transceiver Module (Standard)
16,00 €


Intel XL710-BM1 Quad-Port 10 Gigabit SFP+ PCIe 3.0 x8, Ethernet Network Interface Card
295,00 €


RS-7188 2U, 2-Socket Rack Server with Two Intel® Xeon® Silver 4112 for Data Base Workloads in SMB
4.488,00 €
---
Resources
How to Install and Set Up Network Adapter
---
Intel XL710-BM1 Controller PCIe Network Adapter
The network adapter with four 10 Gigabit SFP+ ports is based on Intel XL710-BM1 controller. It provides advanced features to meet the mission-critical applications in virtualization.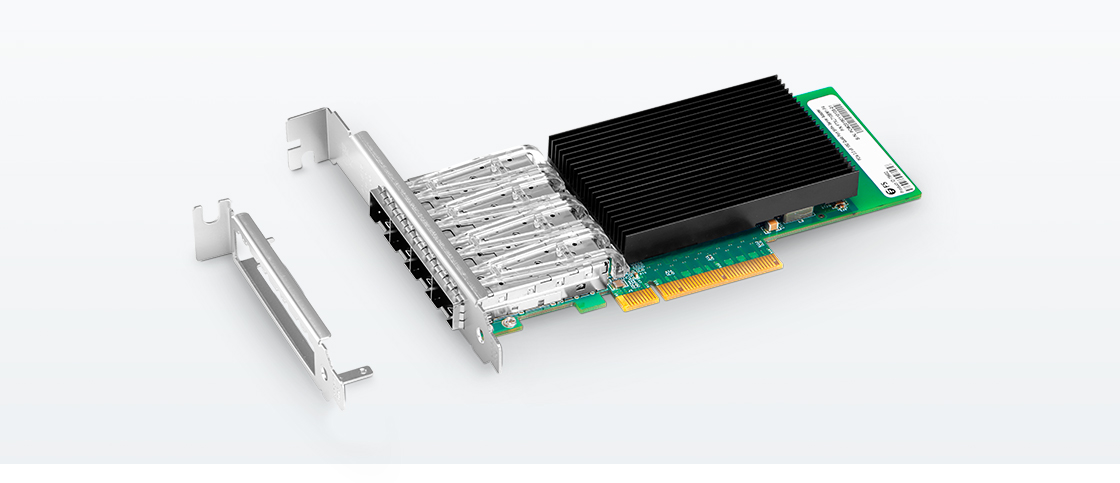 Intel XL710-BM1 Controller

Address the needs of the next-generation data center
Storage Performance

Support intelligent offload for iSCSI and NFS
Advanced Features

Support VMDq, VxLAN and SR-IOV etc
---
PCIe Interface with Flexible Space-Saving Design
The adapter is the foundation for server connectivity and is designed to support PCIe 3.0 x8 and x16 slots for higher speeds and efficiency.
Port Configuration

Multiple ports are available for different demands

System Interface Type

Support PCIe 3.0 and widely used in the PCIe x8 and x16 slots

Flexible Bracket Height

Low profile and full height design for different expansion slots
---
Large-Scale Compatibility
This adapter is tested to support on all of the FS servers and a wide range of other vendors such as Dell, HPE, IBM, Intel, Supermicro servers etc.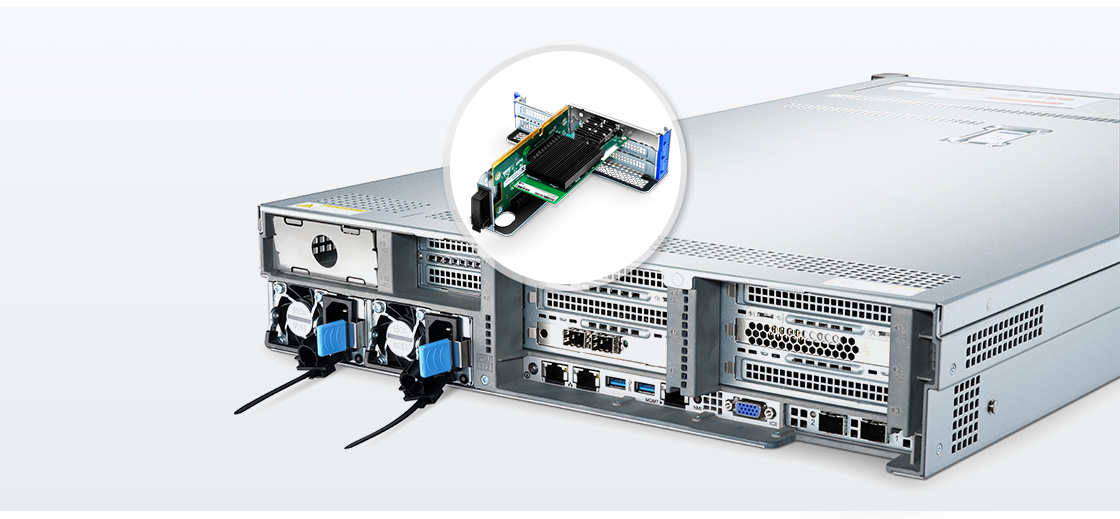 ---
Quality Certification
This product meets applicable RoHS requirements. The RoHS directive restricts the use of ten hazardous materials in the manufacture of various types of electronic and electrical equipment: lead, mercury, cadmium, hexavalent chromium, polybrominated biphenyls, polybrominated diphenyl ethers, and four different phthalates. Please

contact us

to learn more.