Tunable Dispersion Compensation Module(TDCM)

DCM, based on Gires -Tournois etalon technology, is widely used in all types of 10Gbps or 40Gbps rate DWDM systems Unification. It makes the optical path transmitted by optical signals different at different wavelengths, resulting in periodic dispersion effects, and at each of the wavelengths. The period can be highly controlled by linear group delay response.
By reasonable setting, the group delay response characteristic of TDCM module can effectively compensate the dispersion problem of DWDM optical communication system signal over long distance optical transmission.
Product Details
| | | | |
| --- | --- | --- | --- |
| Tunable Length | 0-60km/0-80km/0-100km | Wavelength Range | C-Band (1528nm-1564nm) |
| Insertion Loss | 6dB max | Channel Spacing | 100GHz |
| Dispersion Setting Resolution | 10 ps/nm | Dispersion Tuning Range | ±1400 ps/nm |
| Tuning Stability | 5 ps/nm | Power Consumption | 8 dB |
| Management | Monitor Online, Simple Management Tool | Operating Temperature | –5°C ~ 55°C |
| Storage Temperature | –40°C ~ 85°C | Connector | LC/SC/FC, UPC/APC polish |
| Chassis Type | 1U, 2U, 4U | Housing | Pluggable Module (Occupies 2 slots in FMT chassis) |
---
Product Highlights
Tunable Dispersion Compensator for DWDM Transmission System
Fully integrated module with a wide bandwidth and a large dispersion tuning range to support any 40 Gb/s modulation format
Accurate and dynamic control of chromatic dispersion for all channels simultaneously in optical communication networks
Suitable for G.652 and G.655 optical fiber systems & Low polarization mode dispersion, low latency

---
High-speed Optical System
In the non-coherent system of single wave 25~ 40G, the method of adopting DCF and TDCM can solve the dispersion residual problem and ensure the performance of the system.


Emergency Repair Platform
In case of the failure of optical cable link, 10G optical system emergency repair platform using TDCM can greatly reduce business interruption time and reduce economic losses .
DWDM Transmission System
TDCM can be used as an urgent adjustment role in 10G DWDM point to point applications when transmission distance is in 160km, total loss is less than 40dB and system capacity is 80G.

---
Available for All-in-One Multi-Service Transport System
Hot-swappable plug-in TDCM is fully integrated into FMT advanced 1U/2U/4U Managed Chassis, which meets market demands for rack space savings and efficient power consumption. As a part of FMT system where TDCM, OEO and other traffic units can also be deployed in the same chassis, it remarkably simplifies network planning and operation.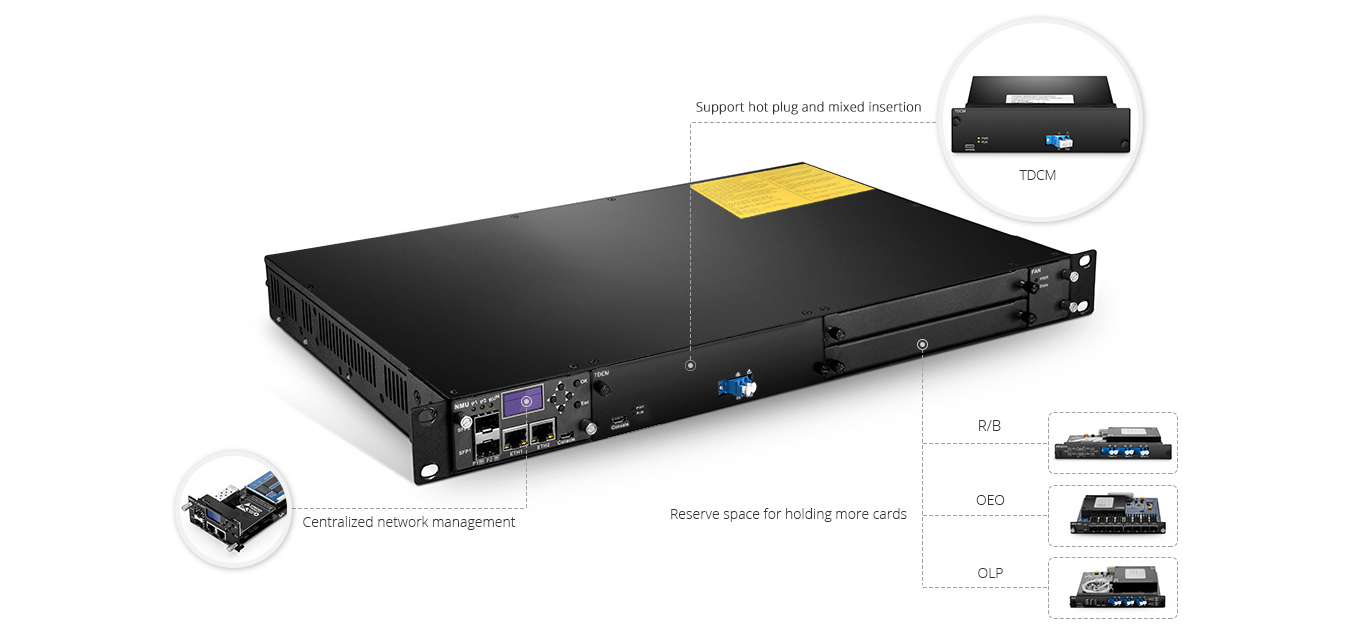 ---
FS Powerful Network Management System
TDCM pluggable module is used with FMT chassis embedded with OSC for remote management and topology detection to be managed by our SNMPV1- based MonitorOnline. Our MonitorOnline provides complete performance monitoring and management, including laser shutdown status, input power, and output power etc. to centralize OTN network management.

---
Design DCM Perfectly Tailored to Your Needs
Customized specifications are available upon request.

---
Products & Services for Better Networking
Financial Institutions丨Universities丨Service Providers丨Enterprises丨Dark Fiber Providers
Tips:
•FS professional technical support team offers you gratis solution 24/7 online.
•FS always focuses on design, R&D, innovation to provide you optical products. Welcome to contact
tech@fs.com
or
sales@fs.com.
---