Cisco QSFP-4X10G-LR-S Compatible 4x10GBASE-LR QSFP+ Optical Transceiver Module for Ethernet and Data Center (SMF, 1310nm, 10km, MTP/MPO-12, DOM)

The Cisco QSFP-4X10G-LR-S Compatible QSFP+ Optical Transceiver Module is designed for use in 40GBASE Ethernet throughput up to 10km over single mode fiber (SMF) using a wavelength of 1310nm via a MTP/MPO-12 connector. It provides high-density and low-power 40GBASE Ethernet solution for data centers, high-performance computing networks, enterprise core and distribution layer applications. It is fully compliant with the QSFP+ MSA and IEEE 802.3ae 10GBASE-LR/LW and OTN data rates OTU2, OTU1e, and OTU2e per the ITU. standard.
Cisco Compatible
QSFP-4X10G-LR-S
Vendor Name
FS
Form Factor
QSFP+
Max Data Rate
44.4Gbps
Wavelength
1310nm



Lane Center Wavelengths Range

1260 - 1355nm

Max Cable Distance
10km@SMF
Connector
MTP/MPO-12
Media
SMF
Transimitter Type
4x DFB
Receiver Type
PIN
DDM/DOM
Supported
Commercial Temperature Range
0 to 70°C (32 to 158°F)
TX Power
-6~-1dBm
Receiver Sensitivity
<-14.4dBm
Power Consumption
2.5W
Extinction Ratio
6dB
Modulation Format
NRZ
CDR
None
Transmit and Dispersion Penalty
2.6dB
Powerbudget
8.4dB
Packaging Technology
BOX Packaging
FEC Function



FEC in host is required to be turned on to increase the reliability of transmission.

Supported
Protocols
40Gigabit Ethernet, MSA Compliant
Application
10GBASE-LR/LW 10G Ethernet, OTU2, OTU1e, OTU2e, Data Center
---
Network Connectivity
Direct Connection for 40GBASE-PLR4 QSFP+ Optics with MTP Trunk Cable

---
Quality Testing Program
---
Quality Certifications
Please Note: Installing a third party transceiver does not void your network equipment warranty. Network equipment manufacturers all have guidelines stating that warranty support on their products will not be affected.
---
Test Bed
Cisco Catalyst C9500-24Y4C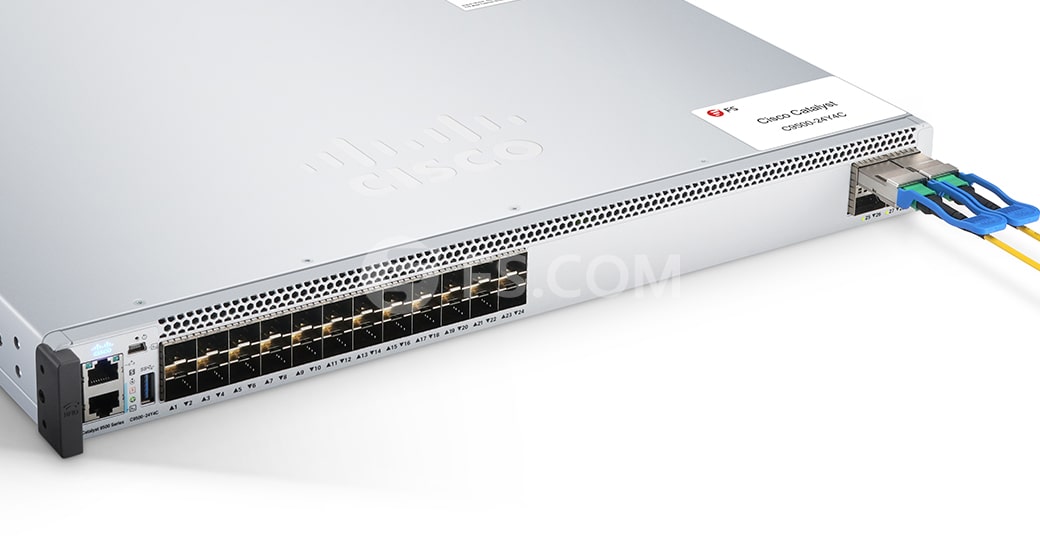 ---
Platform Support
Cisco QSFP-4X10G-LR-S is supported on a wide range of Cisco equipment.
Cisco Nexus 3000 N3K-3172PQ

Cisco Nexus 9000 N9K-X9536PQ

Cisco Nexus 3000 N3K-C3264Q

Cisco Nexus 92304QC

Cisco Catalyst C9500-24Y4C

Cisco Nexus 3000 N3K-3172TQ

Cisco Nexus 3000 N3K-C3064X

Cisco NCS 1002-K9

Cisco Nexus 9000 N9K-X9636PQ

Cisco Nexus 3000 N3K-C3164Q

Cisco Nexus N9K-C92160YC-X

Cisco Nexus 9300-EX Series 93180YC-EX

Cisco NCS-5508

Cisco Nexus 3000 N3K-C31128PQ-10GE

Cisco Nexus 3000 N3K-C3132Q-X

Cisco Nexus 9396PX

Cisco Nexus 3000 N3K-C3232C

Cisco Nexus 9000 N9K-C9332PQ

Cisco NCS-5501

Cisco Nexus 9000 N9K-X9432PQ
---