Cisco GLC-T compatible módulo transceptor 1000BASE-T SFP (Cobre, 100m, RJ-45)
Detalles de productos
| | | | |
| --- | --- | --- | --- |
| Cisco Genuine | GLC-T | Nombre de vendedor | FS |
| Tipo de forma | SFP | Velocidad máxima de datos | 1000Mbps |
| Tipo de cable | Cat 5 | Distancia máxima de cable | 100m |
| Interfaz | RJ-45 | Soporte DOM | No |
| Rango de temperatura comercial | 0 a 70°C (32 a 158°F) | Protocolos | Cumple con MSA, IEEE STD 802.3 y 802.3ab |
---
Certificación de calidad
El éxito de FS se basa en la calidad y las normas. Nos dedicamos a proporcionar productos y servicios destacados a nuestros clientes. FS ha obtenido muchas verificaciones del sistema de calidad, como CE, RoHS, FCC. Establecimos un sistema de garantía de calidad con estándares internacionales y estrictamente implementamos la gestión y control estandarizado en el diseño, desarrollo, producción, instalación y servicios.


Por favor note: La utilización de un transceptor de terceros no anulará la garantía de su equipo de red. Los fabricantes de equipos de red tienen directrices que indican que el soporte de garantía de sus productos no será afectado.
Garantía vitalicia
Todos los productos de fibra óptica de FS están totalmente garantizados contra defectos de material y mano de obra con una garantía de por vida. Esta garantía no cubre los daños causados por accidente, cuidado inadecuado, uso indebido, negligencia, desgaste normal o la ruptura natural de los colores y materiales durante un tiempo y uso prolongado.


---
1000Base-T SFP Optics Interconnected with Cooper Trunk Cable and Patch Panel
When interconnecting 1000Base-T SFP Optics between switches and servers in data center, cooper trunk cables, patch panels and patch cords are often used. Below interconnected solution shows the connection between one switch cabinet and one server cabinet.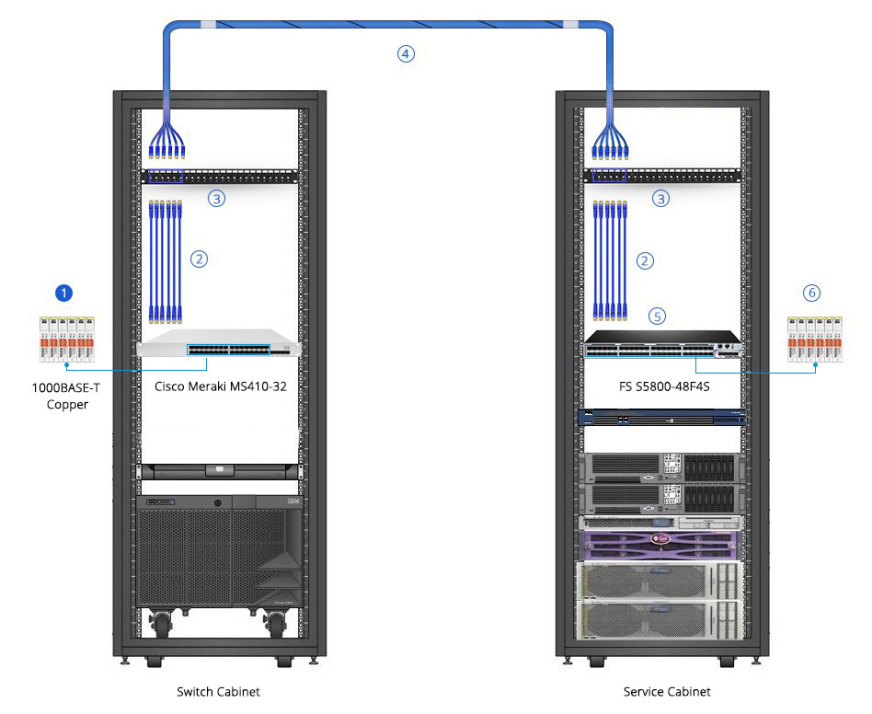 | Item No. | ID# | Description |
| --- | --- | --- |
| 1 | 11773 | Cisco GLC-T Compatible 1000BASE-T SFP Copper RJ-45 100m |
| 2 | 70595 | 3ft (0.9m) Cat6 Snagless Unshielded (UTP) PVC CM Ethernet Network Patch Cable with Transparent Sheath, Blue |
| 3 | 69180 | 24 Ports Cat6 Feed-Through Patch Panel, UTP Unshielded, 1U Rack Mount |
| 4 | 69066 | 3m (10ft) 6 Plug to 6 Plug Cat6 Unshielded PVC CMR (Blue) Pre-Terminated Copper Trunk |
| 5 | 29127 | S5800-48F4S (48*1GE+4*10GE) High Performance Data Center Switch |
| 6 | 20057 | Generic Compatible 1000BASE-T SFP Copper RJ-45 100m |
Centro de ensayos:
Demostración
Cisco Nexus 9300 Series (Switch/Módulo : N9K-C9396PX; Módulo Uplink : N9K-M12PQ )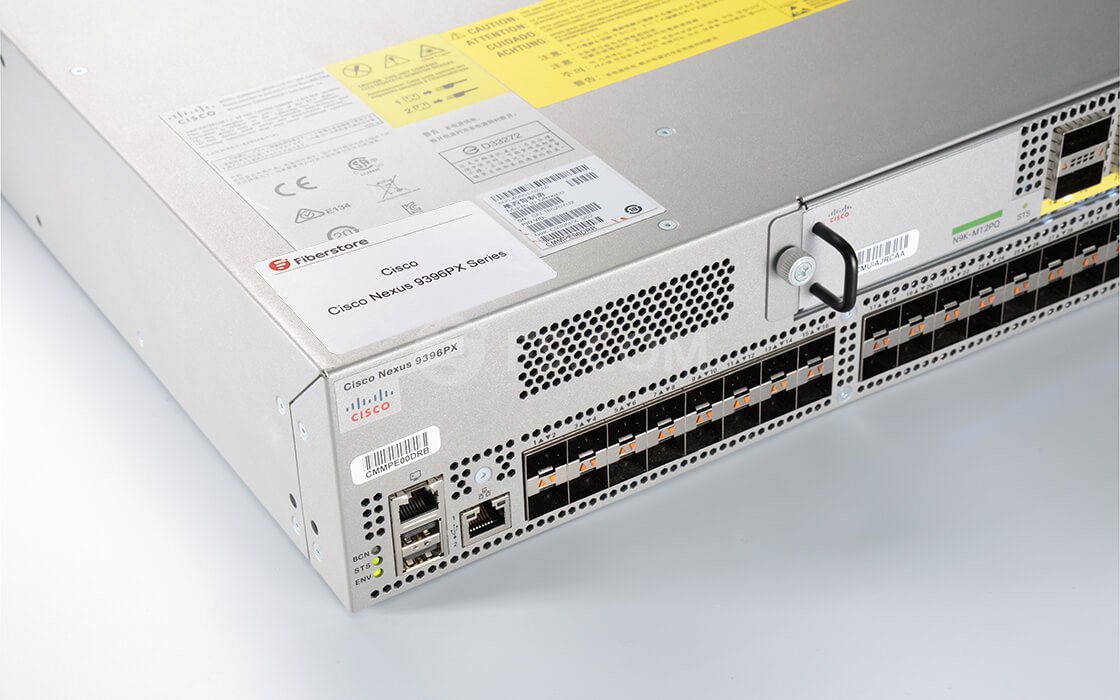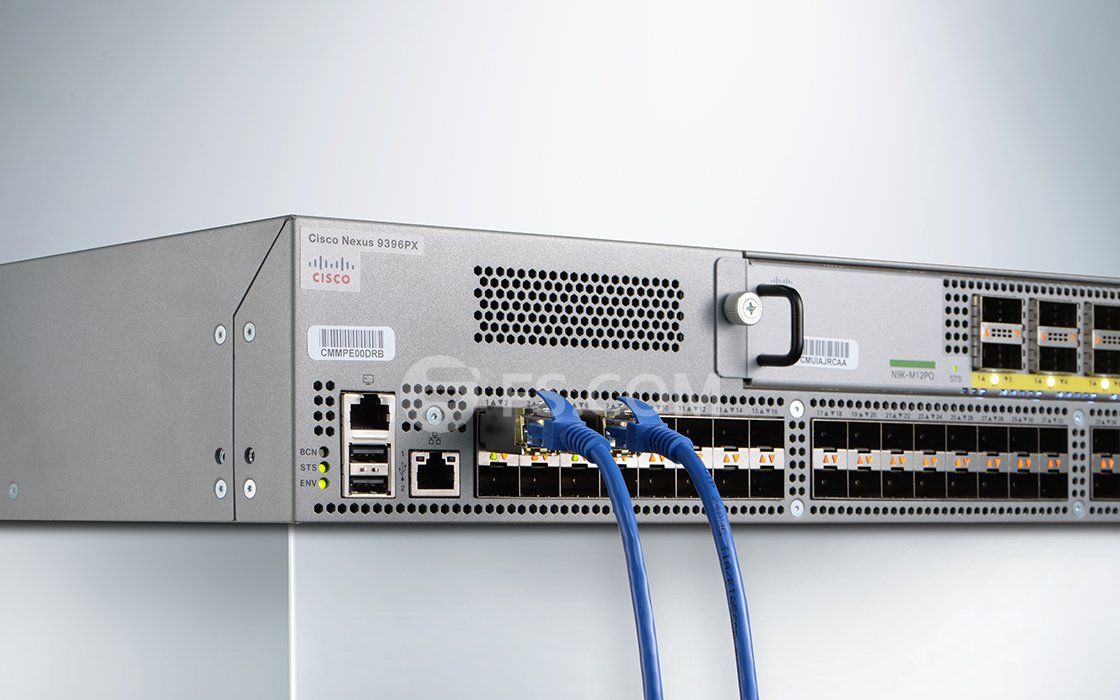 ---
Plataforma de soporte
Cisco GLC-T es compatible con una gran gama de equipos de Cisco.
FS S5800-48F4S Switch

Cisco WS-C3560-24PS

Cisco WS-C3750-24FS-S

Cisco IE-5000-12S12P-10G

Cisco 3800 NME-XD-48ES-2S-P

Cisco 4500 WS-X4516-10GE

Cisco 7600 RSP720-3CXL-GE

Cisco WS-C3560V2-48TS

Cisco 2960S-F24TS-S

Cisco 6500 WS-X6748-SFP

Cisco 2350-48TD-SD (with CVR-X2-SFP TwinGig converter)

Cisco IE-2000-16PTC-G-NX

Cisco WS-C2975GS-48PS-L

Cisco WS-C3750-24TS

Cisco WS-C2960X-48LPS-L

Cisco WS-C3560G-24PS

Cisco WS-C3750-48PS

Cisco 6500 WS-SUP32-10GE-3B

Cisco C6800-SUP6T

Cisco WS-C2960-24PC-L

Cisco IE-2000-8TC-G-E

Cisco IE-4000-8GT8GP4G-E

Cisco Nexus 9000 N9K-X9464PX

Cisco 4500 WS-X45-SUP7L-E

Cisco ME-3400-24TS-D

Cisco 4500 WS-X4606-X2 with CVR-X2-SFP Twin Gig converter

Cisco Nexus 5000 N55-M16P

Cisco WS-C3560G-48PS

Cisco IE-4000-8S4G-E

Cisco 11500 CSS11503-AC

Cisco 3000 WS-CBS3040-FSC

Cisco 2960S-F48FPS-L

Cisco WS-C3560G-24TS

Cisco WS-C2960X-48FPS-L

Cisco 2960S-F48TS-S

Cisco IE-4000-4GS8GP4G-E

Cisco WS-C2960+24TC-S

Cisco Nexus 5000 N5K-C5020P-BF

Cisco WS-C2960-24LC-S

Cisco WS-C3850-24XS