Flat-top 40ch C21-C60 Dual Fiber DWDM Mux Demux, 1U Rack Mount, LC/UPC

The Flat-top 40ch Mux Demux is a high density, cost-effective and standalone passive optical module. It is based on a-thermal AWG technology with Flat-top shaped pass bands. By providing access up to forty 100GHz spaced channels in a 1U package, this unit maximizes the capacity of the C-band range. In conjunction with the transponders and amplifiers, the 40ch Mux Demux supports a wide range of architectures from simple point-to-point to amplified ring configurations.
Product Details
Wavelength
40 channels C21-C60
Channel Spacing
100GHz (0.8nm)
Channel Passband
±0.11nm
Insertion Loss
≤ 6.0dB (with connectors and adapters)
Center Wavelength Accuracy
±0.05nm
Technology
AAWG (Flat-top)
Adjacent channel Isolation
≥ 25dB
Non-adjacent channel Isolation
≥ 30dB
Polarization Dependent Loss
≤ 0.5dB
Polarization Mode Dispersion
≤ 0.1ps
Temperature
Operating -5°C~ +65°C
Storage -40°C~+85°C
Dimensions (HxWxD)
1.73"x19"x10.28" (44x481.8x261.2mm)
---
Product Tree
Up to 100km can be Accomplished in a Point-to-Point 40ch DWDM MUX+MON Connection by Using EDFA with DCM together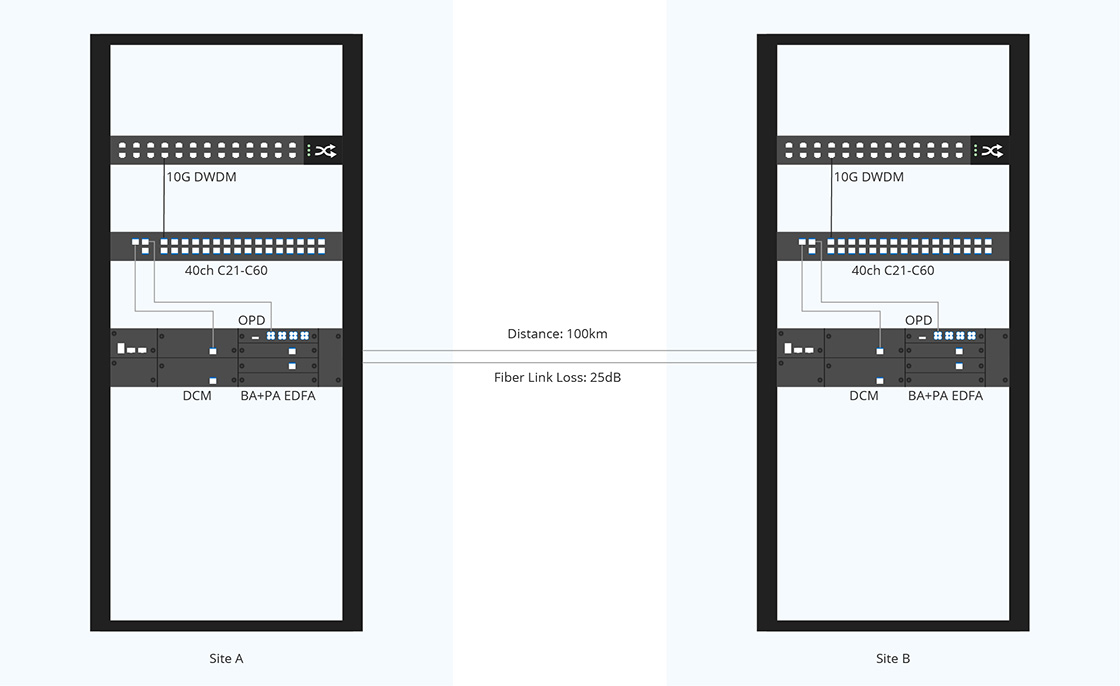 

Cisco C21 DWDM-SFP10G-60.61 Compatible 10G DWDM SFP+ 1560.61nm 80km DOM Transceiver Module
US$ 249.00


S5850-48S2Q4C 48-Port 10Gb SFP+ L2/L3 Carrier Grade Switch with 6 Hybrid 40Gb/100Gb Uplink Ports
US$ 5,700.00


40KM DCF-based Passive Dispersion Compensation Module, 4.2dB Low Loss, LC/UPC, Pluggable Module for FMT Multi-Service Transport Platform
US$ 790.00


4 Channels 1550nm OPD (AIU) Optical Power Detection, LC/UPC, Pluggable Module for FMT Multi-Service Transport Platform
US$ 430.00


20dB Gain Pre-Amplifier DWDM EDFA C-band 13dBm Output, LC/UPC, Pluggable Module for FMT Multi-Service Transport Platform
US$ 1,310.00


17dBm Output Booster DWDM EDFA C-band 17dB Gain, LC/UPC, Pluggable Module for FMT Multi-Service Transport Platform
US$ 1,570.00


Customized 1U/2U/4U Managed Chassis Unloaded, Supports up to 16x Multiplexer/EDFA/OEO/OLP Module with Accessories
US$ 370.00


Flat-top 40 Channels C21-C60, with 1310nm Port and Monitor Port, LC/UPC, Dual Fiber DWDM Mux Demux, FMU 1U Rack Mount
US$ 1,352.00
---
Product Highlights
Mux/Demux 40 Channels over Dual Fiber
Built-in Mux and Demux in one unit, working on two network fibers
Completely passive, no power& no cooling required
Fully compatible with all ITU-T DWDM optics

---
Efficient AAWG Flat-top Monolithic Technology
Based on the efficient AAWG Flat-top monolithic technology, this DWDM MUX is developed for long haul, metro and CATV applications with excellent channel isolation, accurate channel spacing, low insertion loss and high reliability.

---
Special Service
Monitor/1310nm port for external functions.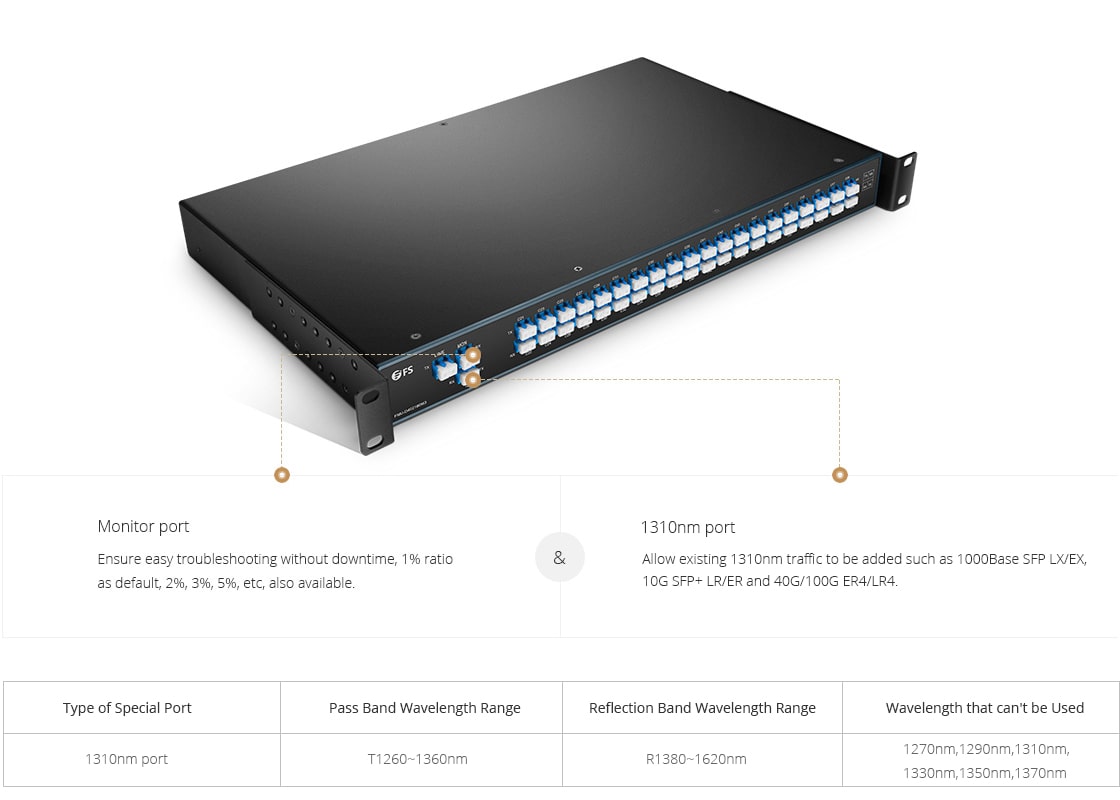 ---
DWDM End-to-End Long-haul Transmission Solution
The DWDM Mux Demux adopts high quality AAWG Flat-top technology, which can achieve up to 100km transmission distance in a point-to-point 40ch DWDM MUX+MON connection by using booster and pre-amplifier EDFA. With the using of OPD, the remote monitoring and management are available.

---
Remarkable Concentration and Manageability
DWDM Mux/Demux interconnect seamlessly with EDFA, DCM and so on, which can achieve maximum flexibility, scalability, and manageability to create a robust and flexible managed point-to-point or ring network.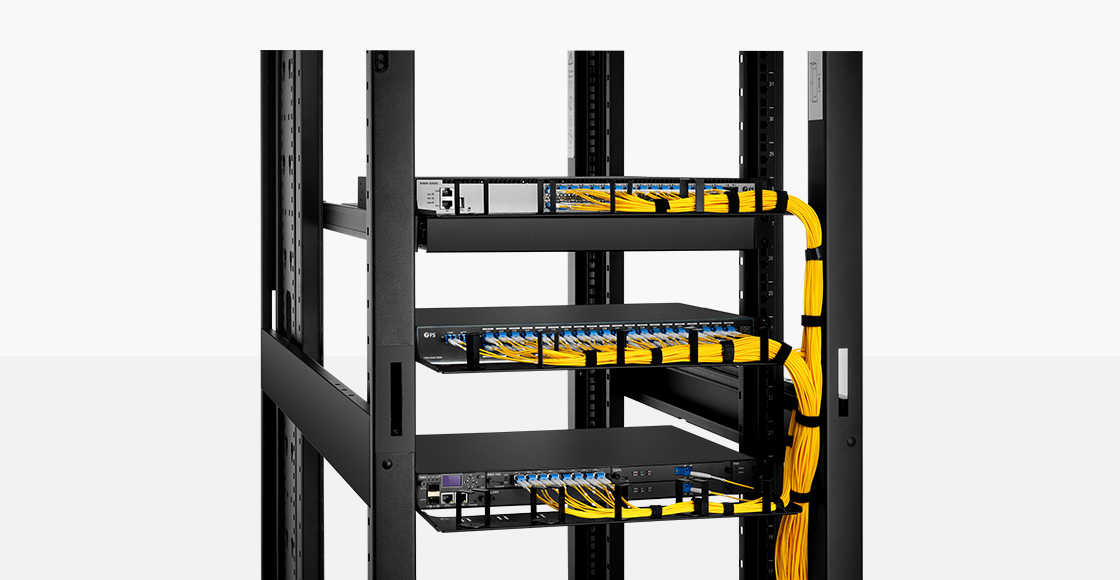 Tips
• DWDM is an optical multiplexing technology used to increase bandwidth over existing fiber networks.
• When it is not in use, please always capped with a clean dust cap, and always keep adapter ports and fiber connectors clean.
• Attached sticker describes the specifications of MUX, which improves deployment flexibility for your WDM system.
• FS always focus on design, R&D, innovation to provide you optimal products. Welcome to contact
tech@fs.com
or
sales@fs.com
.