Cisco QSFP-100G-SR4-S Compatible 100GBASE-SR4 QSFP28 Optical Transceiver Module for Data Center, Ethernet and Telecom (MMF, 850nm, 100m, MTP/MPO, DOM)

The Cisco QSFP-100G-SR4-S Compatible QSFP28 Optical Transceiver Module is designed for use in 100GBASE Ethernet throughput up to 100m over OM4 multimode fiber (MMF) using a wavelength of 850nm via a MTP/MPO-12 connector. It provides high-density and low-power 100GBASE Ethernet solution for data centers, high-performance computing networks, enterprise core and distribution layer applications. It is fully compliant with the QSFP28 MSA, IEEE 802.3bm 100GBASE-SR4 and CAUI-4 standard.
Cisco Compatible
QSFP-100G-SR4-S
Vendor Name
FS
Form Factor
QSFP28
Max Data Rate
103.1 Gbps
Wavelength
850nm
Max Cable Distance
70m@OM3/100m@OM4
Connector
MTP/MPO-12
Media
MMF
Transmitter Type
VCSEL 850nm
Receiver Type
PIN
DDM/DOM
Supported
Commercial Temperature Range
0 to 70°C (32 to 158°F)
TX Power
-8.4~2.4dBm
Receiver Sensitivity
<-10.3dBm
Power Consumption
3.5W
Extinction Ratio
3dB
Modulation Format
NRZ
CDR
TX and RX
Transmit and Dispersion Penalty
5dB
Powerbudget
1.9dB
Packaging Technology
COB (chip on board) Packaging
FEC Function



FEC in host is required to be turned on to increase the reliability of transmission.

Supported
Protocols
QSFP28 MSA Compliant
Application
100GBASE Ethernet, Data Center, Telecom
---
Network Connectivity
Data Center Interconnect Solution for 100G Gigabit Ethernet Switches with FAPs and Fiber Enclosures

---
Quality Testing Program
---
Quality Certifications
Please Note: Installing a third party transceiver does not void your network equipment warranty. Network equipment manufacturers all have guidelines stating that warranty support on their products will not be affected.
---
Product Highlights
Reliable Connectivity Within Data Center
Featured with high reliability, low insertion loss and better signal quality, the 100GBASE-SR4 QSFP28 transceiver is widely applied for 100G Ethernet ToR/Leaf to Spine links reach up to 100m.
---
Comprehensive Performance Test
100G transceivers are certified and tested through the automatic quality control system, which can test and ensure the performance of transceivers in actual working environment to avoid quality problems such as transmission error, link flapping, and so on.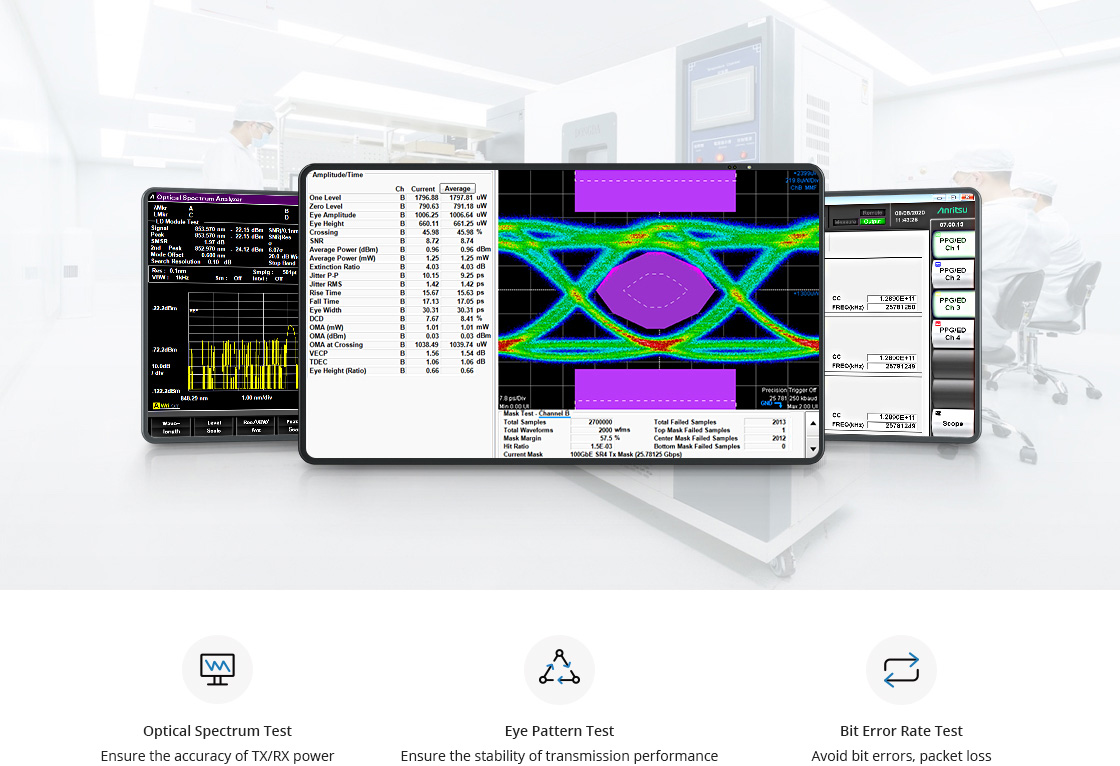 ---
Test Bed
Cisco Catalyst C9500-24Y4C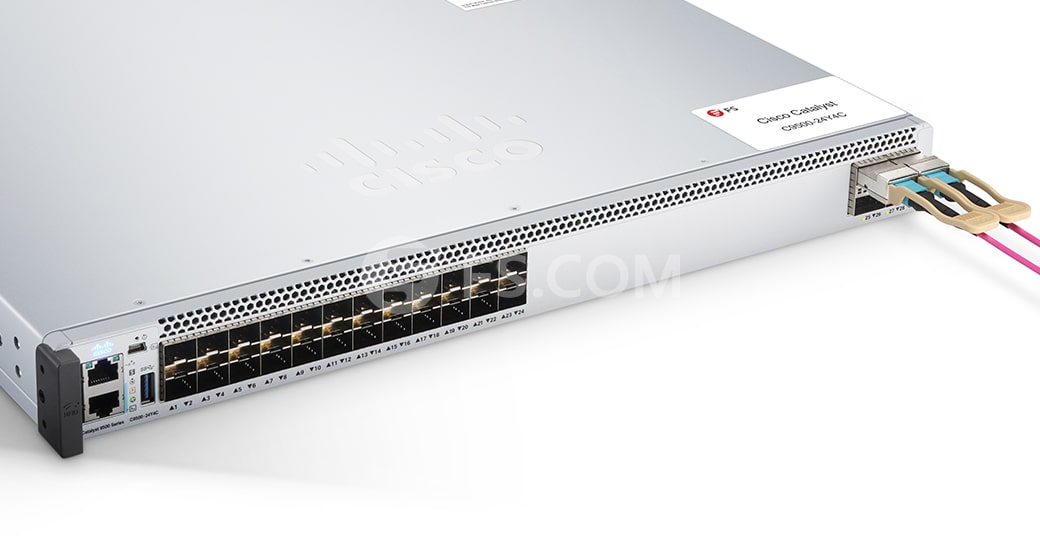 ---
Platform Support
Cisco QSFP-100G-SR4-S is supported on a wide range of Cisco equipment.
Cisco NCS-5501

Cisco ONS Transport Platform NCS-1002-K9

Cisco Nexus N9K-C92160YC-X

Cisco Nexus 9000 Series (Fixed 9200) N9K-C92160YC-X

Cisco Nexus 9000 Series (Modular 9500) N9K-X9432C-S

Cisco Nexus 9300-EX Series 93180YC-EX

Cisco Nexus 3000 Series N3K-C3232C

Cisco Catalyst C9500-24Y4C
---