Opto-Mechanical Optical Switches

FMT Optical switches is a kind of optical path control equipment, mainly used in optical communication. The opto-mechanical optical switches, based on thin film filter technology, which connects optical channels by redirecting an incoming optical signal into selected output fibre.
Product Details
Testing Wavelength
1310nm / 1550 nm
Repetitive
≦0.05 dB
Insertion Loss
Typ≦1.0dB
Return Loss
>50dB
Crosstalk
>55dB
PDL
≦ 0.05
WDL
≦0.25
Switch Time
10×( n-m ) + 5( from port m to n, n>m )
10×( n-m ) + 30( from port n to m, n>m )
Connector
LC/UPC
Channel Optional
16
Control Mode
Latching*
* Note:Non-latching optical switch can be customized, please contact
sales@fs.com
for more details.
---
Product Highlights
Superior Performance Opto-Mechanical Optical Switches
Unaffected by the polarization and wavelength
Switching time interval from 1 second to 99 hours 59 minutes and 59 seconds
Support manual switching modes by the NMU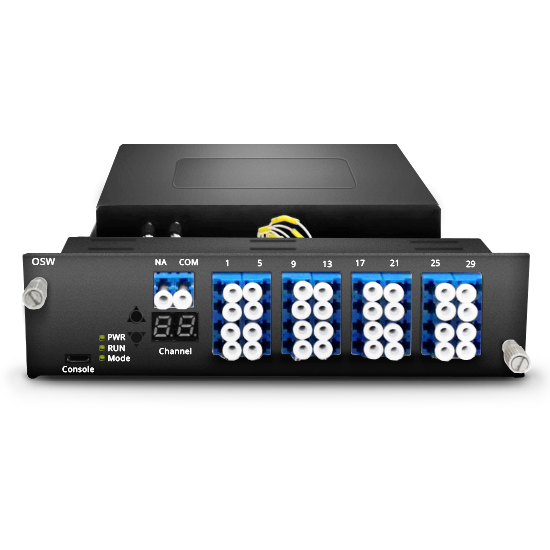 ---
Wide Range of Opto-Mechanical Optical Switches Applications
Optical transport network onto a powerful and flexible Optical Switches, enables optical network protection/restoration, datacenter interconnect, business ethernet services, metro and access rings, etc.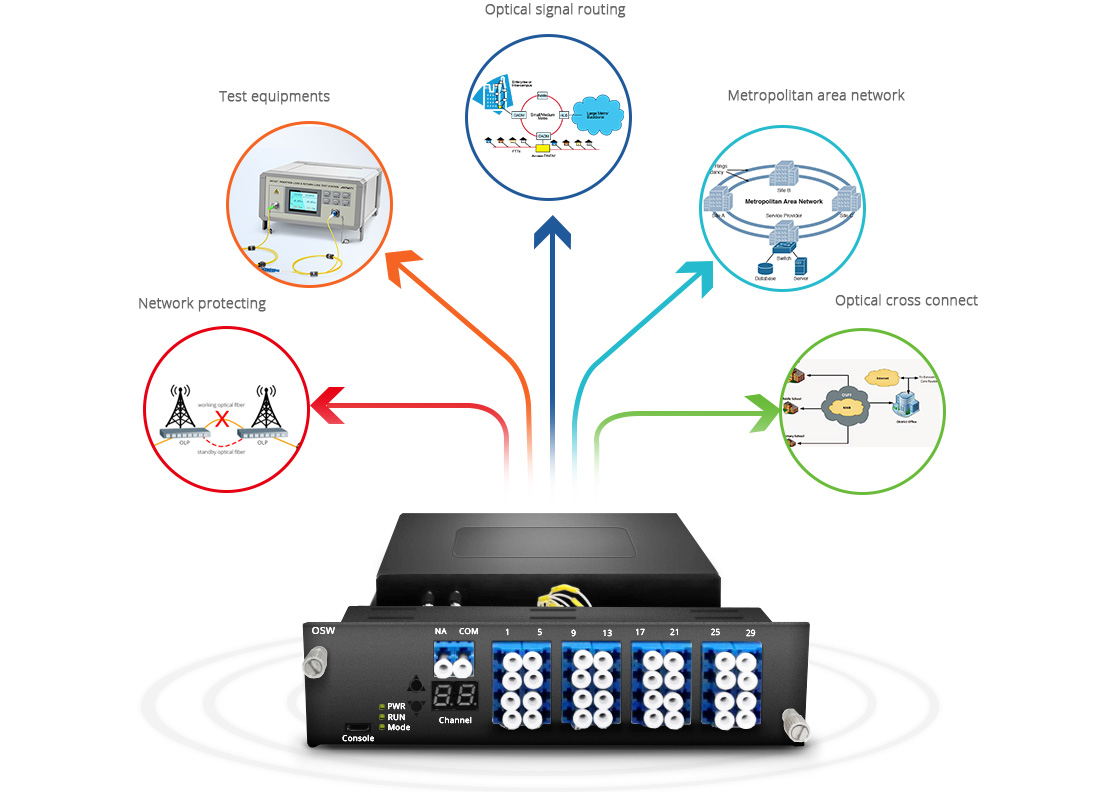 ---
Optional Control Modes of Latching and Non-Latching
A latching version preserves the selected optical path after the drive signal has been removed, and the non-latching version defaults to either the open or close state when power is removed.

---
FS FMT Optical Transport Network Management System
FS Network Management Unit (NMU/NMS) is developed with ARM9 control design. NMU/NMS provides full fault, configuration, performance, security Management. FMT Monitor online management software (a Java-based network management system) built with modular client uses the Microsoftware SQL Server 2008R2 database.

Tips
•FS can offer customized designs including fiber mode, wavelength, and control mode, etc. to meet specialized feature applications.
•Comprehensive user/software manual and test report were positioned inside the box.
•FS professional technical support team offers you gratis solution 24/7 online.
•FS always focuses on design, R&D, innovation to provide you optical products. Welcome to contact tech@fs.com or sales@fs.com.
---
Quality Certification
This product provides the lifetime warranty , which aims to reflect our greatest sincerity. Please

contact us

to learn more.

This product is in conformity with ISO9001. This system is valid to a company engaging in development, production and supply service of fiber optical products. Please

contact us

to learn more.

This product is RCM compliant, which indicates compliance with electrical safety, EMC, EME and telecommunications legislative requirements. Please

contact us

to learn more.