Optical Line Protection System for Fibre Protection, Bi-directional Protection, Customised Housing

OLP(Optical Line Protection) is a device used in pairs, one at each end of the optical signal to protect network transmission line. It can realize optical power monitoring and automatic switching. In optical communication network, OLP monitors optical power of optical fibre and standby optical fibre at real time. In case the current optical power of optical fibre is less than pre-set switching threshold value, then alarm is on and it would switch to standby optical fibre automatically to protect optical transmission system line.
FS provides 2 types of line protection: 1:1 line protection and 1+1 line protection. Wavelengths and connectors can be customised to meet special control and applications.The device is available with standard 1U rack mount and Pluggable Module.
Product Details
| | | | |
| --- | --- | --- | --- |
| Fiber Type&Operating Wavelengths | SMF(1310±50nm/1550±50nm) | Return Loss | ≥55dB |
| Power Supply | Single/Dual power | Maximum Optical Power Load | 300mW |
| Chassis Type | 1U, 2U, 4U | Housing | Pluggable Module/1U 19'' rack mount |
| Switching Speed(1+1) | <15ms | Switching Speed(1 to 1) | <35ms |
| Operating Temperature | -10~+50°C | Storage Temperature | -40~+80°C |
| Operating Humidity | 5%~95% no condensation | Management | SNMP, Monitor Online, Simple Management Tool |
---
Product Highlights
Optical Line Protection Module, Placed in 1U/2U/4U Managed Chassis
High level of integration by plug-in design, which saves space of cabine
Real-time monitoring, and fast switching between primary and secondary optical lines
Support SNMP Management and Fast, Gigabit and 10 Gigabit Ethernet

---
Fast Switching, 1+1 Point-to-Point OLP Using 1x2 Switches
1+1 OLP can protect transmission network from link failures, using an optical splitter to bridge the optical signal to working fiber and protection fiber. Data transmitted over both fibers simultaneously. While for Rx, the optical signal with better quality will be selected.

---
Point-to-Point 1 to 1 OLP Using 2x2 Switches
The 1 to 1 OLP system is based on two switches for both Tx and Rx paths. When there is a fault on the main route, the Rx port will detect the decreasing of the optical power. Then, this OLP system will switch the transmitting and receiving businesses from the main route to the standby route.

---
Independent Research and Development of Management System
Our Monitor Online is a user-friendly network management system which is based on SNMP. This system can support hierarchical topology view, network fault management and alarm, user administration and configuration of the devices in the network.

---
Remarkable Concentration and Manageability
Hot-swappable plug-in OLP card only occupies 1 slot in the 1U/2U/4U chassis, which can be highly integrated with FS management platforms and OEO/DCM/EDFA products. FS Multi-Service Transport (FMT) System is engineered to support low-cost DWDM solutions for high-capacity optical links and conducive to save cabinet space.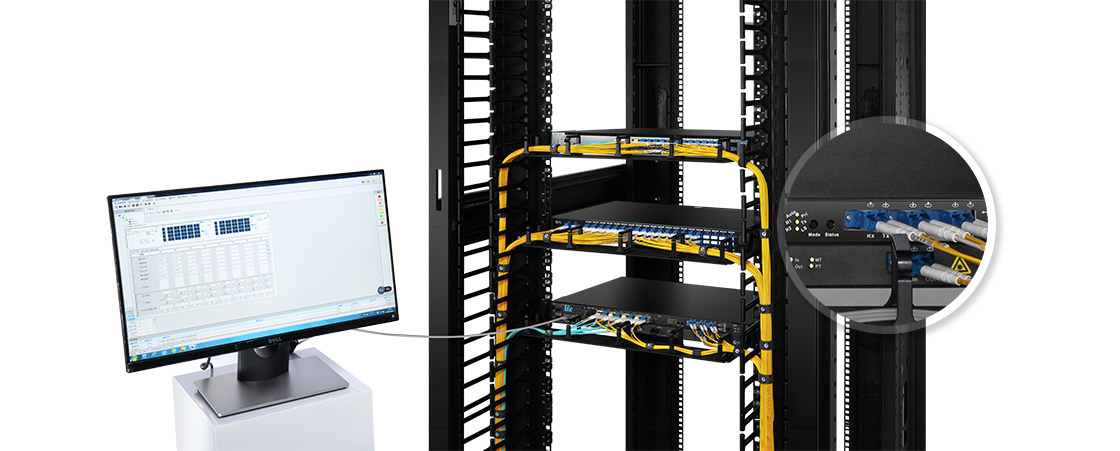 

40 Channels C21-C60, with 1310nm Port and Monitor Port, LC/UPC, Dual Fibre DWDM Mux Demux, FMU 1U Rack Mount
A$2,460.00


1U Managed Chassis Unloaded, Supports up to 4x EDFA/OEO/OLP Module with Accessories
A$540.00


4 Channels Multi-Rate WDM Converter (Transponder), 8 SFP/SFP+ Slots, Up to 11.3G Rate, Pluggable Module for FMT Multi-Service Transport Platform
A$1,100.00


1+1 Optical Line Protection Switch (OLP), Pluggable Module for FMT Multi-Service Transport Platform
A$670.00


S5850-32S2Q 32-Port 10Gb SFP+ L2/L3 Data Centre Leaf Switch with 2 40Gb QSFP+ Uplinks
A$4,353.00
---
Products & Services for Better Networking
Financial Institutions丨Universities丨Service Providers丨Enterprises丨Dark Fiber Providers
Tips:
•FS professional technical support team offers you gratis solution 24/7 online.
•FS always focuses on design, R&D, innovation to provide you optical products. Welcome to contact
tech@fs.com
or
sales@fs.com.
---