16 Fibers MTP Female to MTP Female OM4 Multimode Trunk Cable

16 Fibers MTP trunk cable is designed for 400G QSFP-DD SR8 optics direct connection and supporting 400G transmission for Hyperscale Data Center. With US Conec MTP connectors and Corning Clearcurve fiber, it is optimized for high-density fiber patching in data centers which need space saving and reduce cable management troubles.

Please note: The US Conec MTP connectors are fully compliant with the MPO standards, achieving higher performance levels when compared to generic MPO connectors.
Product Specifications
| | | | |
| --- | --- | --- | --- |
| Connector A | MTP Female (US Conec) | Connector B | MTP Female (US Conec) |
| Fiber Mode | OM4 50/125μm | Wavelength | 850/1300nm |
| 400G Ethernet Distance | 100m at 850nm | Glass Fiber | Corning ClearCurve |
| Polish Type | APC to APC | Minimum Bend Radius | 7.5mm |
| Insertion Loss | 0.35dB Max (0.15dB Typ.) | Return Loss | ≥20dB |
| Attenuation at 850nm | ≤2.3dB/km | Attenuation at 1300nm | ≤0.6dB/km |
| Cable Diameter | 3.0mm | Cable Jacket | Plenum (OFNP) |
| Installation Tensile Load | 100 N | Long-Term Tensile Load | 50 N |
| Operating Temperature | -10°C to +70°C | Storage Temperature | -40°C to +85°C |
---
Product Spotlight
US Conec MTP-16 Connector

0.35dB ultra low IL

New keying design

Support 400G transmission
Bend Insensitive Fiber

Corning ClearCurve multimode fiber

7.5mm minimum bend radius
Test Assured Program

End-face inspection

3D interferometer test

Insertion loss and return loss testing
---
Product Tree
Direct Connection for 400GBASE-SR8 QSFP-DD Transceivers



Generic Compatible 400GBASE-SR8 QSFP-DD PAM4 850nm 100m DOM Transceiver Module
US$ 1,299.00


NEOCLEAN-M2 MTP/MPO-16 One-Push Cleaner (600 cleans)
US$ 56.00


2m (7ft) MTP APC Female 16 Fibers Trunk Cable, for 400G Network Connection, Plenum (OFNP) OM4 50/125 Multimode Elite, Magenta
US$ 140.00
---
Product Highlights
Designed for the Race to 400G Ethernet
FS provides the industry-leading density 16-core MTP fiber assemblies to support 400G transmission. Utilizing the same external footprint as the existing traditional 12-fiber MT ferrule, the MTP-16 consists of a US Conec MT Elite ferrule with one row of 16 fibers, leveraging all the proven MT Elite ferrule technology in a higher-density format.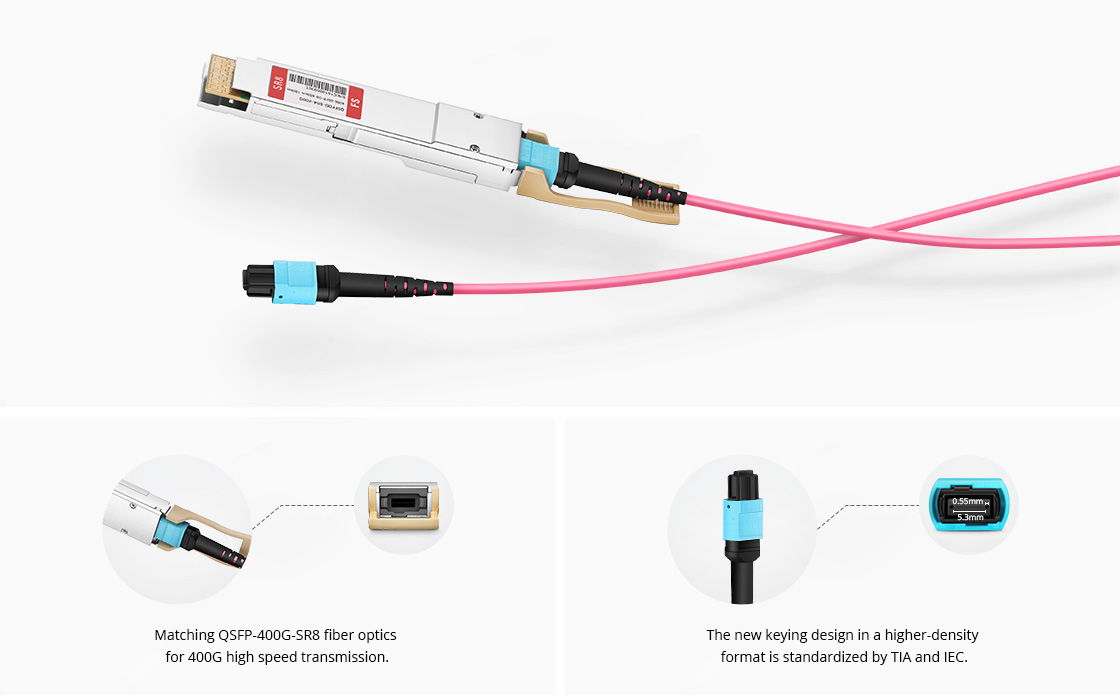 ---
0.35dB Ultra Low IL+ US Conec Connector
US Conec MTP connector features the industry's highest-precision thermoplastic ferrule, designed to 0.35dB Max. IL.


Corning ClearCurve Multimode Fiber
Corning ClearCurve multimode fiber is designed to withstand tight bends and challenging cabling routes with substantially less signal loss than conventional multimode fiber.
Plenum Rated Outer Jacket
Plenum cables are purposefully built with jacket materials that give off low amounts of smoke and retard flames spread, making sure the cables are safe and heat-resistant.


7.5mm Minimum Bend Radius
With BIF, our cable is designed for improved bend performance in reduced-radius applications such as residential or office environments which have less bend sensitivity.
---
Assembly Structure Illustraion and Inner Line Sequence

---
Eco-Friendly Packaging & Labeling
This easy-to-take and well-protected fiber optical cable package has been labeled and marked by FS as default. Customized label or package solution are available on request.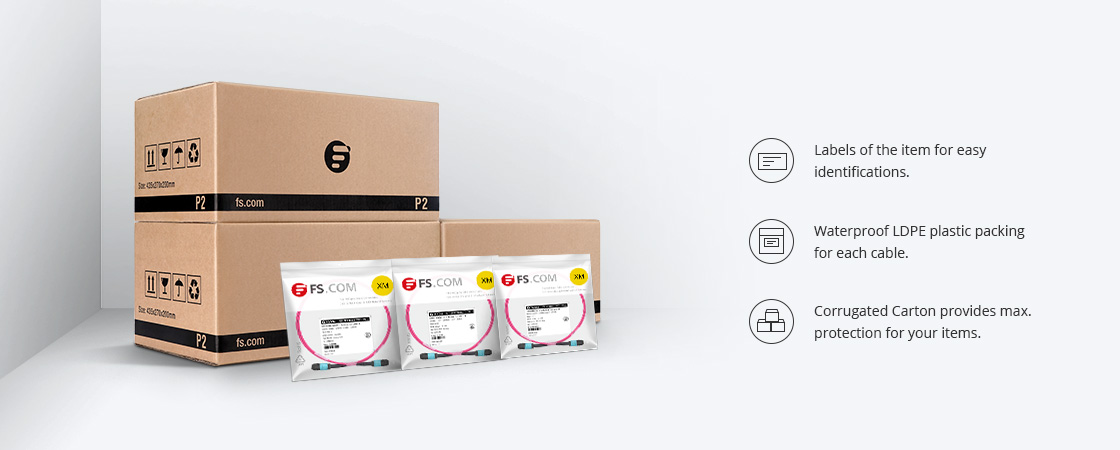 ---