40ch DWDM Mux/Demux Module, 100GHz ITU Grid, C21-C60, Duplex LC/UPC

The 40ch Mux Demux is a high density, low loss and standalone passive optical module. It is based on TAWG technology. The unit contains two pieces of forty-channel DWDM 100GHz multiplexers (one mux, one demux) in pluggable module type. In conjunction with the transponders and amplifiers, the 40ch mux demux supports a wide range of architectures from simple point-to-point to amplified ring configurations.
Product Specification
| | | | |
| --- | --- | --- | --- |
| Wavelength | 40 channels C21-C60 | Channel Spacing | 100GHz (0.8nm) |
| Insertion Loss | ≤ 5.5dB (with connectors and adapters) | Center Wavelength Accuracy | ±0.05nm |
| Channel Passband | ±0.11nm | Technology | TAWG (Gaussian) |
| Adjacent channel Isolation | ≥ 25dB | Non-adjacent channel Isolation | ≥ 29dB |
| Return Loss | ≥ 40dB | Directivity | ≥ 40dB |
| Polarization Dependent Loss | ≤ 0.5dB | Polarization Mode Dispersion | ≤ 0.5ps |
| Operating Temperature | -5°C~ +65°C | Storage Temperature | -40°C~+85°C |
| Net Weight | 2kg (4.4lb) | Housing | Pluggable Module (Occupies 4 slots in FMT chassis) |
---
---
Product Highlights
40 Channels DWDM Mux/Demux Pluggable Module
Separate Mux and Demux design, convenient for integrating with FMT chassis
Up to 40 protocol transparent channels using one pair of fibers
Fully compatible with all ITU-T DWDM optics

---
Available for All-in-One Multi-Service Transport System
As a part of multi-service transport system, hot-swappable pluggable Mux and Demux card occupy 4 slots in the 1U/2U/4U chassis.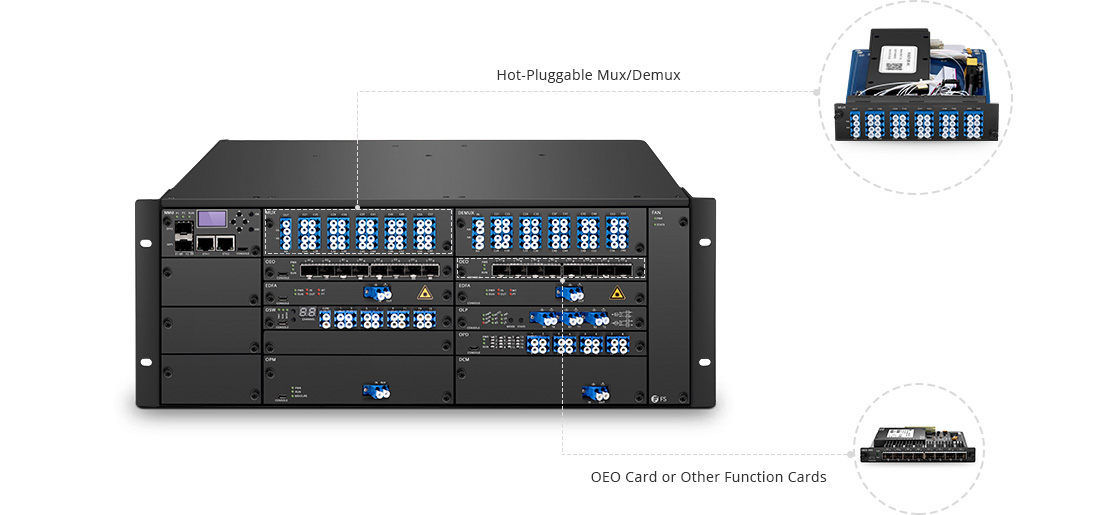 ---
Application for DWDM Solution
40ch DWDM Mux Demux pluggable module is designed for using in FMT chassis, which can be used with other function cards like tansponder(OEO), EDFA, DCM and OLP cards to create a high-intergrated DWDM solution. FS also provide standardized optical transmission solutions, such as FMT-4000 optical transport platform, for customer's demand.

---
Equipment Management System
NMU/NMS provides full fault, configuration, performance, security management and instant push emails. FMT monitor online management software (a Java-based network management system) built with modular client uses the Micosoftware SQL Server 2008R2 database.
But NMU/NMS can only monitoring the basic factory information of the board and whether it is online, if monitoring optical signal is needed, function cards like OPD,OPM will suitable for you.

Tips
• DWDM is used to increase the bandwidth of an optical fiber by multiplexing several wavelengths (or colors) onto it.
• When it is not in use, please capped with a clean dust cap, and keep adapter ports and fiber connectors clean.
• Attached sticker describes the specifications of MUX, which improves deployment flexibility for your WDM system.
• FS always focus on design, R&D, innovation to provide you optimal products. Welcome to contact
tech@fs.com
or
sales@fs.com
.
---