18 Channels CWDM Dual Fiber 50km End-to-End Transport Platform

18 Channels CWDM Dual Fiber Transport Platform is a standardized CWDM dual-fiber end-to-end transport solution, which can build up to 180G capacity CWDM networks. With different transceivers, it can be 36km @ 1G CWDM SFP 80km, 16km @ 10G CWDM SFP+ 40km and 50km @ 1G CWDM SFP 100km. Adding OEO at both ends does not change the transport distance, but extends on the line.

Due to its modular design the transfer capacity of the FMT Optical Transport Platform can easily grow with the ever increasing demand for new bandwidth of modern businesses and telecommunication providers, without the need to install additional costly fiber optic routes.

The FMT Chassis is compatible with NMU/NMS and is available in a 1U package to meet different capacity requirements and cooling requirements.
Technical Specifications
Transmission Distance
50km on fiber loss at 0.4dB/km @ 1G
16km on fiber loss at 0.4dB/km @ 10G
Management
SNMPv1, Monitor Online, Simple Management Tool
Rate per Wavelength
Up to 10Gbps
Client Protocols
SDH/SONET, PDH, OTN, Ethernet, SAN
Insertion Loss
7dB
Chassis
1U rack mount, 4 slots
System Margin
3dB
Dimensions (HxWxD)
1.75"x19"x11.81" (44.5x482.6x300mm)
Transmission Capacity
18Gbps (18x 1Gbps)
180Gbps (18x 10Gbps)
Transceiver
1G CWDM SFP 100km
10G CWDM SFP 40km
Channels No.
18CH (1270nm~1610nm at 20nm)
Power Supply
Dual power, 100V-240VAC
Topology
End-to-End
Operation Temperature
-5~60°C
Networking Modes
Dual fiber bi-directional transport
Storage Temperature
-40~80°C
* Note: If there are any special requirements, please contact at
sales@fs.com
for details.
---
---
Product Highlights
Packing List
50KM Transmission | 1G&10G Serivice | End to End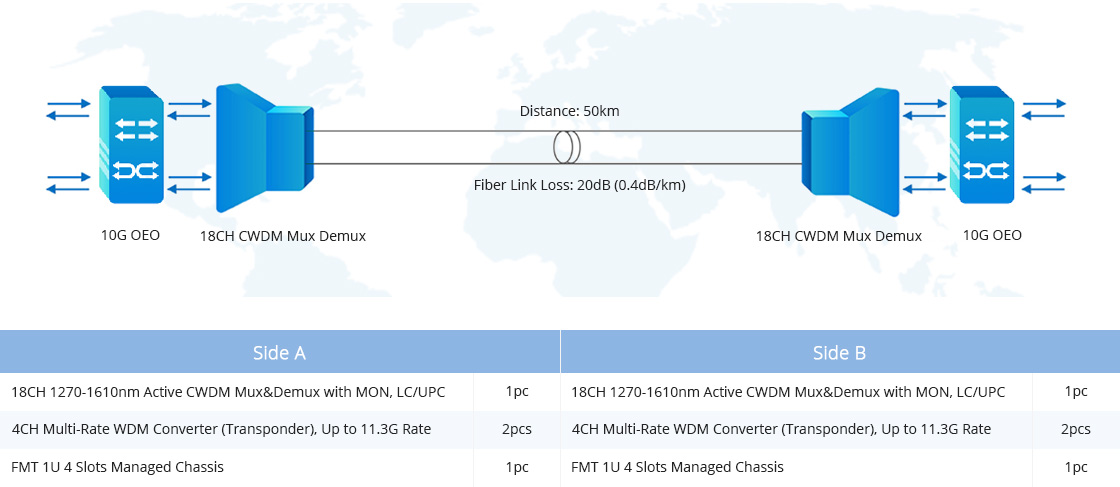 ---
Highly Integrated Extending Multiplexing Platform
Financial Institutions丨Universities丨Service Providers丨Enterprises丨Dark Fiber Providers

---
FMT Equipment Management System
NMU/NMS provides full fault, configuration, performance, security management and instant push emails. FMT monitor online management software (a Java-based network management system) built with modular client uses the Micosoftware SQL Server 2008R2 database.

---
Highly Quality Assurance, More than 12 Reliability Tests
100% qualified factory test for each unit
Optical module identification test
Chassis function
Chassis appearance
Insertion loss test
PD accuracy test
Return loss test
Temperature cycle test
Alarm threshold
Error performance test
Pump threshold test
Switching test
GF/NF performance test
---