8 Channel HD-SDI Unidirectional Video & 1 Forward Data & 8 Forward Audio & 1000M Ethernet Optical Fiber Transmitter and Receiver Set

HD SDI video signal can be transmitted through one single fiber with non-distortion, high-quality, long-distance transmission. This series of video to fiber converter is with stable performance, clear picture quality, and high stability for LED status indication on the body of device. The working status of devices can be visually observed.

The FS3080-T/R could transmit HD/SD-SDI as per SMPTE 292M, 259M, 297M, 305M, 310M, M2S, DVB-ASI, DVB-SSI and other telecom/datacom rate, with embedded audio and data, as well as DVB-ASI over one single mode or multimode fiber. Signals are equalized and re-clocked prior to fiber optic transmission. And HD-SDI Unidirectional Fiber Optic Transmitter should be worked with HD-SDI Unidirectional Fiber Optic Receiver. The price on the website is for pair.
Product Specifications
| | | | |
| --- | --- | --- | --- |
| Video Channel | 8-ch Undirectional HD-SDI Video | Audio Channel | 8-ch Forward Embedded Audio |
| Data Channel | 1-ch Forward RS485 Data | Ethernet Channel | 1-ch 1000M Ethernet |
| Fiber Type | Single-mode Simplex | Transmission Distance | 20km |
| Craft | Uncompressed Technology | Video Spec | 1080P 30 Hz |
---
Product Highlight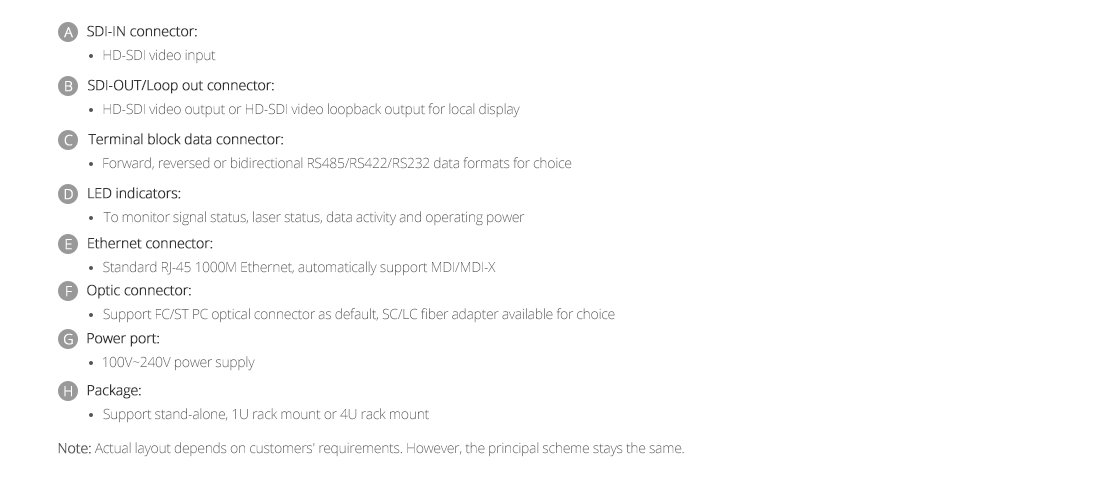 ---