Superior Multimode Fiber Optic Pigtail

Fiber optic pigtails provide a fast way to make communication devices in the field. They are designed, manufactured and tested according to protocol and performance dictated by the industrial standards, which will meet your most stringent mechanical and performance specifications.
Please note: E2000 is an LSH connector with a dust-proof cover.
Product Specification
| | | | |
| --- | --- | --- | --- |
| Connector Type | LC/SC/FC/ST/LSH | Polish Type | UPC |
| Fiber Mode | OM4 50/125 μm | Wavelength | 850/1300 nm |
| Cable Type | Color-coded/Bunch/Ribbon | Fiber Count | 4/6/8/12/24 |
| Fiber Grade | Bend Insensitive | Min. Bend Radius (Color-coded) | 7.5 mm |
| Dynamic Min. Bend Radius (Bunch/Ribbon) | 20D (mm) | Static Min. Bend Radius (Bunch/Ribbon) | 10D (mm) |
| Insertion Loss | ≤0.3 dB | Return Loss | ≥20 dB |
| Attenuation at 850nm | 3.0 dB/km | Attenuation at 1300nm | 1.0 dB/km |
| Cable Jacket | PVC/LSZH/OFNP | Cable Diameter | 0.9/2.0 mm |
| Operating Temperature | -40~75°C | Storage Temperature | -45~85°C |
---
Product Highlights
A Variety of Applications for Different Equipments
Widely used in CATV, FTTH/FTTX, telecommunication networks, premise installations, data processing networks, LAN/WAN network, and more.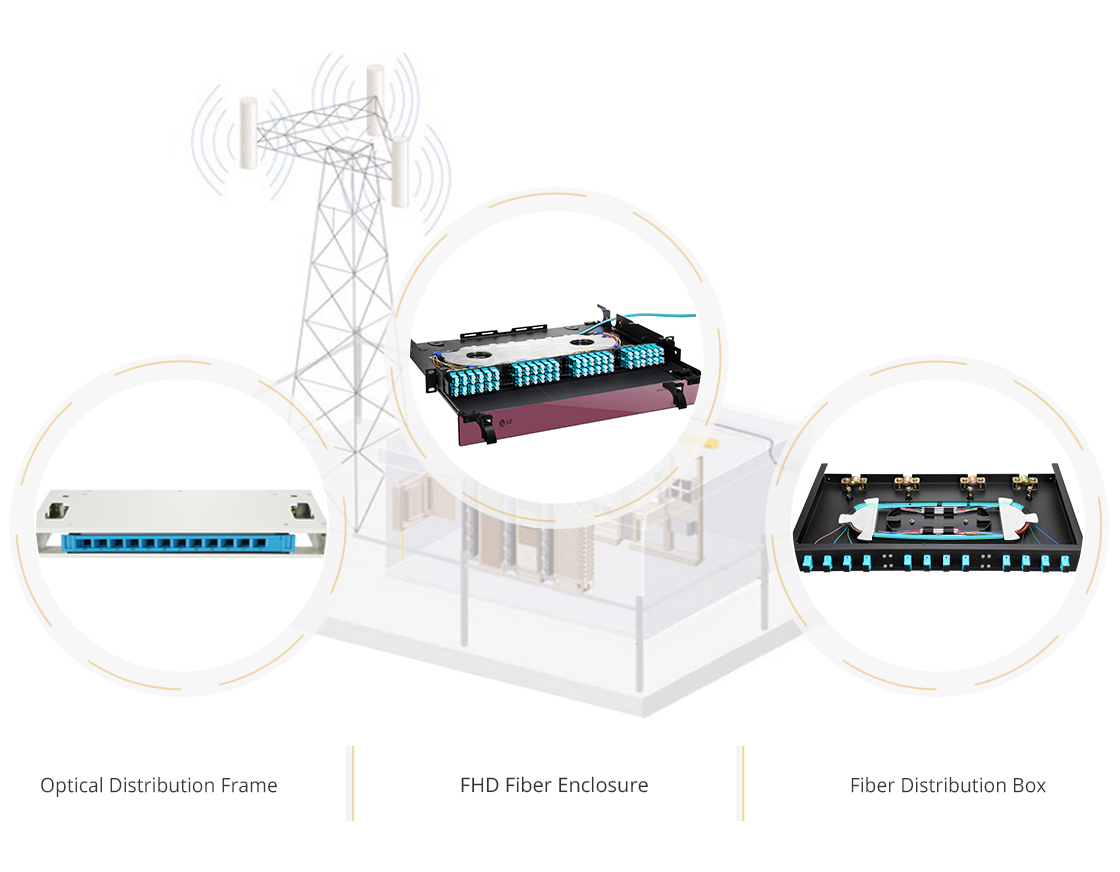 ---
Fiber Optic Pigtail - Ideal in craft
Pigtails bridge a critical junction in the fiber-optic network, so products made with reliable components worth much concern.
---
High-speed Signal Transmission

Zirconia ceramic ferrule guarantees optimum insertion loss and return loss.

Fiber Pigtail Structure

This coating protects the fiber from damage but does not contribute to its optical waveguide properties.
---
How to Strip Fiber Optic Pigtail with Tri-Hole Fiber Stripper

Tips:
• It is recommended to heat the pigtail appropriately before you strip the 0.9mm buffer.
• Only a short length (1-2cm) of the pigtail is suggested to be stripped in one action.
---
Two Important Methods for Fiber Optic Pigtail Splicing
Fiber optic pigtail assemblies are utilised in terminating fiber optic cables via fusion or mechanical splicing.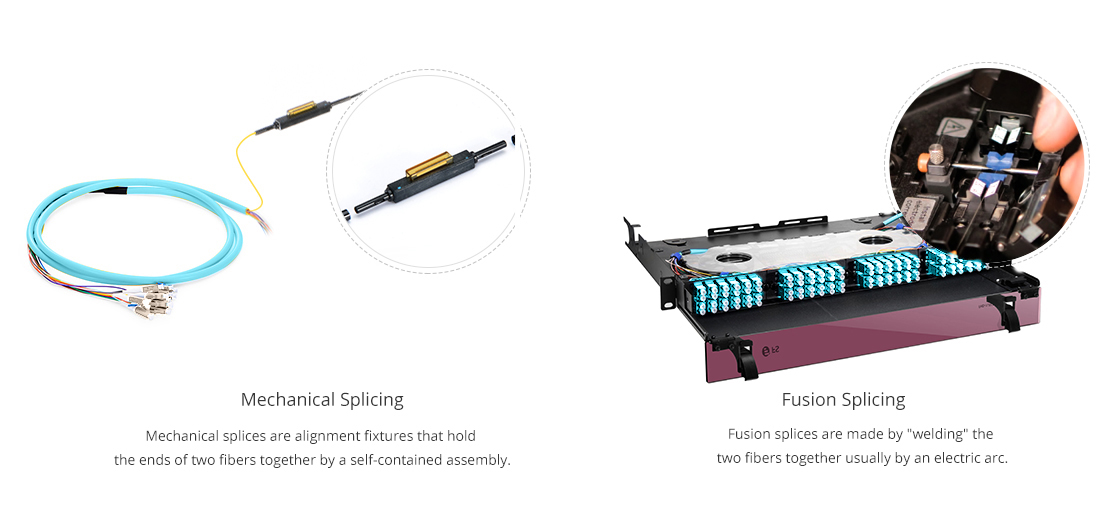 ---
Optional Connectors
Various connectors are available, LC/SC/FC/ST/LSH, UPC polish, to suit the needs of different applications.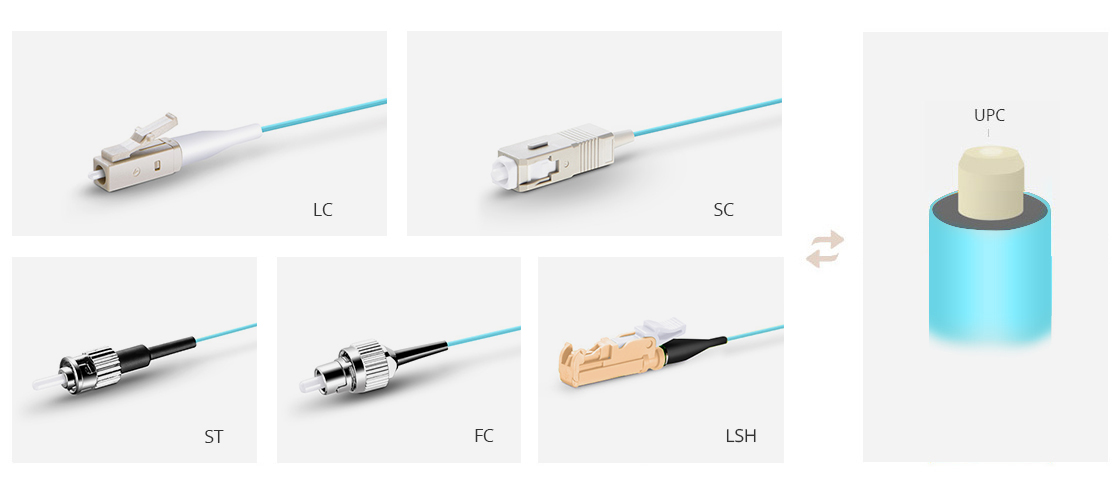 ---
Customized Cable Type and Fiber Type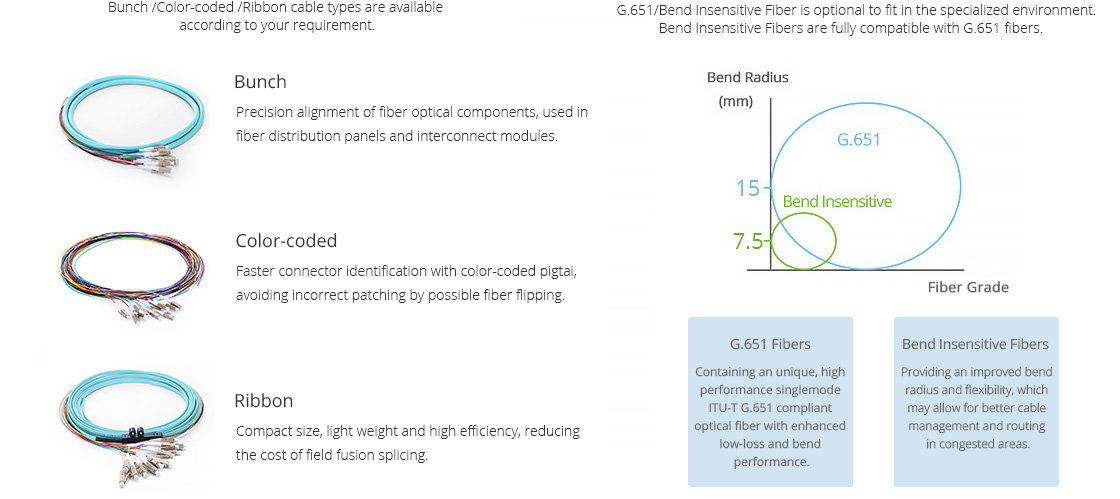 ---
Packing & Labeling
This easy to take and well-protected fiber optical cable package has been labeled and marked by FS as default. Customized label or package solution are available on request.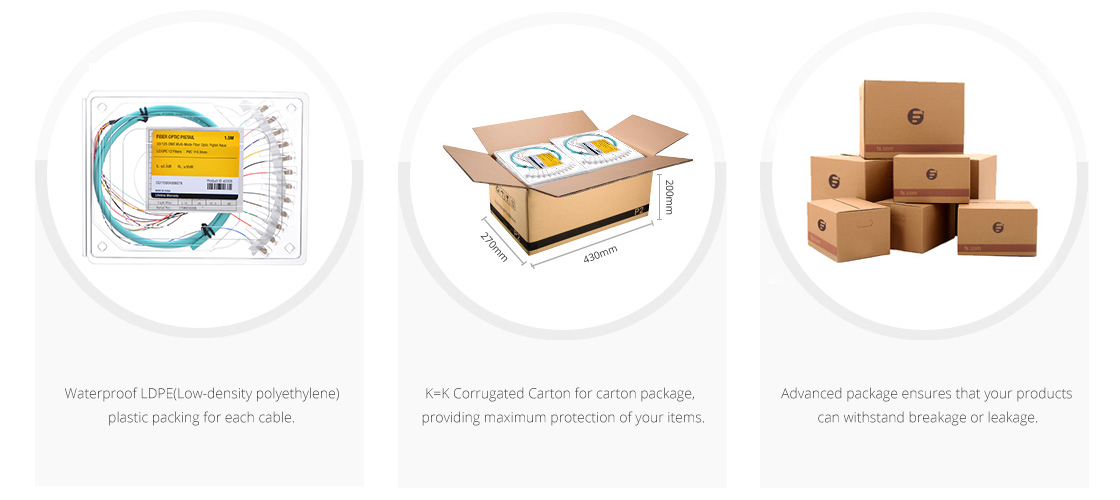 ---
Quality Certification
This product is in conformity with ISO9001. This system is valid to a company engaging in development, production and supply service of fiber optical products. Please

contact us

to learn more.

This product meets applicable RoHS requirements. The RoHS directive restricts the use of ten hazardous materials in the manufacture of various types of electronic and electrical equipment: lead, mercury, cadmium, hexavalent chromium, polybrominated biphenyls, polybrominated diphenyl ethers, and four different phthalates. Please

contact us

to learn more.