FOPM-107 MPO Optical Power Meter

FOPM-107 MPO Optical Power Meter is special for testing MPO fiber. The product can test the insertion loss of MPO fibers and polarity with only one key, and also supports data storage, threshold analysis, data export and other applications. Compared with traditional instruments, the testing efficiency of FOPM-107 is more than 10 times. It is the best choice for field application of MPO room test, calibration of production line, and determination of polarity.
| | | | |
| --- | --- | --- | --- |
| Wavelength Range | 850~1700nm | Detector | InGaAs |
| Calibration Wavelength | 850/1300nm or 1310/1550nm | Optical Power Meter Range | -50~+3dBm |
| Insertion Loss Accuracy | <0.2s/channel | Resolution | 0.01dB |
| Linearity | ±0.2dB (-50~+5dBm) | System Control | USB |
| Interface Type | SM/MM MPO/PC 12 fibers female | Continuons Working Hours | >10h |
| Working Temperature | -5~+40°C | Storage Temperature | -5~+40°C |
| Dimensions | 220x110x70mm | Weight | 850g |
---
Quality Certifications
This product fully accords with the WEEE, which is an environmental regulation of the European Union and aims to enhance the improvement of collection, treatment and recycling of products at the end of their life. Please

contact us

to learn more.
---
Product Highlights
MPO Optical Power Meter
Automatic scanning and testing all fibers in MPO connectors.
Built-in polarity identification support testing polarity of MPO cables.
Troubleshoot a single fiber within an MPO trunk and provide result.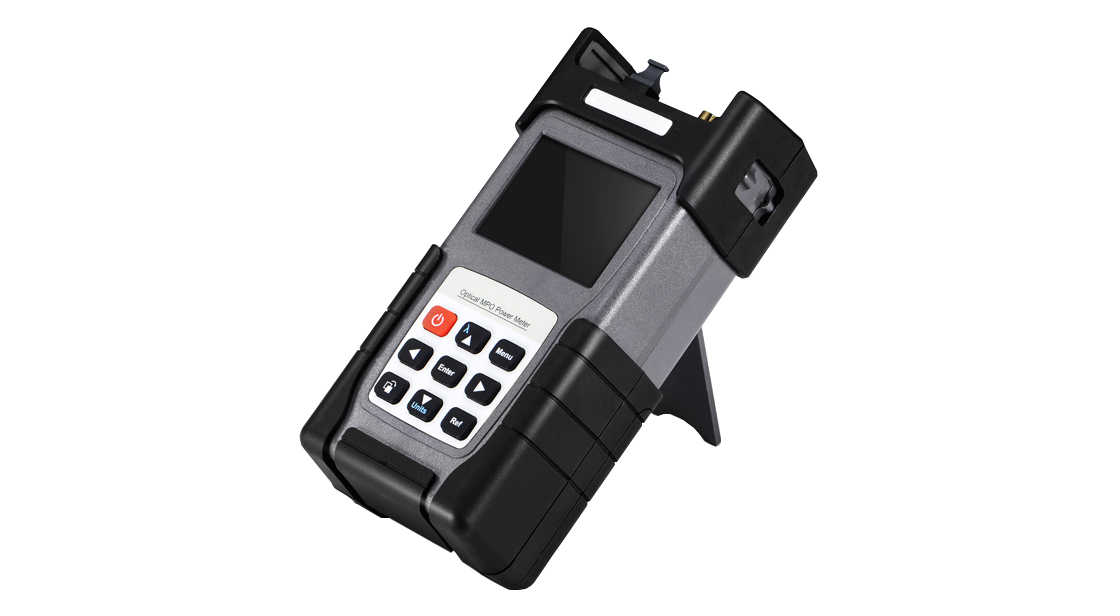 Shatter-Resistant Sleeve

Protect the power meter from falling, shocking and wearing.

Scientific Button Design

Easily achieve multi-function only by a single button.

On-Board MPO Connector

Eliminates the use of costly fan-out cords to test MPO fibers.
---
High Precision of Colored LCD display
Automatically test and display of all fibers in MPO connectors.
Taking just several seconds to complete all loss or power measurements and easy to interpret test results with minimal navigation.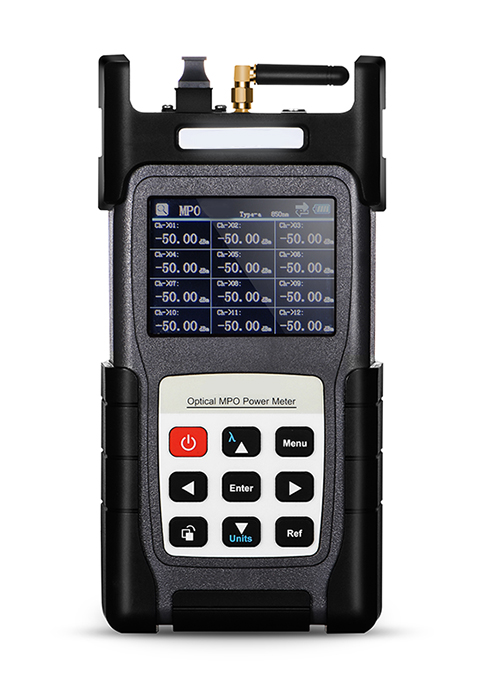 ---
Store Up to 100 Records of Test Results
Datas can be uploaded to a PC through a USB interface.
Easy reporting help users to manage test results, print professional reports and even export the data into spreadsheet formats.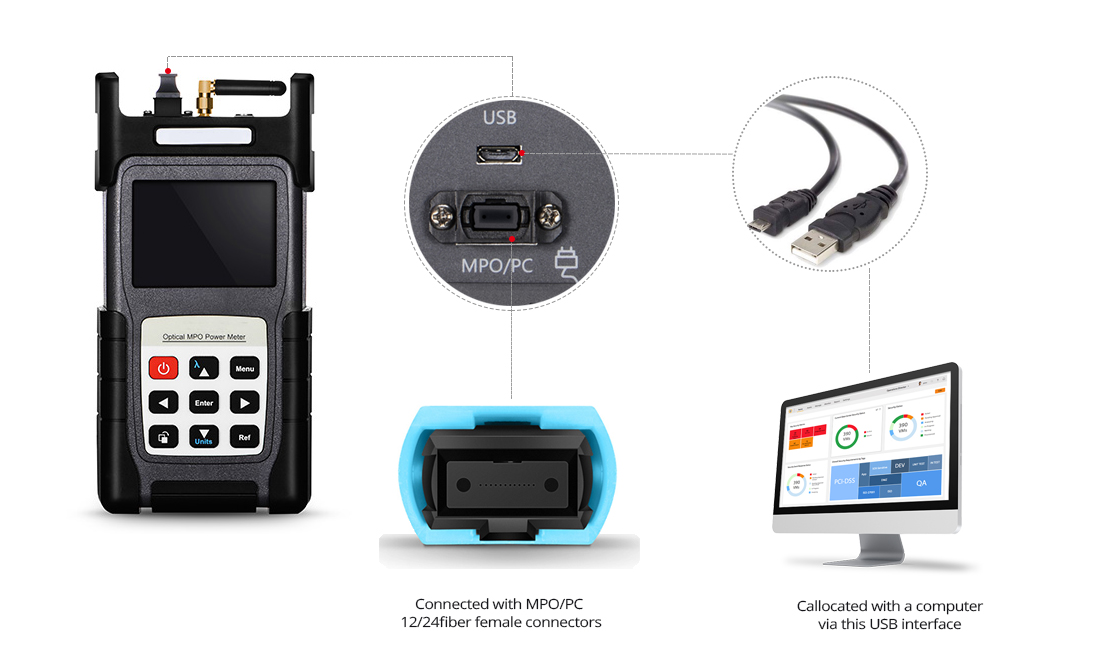 ---
On the Importance of Real Test

Support both multimode and single mode MPO trunk fiber test.
Built-in polarity verification allows users to test individual patch cords, permanent links and channels for correct polarity.
Widely used in testing 10 Gbps preterminated MPO fiber trunks or planning for next-generation 40/100 Gbps Ethernet performance.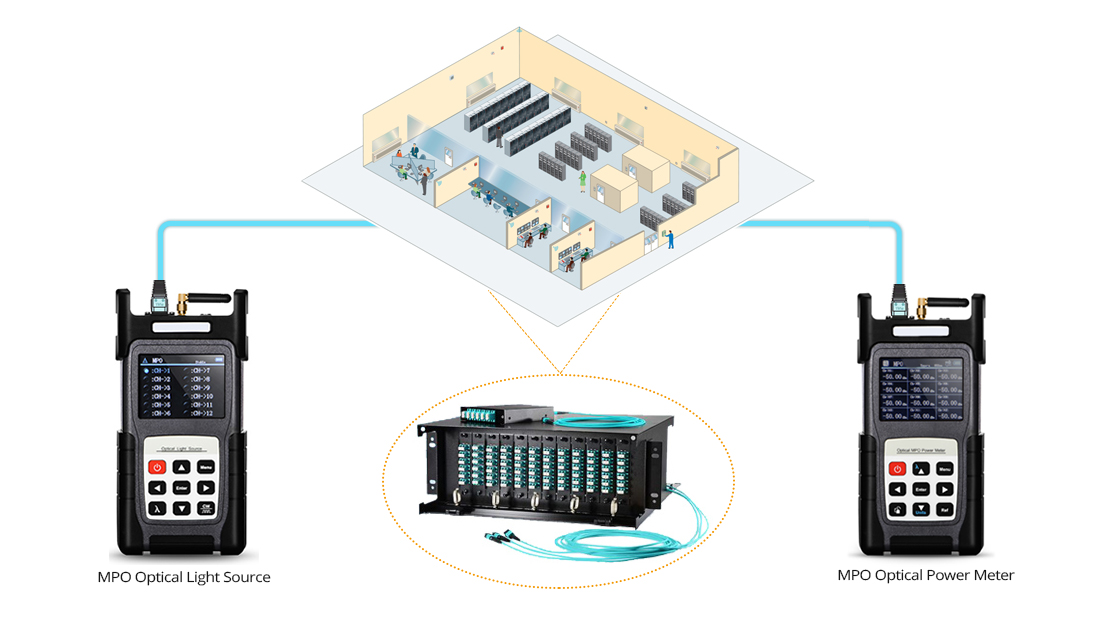 ---