Project Overview
With the soaring of the current business, the telecom carrier needs to expand its current network. They need a solution to connect two data centers located in different cities. But both fiber resources and onsite support are limited, with only two-core fibers available. So the network needs to be capable, and easy for operating and maintaining.

Business Requirement

1. Link transmission distance is 100km;

2. 8*10G services are required and need to be expanded in the future;
Fiber Condition

G.652 fiber was settled in this project, and the main wavelength is 1550nm.
M6200 Platform Solution
The M6200 series platform is an integrated solution, providing 10G DWDM long-haul service. The system allows a maximum capacity of 400G. It's equipped with a GUI management system that can easily manage the whole network, providing customers with one-stop solutions for optical communications

Multi-service, Multi-rate

Access to 100Mbps to 11.1Gbps multi-rate service.

Support SDH, SONET, CPRI, OTN, Ethernet SAN.

High System Reliability

Support 1+1 backup of control card and power card.

Provides optical layer and electrical layer network protection.

Intelligent Monitoring

Remote outband OSC management.

Quickly view basic information, status, operation logs of network

Monitoring and auto alarm on both client and line sides.

Fast Deployment and Easy Maintenance

Easy installation of software for fast cloud deployment.

High integrated platform, services cards support hot-swapping.

B/S based intelligent network management interface provides flexible maintenance.

M6200 platform is mainly used for the metropolitan area transmission of telecom carriers and private networks, access OTN convergence, remote access for long-distance transmission networks.
Design Details
This solution uses a 40CH DWDM transmission system to realize up to 40*10G services. The EDFA and DCM cards provide power compensation and dispersion compensation for long-distance transmission.
Management Advantages
Open northbound interfaces like SNMP, CORBA, XML, FTP and TL1 to
Console, Telnet/ssh, SNMP network management with favorable
Unified management of cross-domain equipment, network layer and
Efficient service management, monitoring bring great user experience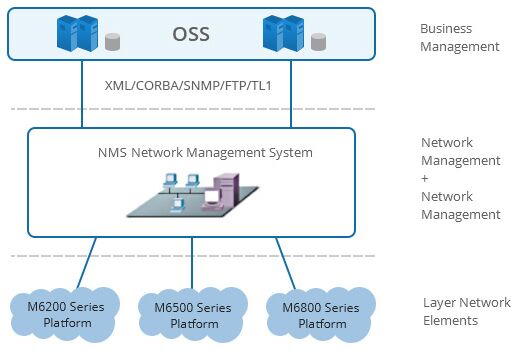 Technical Advantages
Fast Response

The equipment configuration is simple, system can be configurated and maintained remotely after one-time onsite deployment to achieve end-to-end business opening.
Low Latency

Simplified network structure reduces the time for data transmission, meets the basic needs in real-time business, application intelligence, security, and privacy protection.
Easy Scalability

Service can be expanded to 40 channels on a single fiber link without changing the existing DWDM infrastructure and/or rack space needed within the data center.
High Link Stability

ONE IP management method, supporting one-click inspection, backup of the main control card of the branch board to improve stability for the link.