By FS Project Designer2019-12-11

Murphysboro City Government
Industry:Professional Services
Location: Illinois, United States
Background
The escalated demand for bandwidth and capacity are driving networks to look for agile, cost-effective data optical transport solutions. The Murphysboro government of Illinois needed to increase their network capacity to create a highly flexible network that will support seven sites of public infrastructures within the region.
Challenge
The government had five buildings connected via multimode fibers in existing Gigabit Ethernet switch. They managed to install single mode fibers in town to link numerous buildings that can access city LAN. The problems they encountered including:
They had little knowledge about WDM technology and had no idea how to leverage existing wavelength and add new sites to the link.

How to transfer multimode to singlemode fiber to achieve a relatively longer data transmission.
Solution
FS deployed a cost-effective CWDM OADM solution, including the 8CH CWDM Mux/Demux, CWDM OADM and OEO transponder. Based on the requirements, there was no need for the client to make changes to their existing infrastructure.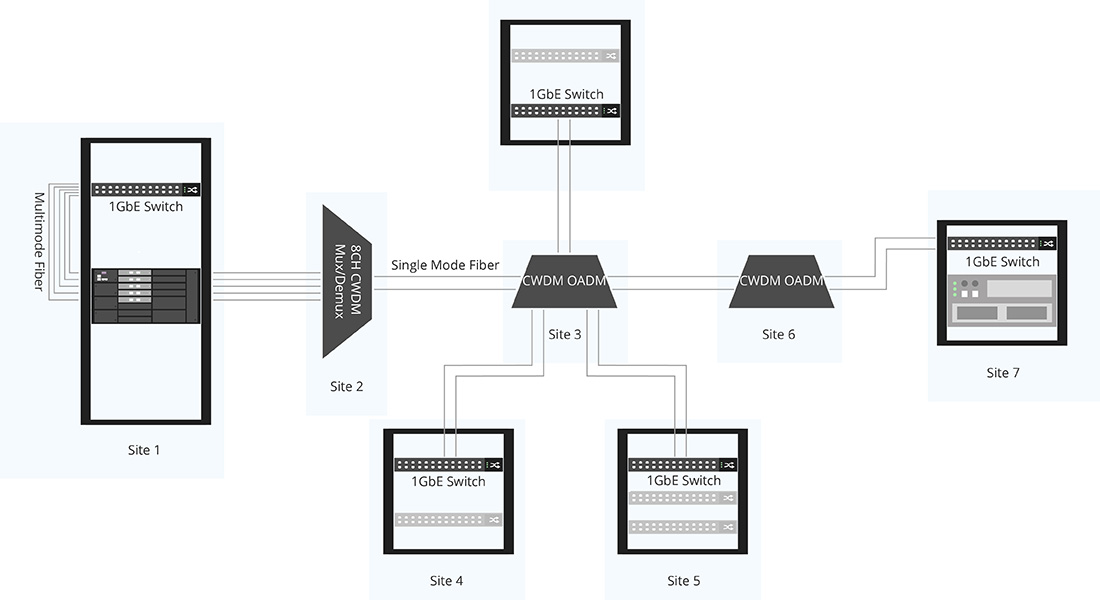 

Customized Dual Fiber CWDM OADM
S$ 51.00


Customized 1 Channel WDM Transponder OEO 3R Repeater, 2 XFP/SFP/SFP+ Ports
S$ 210.00


Customized 1U/2U/4U Managed Chassis Unloaded, Supports up to 16x Multiplexer/EDFA/OEO/OLP Module with Accessories
S$ 510.00


1000BASE-CWDM SFP 1550nm 80km DOM Transceiver Module for FS Switches
S$ 62.00


1000BASE-SX SFP 1310nm 2km DOM Transceiver Module for FS Switches
S$ 15.00
An OEO was deployed to convert the standard SFP SX transceivers into the corresponding CWDM transceivers. So as to change multimode fiber to single mode fiber to expand the link reach.

To separate the wavelengths at Site 3, a 4CH OADM is placed after the 8CH CWDM Mux/Demux. The CWDM OADM offers capabilities to add/drop selected wavelengths at any node in the network and seamlessly change the network node capacity as needed. In this case, there will be four wavelengths (1470, 1490, 1510, 1530) drop into different places at Site 4,5,6,7.
Conclusion
This design has provided a flexible and transparent solution, which can not only add new sites for the whole link but also prepares for future fiber expansion. FS CWDM and OADM equipment are easy to install, enable fast network deployment and have low power consumption, all of which significantly reduce cost while making for a compelling ROI.