Armored LSZH Fiber To The Antenna (FTTA) Patch Cable for Outdoor Applications

FTTA patch cable is designed for high reliability in heavy industrial and harsh environment applications, including fiber to the antenna solution.

Consisting of Corning fiber cable and LC UPC duplex connectors, the cable features superior crush resistance and a high degree of flexibility with the armored tube. Furthermore, the cable features a flame retardant LSZH jacket which is UV stabilized and highly resistant to chemicals commonly found in industrial environments, also suitable for both indoor and outdoor industrial installations.
Product Specifications
| | | | |
| --- | --- | --- | --- |
| Connector Type | LC to LC | Polish Type | UPC to UPC |
| Fiber Mode | OS2 9/125μm | Wavelength | 1310/1550nm |
| Insertion Loss | ≤0.3dB | Return Loss | ≥50dB |
| Fiber Grade | Corning G.657.A1 | Min. Bend Radius (Dynamic/Static) | 20/10D |
| Attenuation at 1310 nm | 0.36 dB/km | Attenuation at 1550 nm | 0.22 dB/km |
| Fiber Count | Duplex | Cable Jacket | Low Smoke Zero Halogen (LSZH) |
| Cable Diameter (Outer/Inner) | 7.0/2.0mm | Armored Breakout Length (End A/B) | 0.03/0.34m |
| Tensile Strength (Long Term/Short Term) | 400/200N | Crush Resistance (Long Term/Short Term) | 2200/1100N |
| Operating Temperature | -20~70°C | Storage Temperature | -40~80°C |
---
Product Spotlight
Superior Flexibility

Corning G.657.A1 bend insensitive fiber

Excellent flexibility for remote traction
Certification & Standards

IEC 61754 series compliant

Qualified to Telcordia GR-326-Core

ISO 9001, Reach, RoHS compliant
Test Assured Program

Insertion loss and return loss testing

End-face inspection

3D interferometer test
---
Product Highlights
Designed for Outdoor Base Station Construction
This type of specialized fiber patch cable is designed for harsh environment application such as high performance fiber-to-the antenna (FTTA) cabling for current 4G/LTE and 5G network and base station construction connecting AAU and RRU, also suitable for wireless horizontal and vertical cabling in indoor/outdoor environment.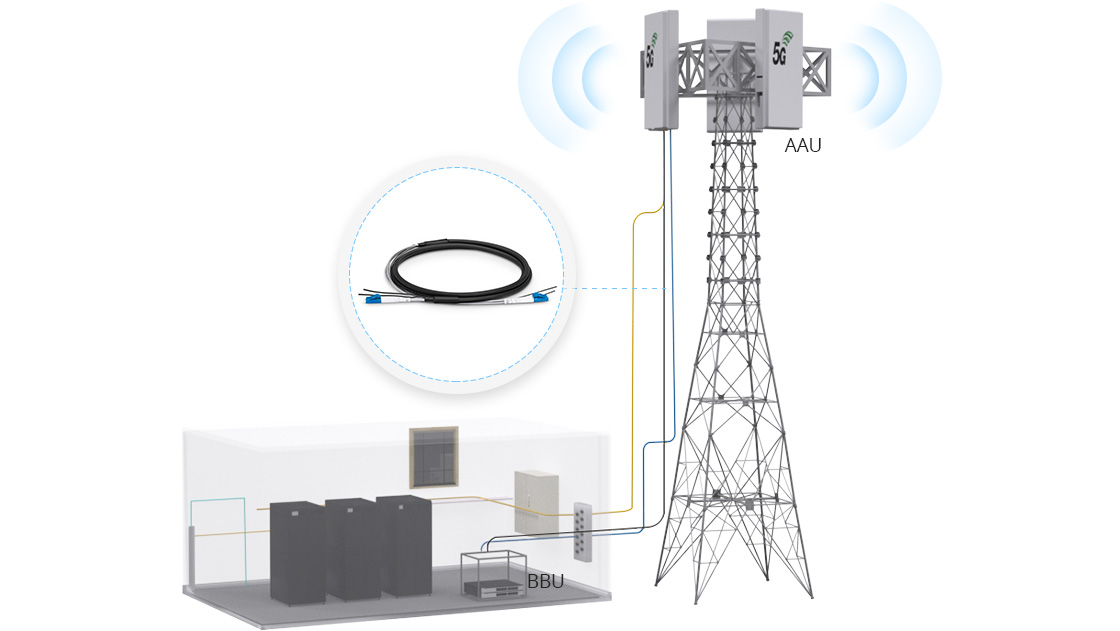 ---
Corning G.657.A1 Fiber
Corning BIF cable can be stapled and bent around corners without sacrificing performance.


Stainless Armored Tube
Hard spiral armored tube makes the cable more stable and higher tensile strength.
Strength Members
Two strength members firm the cable and make it more convenient for pulling when installing.


LSZH Rated Outer Jacket
Jacketed with compounds that emit limited smoke and no halogen when exposed to high heat sources.
---
Cable Assembly Structure Illustraion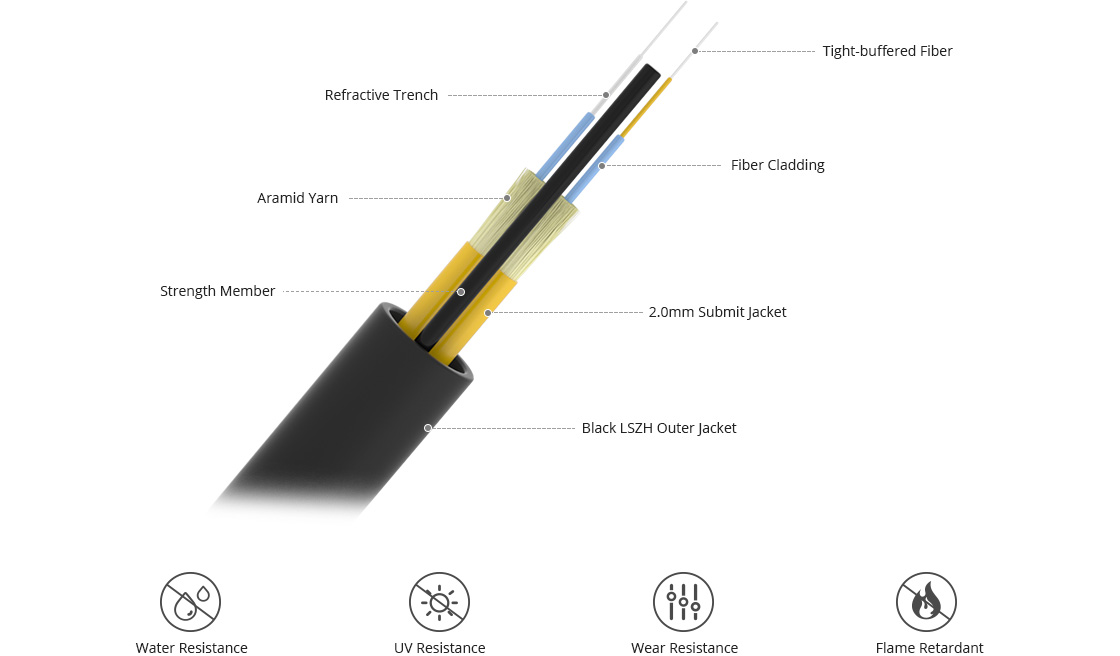 ---