NSG-5100 Next-Generation Firewall

The NSG-5100 provides comprehensive and granular visibility and control of applications. It can identify and prevent potential threats associated with high-risk applications while providing policy-based control over applications, users, and user-groups. Policies can be defined that guarantee bandwidth to mission-critical applications while restricting or blocking unauthorized or malicious applications. The NSG-5100 provides real-time protection for applications from network attacks including viruses, spyware, worms, botnets, ARP spoofing, DoS/DDoS, Trojans, buffer overflows, and SQL injections. It incorporates comprehensive network security and advanced firewall features for large and medium-sized enterprises and data centers.
Product Details
| | | | |
| --- | --- | --- | --- |
| Service Bundle | IPS, AV, QoS, URL (1 year) | Network Interfaces | 6x GE, 4x SFP |
| Firewall Throughput | 6 Gbps | NGFW Throughput | 1 Gbps |
| Threat Protection Throughput | 800 Mbps | IPS Throughput | 1.8 Gbps |
| AV Throughput | 1.2 Gbps | IPsec VPN Throughput | 3 Gbps |
| New Sessions/sec | 80,000 | Maximum Concurrent Sessions | 2 Million |
Note: The licensing agreement is been activated after your payment. To make up for license period loss in transit, FS will give you an additional time of up to half a year as compensation. The specific time will be based on different transportation times.
---
Product Spotlight
Network Service

L2/L3 switching & routing

Static and policy routing

Support OSPF, BGP, RIPv2

Built-in DHCP, NTP, DNS server and DNS proxy

Virtual wire (Layer 1) transparent inline deployment
IPv6 Features

IPv6 tunneling, DNS64/NAT64 etc

IPv6 routing protocols, static routing, policy routing, ISIS, RIPng, OSPFv3 and BGP4+

IPS, application identification, URL filtering, Anti-Virus, access control, ND attack defense
VPN

IPSec VPN, SSL VPN, PnP vpn

Hardware VPN acceleration

L2TP client and server mode, L2TP over IPSec, and GRE over IPSec

Secure access to Android and IOS mobile device
Quality of Service (QoS)

Max/guaranteed bandwidth tunnels or IP/user basis

Tunnel allocation based on security domain, interface, address, user/user group, server/server group, application/app group, TOS, VLAN

Bandwidth allocated by time, priority, or equal bandwidth sharing
Load Balancing

Server load balancing-weighted hashing, weighted least-connection, and weighted round-robin

Bi-directional link load balancing

Automatic link switching based on bandwidth, latency, jitter, connectivity, application etc
Security

IPS actions- default, monitor, block, reset (attackers IP or victim IP, incoming interface) with expiry time

Filter based selection-severity, target, OS, application or protocol

Manually defined web filtering based on URL, web content and MIME header
---
Product Tree
NSG-5100 next-generation firewall provides the most advanced threat prevention security for enterprise and data centers networks.



Cisco GLC-SX-MM Compatible 1000BASE-SX SFP 850nm 550m DOM Transceiver Module
US$ 6.00


1m (3ft) LC UPC to LC UPC Duplex OM2 Multimode PVC (OFNR) 2.0mm Fiber Optic Patch Cable
US$ 4.20


S5800-8TF12S 12-Port 10Gb SFP+ L2/L3 Switch with 8 Gigabit RJ45/SFP Combo Ports for Hyper-Converged Infrastructure
US$ 1,900.00


RS-7188 2U, 2-Socket Rack Server with Two Intel® Xeon® Silver 4112 for Data Base Workloads in SMB
US$ 4,999.00


24-Port Gigabit PoE+ Managed Switch with 4 SFP, 400W
US$ 370.00


S3900-48T4S 48-Port 10/100/1000BASE-T Gigabit Stackable Managed Switch with 4 10Gb SFP+ Uplinks
US$ 434.00


1ft (0.3m) Cat6 Snagless Unshielded (UTP) PVC CM Ethernet Network Patch Cable, Blue
US$ 1.50


1167Mbps 2x2 MU-MIMO Dual-Band FAT/FIT Gigabit Access Point
US$ 108.00
---
Product Highlights
Comprehensive Threat Detection and Prevention
It incorporates a unified threat detection engine that shares packet details with multiple security engines, including IPS, URL filtering, Anti-Virus, Attack Defense.

---
Multi-Throughput for Mission-Critical Applications
The Next-Generation Firewall has 6x GE (RJ45) and 4x SFP ports, which is a security appliance with high performance for data center, enterprise & ISP network solutions.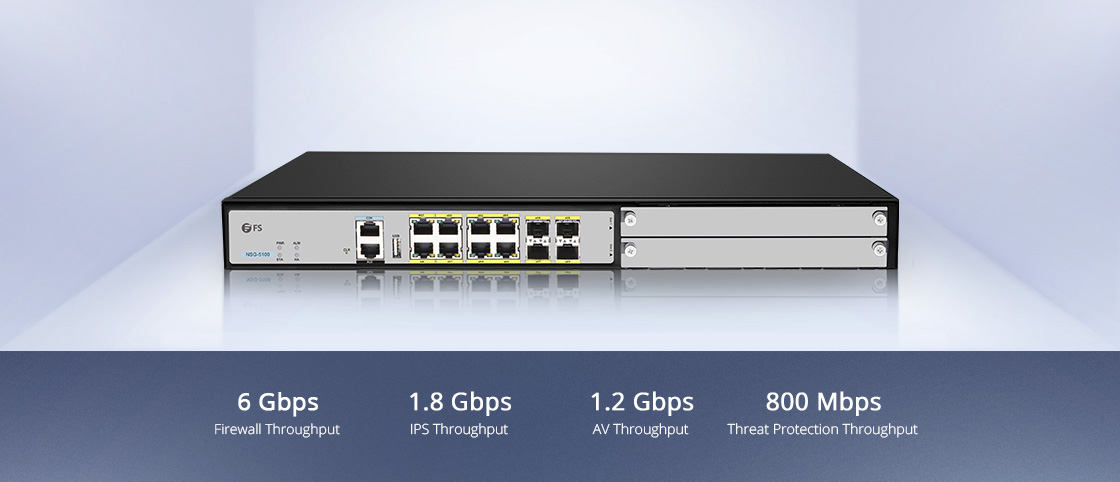 ---
Optimized Features of NAT and Intelligent QoS

---
Ease of Management

---
Product Components
Power Supply (Installed)*1
Power Cord*1
Console Cable*1
Rubber Pads*4
Rack Mount Brackets*2
Screws M4/M6+Nuts*20
Cat5e Cable*2
Grounding Cable*1
User Manual*1
---