Firmware Upgrade Tool Kit for FS Transceivers & DAC/AOC Cables

FS Box V2 only works with FS Transceivers & DAC/AOC Cables. It is designed to solve real-time compatibility needs, wavelength tuning for tunable transceiver and upgrade the transceiver firmware in data center. With its instant online platform fsbox.com and a wide range of configuration choices, FS Box V2 could help engineers configure in a timely and effective way.
| | | | |
| --- | --- | --- | --- |
| Part Number | FS-BOX-V2 | Supported Form Factors | SFP, SFP+, SFP28, XFP, QSFP+, QSFP28 |
| Supported Operating Systems | Windows (10 or newer), Mac OS (10.13 or newer) | Supported Browsers | Chrome (69 or newer) |
| Connector | USB Type-C | Input Voltage | 5V |
| Operating Temperature | -10°C~ +60°C | Case Material | 6061 Aluminum Alloy |
| Dimensions (HxWxD) | 0.81''x2.83''x5.7'' (20.6x72x145mm) | Weight | 220g |
---
---
Video
---
Product Highlights
Firmware Upgrade Tool Kit for Transceivers & DAC/AOC cables
As a data center mobile tool, FS Box not only solves the real-time compatibility requirements faced by optical network engineers, but also can continuously upgrade the transceiver firmware (including part number, serial number, etc.) to make it compatible with the upgraded switches.

---
Comprehensive Upgraded V2.0 Multi-Functional FS BOX

Windows and Mac OS Systems Supported
The cloud platform now supports two common operating systems, Windows (10 or newer) and Mac OS (10.13 or newer), providing users with wide operating options.
Transceiver Diagnostics and Troubleshooting
No need more additonal devices, FS box can monitor the voltage, temperature, bias-current values, TX and RX power of the inserted transceiver in the reliable cloud platform.


Diagnosing Configuration to Solve After-sales
The cloud platform can diagnose the information of available transceivers to match the configuration file of FS and reconfigure problematic transceiver to solve the after-sales problem.
Wavelength Tuning for Tunable DWDM
With the wavelength tuning function, the cloud platform can easily identify whether the inserted transceiver is a tunable transceiver and can quickly configure channels for it from C19.5 to C60.5 (1561.83-1529.16nm).

---
FS Box Smart Cloud Platform
Easy to upgrade the firmware of transceivers and solve your configuration problems through this efficient and intelligent cloud system.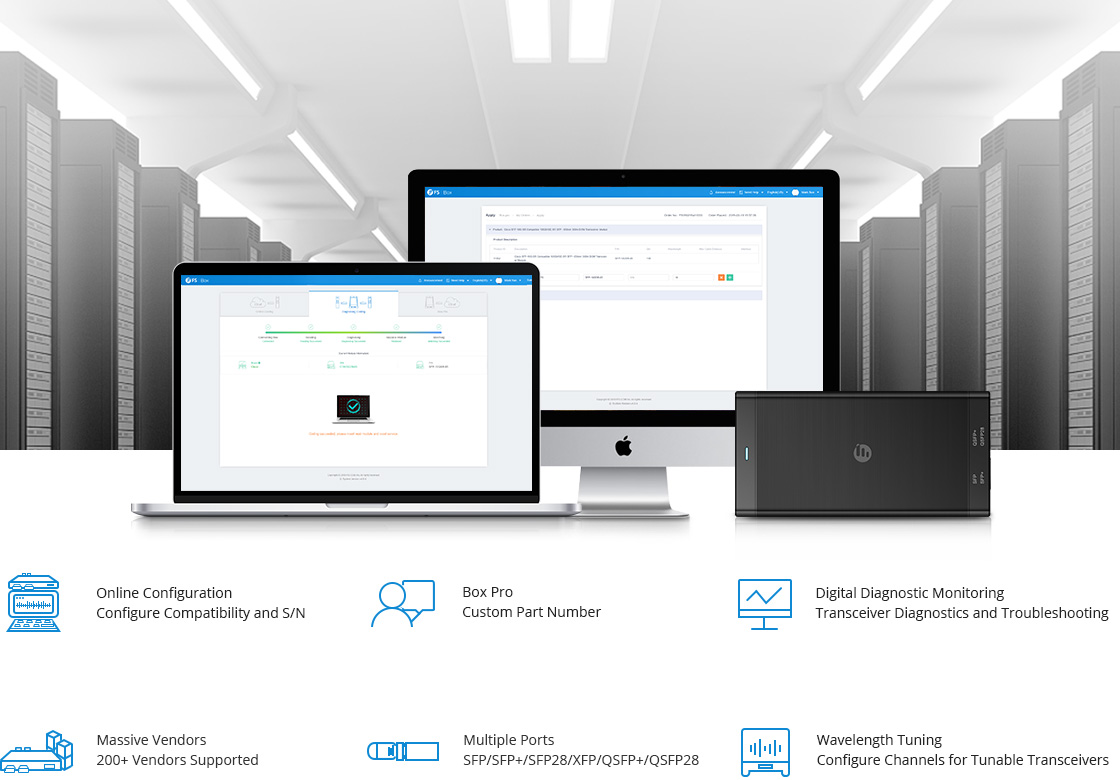 ---
Eco-Friendly and Portable Packaging
This easy to take and well-protected FS Box package has been labeled and marked by FS as default. With the heat shrink film and fixed by EVA (ethylene-vinyl acetate copolymer), protecting the FS Box against dust, extrusion, wear and moisture.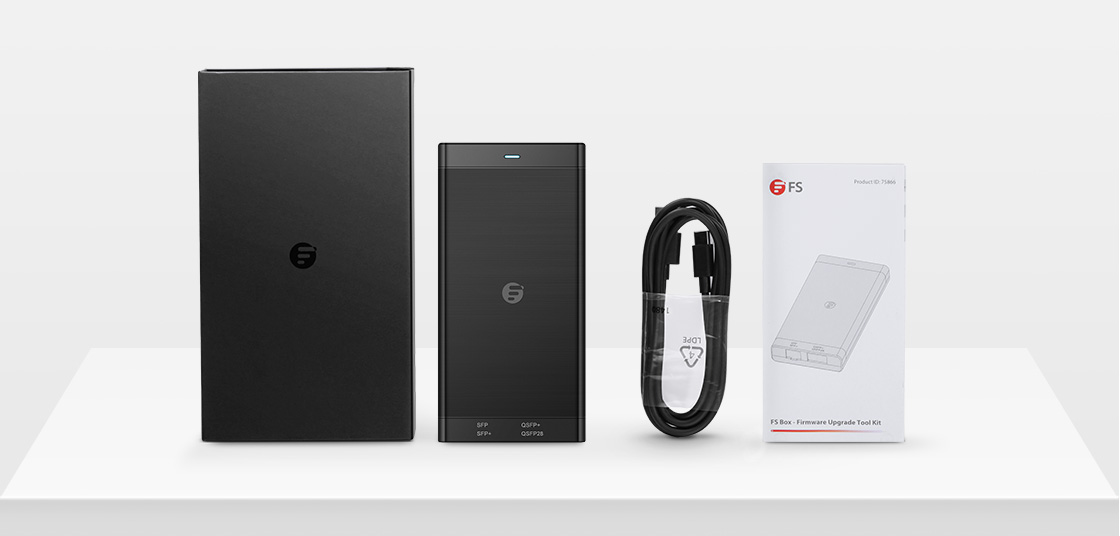 ---
---
Resources