10GBase-T Dual Copper Port Ethernet Network Adapter

The network interface card (NIC) works with legacy Gigabit Ethernet (GbE) switches and Cat 6A cabling. Install the Intel® chip into a server and the auto-negotiation between 1 GbE and 10 GbE provides the necessary backwards compatibility that most customers require for a smooth transition and easy migration to 10 GbE. With lower cost and power, 10GBASE-T is ready for broad deployment. This adapter provides reliable and scalable performance which is validated on FS servers.
Product Details
| | | | |
| --- | --- | --- | --- |
| Card Type | Standard Profile (LP bracket incl.) | Port Configuration | Dual |
| Controller | Intel® X540-BT2 | Data Rate Per Port | 10GbE/1GbE/100Mb |
| Interface Type | PCIe v2.1 | Speed & Slot Width | 5.0 GT/s x8 lanes |
| Connectivity (VT-c) | Yes | Vertical Segment | Server |
Product Tree
Flexible and scalable network adapter for demanding data center environments.



S5850-48T4Q 48-Port 10GBase-T L2/L3 Data Center ToR/Leaf Switch with 4 40G QSFP+ Uplinks
US$ 3,800.00


1ft (0.3m) Cat6 Snagless Unshielded (UTP) PVC CM Ethernet Network Patch Cable, Blue
US$ 1.20


PCIe 2.1 x8 Dual Copper Port 10GBase-T Ethernet Network Interface Card
US$ 220.00


RS-7188 2U, 2-Socket Rack Server with Two Intel® Xeon® Silver 4112 for Data Base Workloads in SMB
US$ 4,850.00
---
Flexible and Essential Features
Key Features

• PCI Express (PCIe v2.1, x8, x16)
• Full-height and low-profile
• Support VMDq and SR-IOV
• Intelligent offloads for LAN, iSCSI, and FCoE
• Flexible I/O virtualization for port partitioning
and quality of service (QoS) of up to 64 virtual ports
Software Support

• VMware ESX 4.0, 4.1/ESXi 5.0
• Windows Server 2003/Windows 7/Windows Vista
• Windows Server 2008/2008 Core/2008 R2 Core
• Windows Virtual Server 2005
• SUSE SLES 10 or newer
• Red Hat Enterprise 4 or newer
• FreeBSD 5.x or newer
• UEFI 1.1
Data Transmission

• Support Cat5e/Cat6/Cat6a patch cables
• 10GBASE-T is the easiest and most versatile 10 GbE for data center
• Supports the network architectures including ToR, MoR, and EoR
---
Intel® X540-BT2 Controller PCIe Network Adapter
The network adapter with two 10GBase-T ports is based on Intel® X540-BT2 chipset. It provides advanced features to meet the mission-critical applications in virtualization.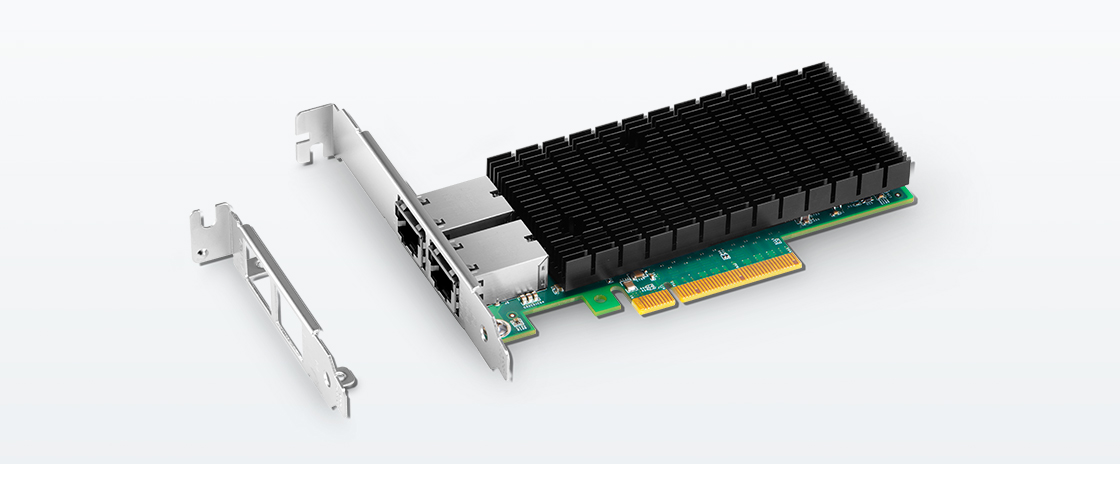 Intel® X540-BT2 Chip

Address the needs of the next-generation data center
Storage Performance

Support intelligent offload for iSCSI, NFS and FCoE
Advanced Features

Support VMDq, VxLAN and SR-IOV etc
---
PCIe Interface with Flexible Space-Saving Design
The adapter is the foundation for server connectivity and is designed to support PCIe 2.1 x8 and x16 slots for higher speeds and efficiency.
Port Configuration

Multiple ports are available for different demands

System Interface Type

Support PCIe 2.1 and widely used in the PCIe x8 and x16 slots

Flexible Bracket Height

Low profile and full height design for different expansion slots
---
Large-Scale Compatibility
This adapter is tested to support on all of the FS servers and a wide range of other vendors such as Dell, HPE, IBM, Intel, Supermicro servers etc.