Cisco QSFP-100G-LR4-D Compatible 100GBASE-LR4 and 112GBASE-OTU4 QSFP28 Dual Rate Optical Transceiver Module for Telecom (SMF, 1310nm, 10km, LC, DOM)

The Cisco QSFP-100G-LR4-D Compatible QSFP28 Optical Transceiver Module is designed for use in 100GBASE Ethernet and 4x28G OTN client interfaces throughput up to 10km over single mode fiber (SMF) using a wavelength of 1310nm via duplex LC connector. It provides 100GBASE Ethernet and OTU4 connectivity option for telecom, service provider applications and 5G wireless network. It is fully compliant with the QSFP28 MSA, IEEE 802.3ba 100GBASE-LR4 and OTU4 4I1-9D1F standard.
Cisco Compatible
QSFP-100G-LR4-D
Vendor Name
FS
Form Factor
QSFP28
Data Rate
Dual Rate 103.1Gbps and 112Gbps
Wavelength
1310nm



1310nm wavelength range include
L0 1295.56nm(1294.53-1296.59nm)
L1 1300.05nm(1299.02-1301.09nm)
L2 1304.58nm(1303.54-1305.63nm)
L3 1309.14nm(1308.09-1310.09nm)

Max Cable Distance
10km@SMF
Connector
LC duplex
Media
SMF
Transmitter Type
4 x LAN WDM DML TOSA
Receiver Type
4 x PIN ROSA
DDM/DOM
Supported
Commercial Temperature Range
0 to 70°C (32 to 158°F)
TX Power(100G)
-4.3~4.5dBm
Receiver Sensitivity(100G)
<-8.6dBm
TX Power(112G)
-0.6~4dBm
Receiver Sensitivity(112G)
<-8.4dBm
Power Consumption
3.5W
Extinction Ratio
4dB
Modulation Format
NRZ
CDR
TX and RX
Transmit and Dispersion Penalty
2.2dB
Powerbudget
6.3dB
Packaging Technology
BOX Packaging
FEC Function



It does not employ the use of FEC, complied with the IEEE 100GBASE-LR4 specification.

Supported
Protocols
100G Ethernet, 25G Ethernet, OTN OTU4 4I1-9D1F
Application
100GBASE Ethernet, Telecom, 5G Network Mid/Backhaul
---
Network Connectivity
Direct Connection for 100GBASE-LR4 and 112GBASE-OTU4 QSFP28 Transceivers for Telecom and 5G wireless Network

---
Quality Testing Program
---
Quality Certifications
Please Note: Installing a third party transceiver does not void your network equipment warranty. Network equipment manufacturers all have guidelines stating that warranty support on their products will not be affected.
---
Test Bed
Cisco Catalyst C9500-24Y4C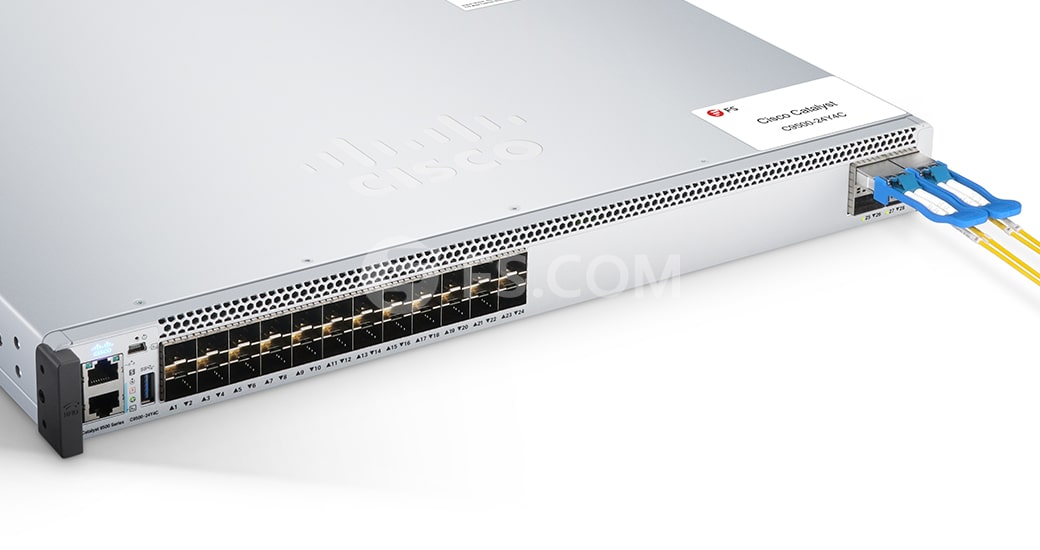 ---
Platform Support
Cisco QSFP-100G-LR4-D is supported on a wide range of Cisco equipment.
Cisco Nexus N9K-C92160YC-X

Cisco Nexus 3000 Series N3K-C3232C

Cisco Nexus 9000 Series (Fixed 9200) N9K-C92160YC-X

Cisco Nexus 9000 Series (Modular 9500) N9K-X9432C-S

Cisco ONS Transport Platform NCS-1002-K9

Cisco Catalyst C9500-24Y4C

Cisco Nexus 9300-EX Series 93180YC-EX

Cisco NCS-5501
---