36 Fibers MM OM1, Non-Armored Single-Jacket, Stranded Loose Tube, FRP Strength Member, Waterproof Outdoor Cable
GYFTY non-armored stranded loose tube cable features FRP as the central member, ensuring the resistance to electromagnetic interference. High strength loose tube is hydrolysis resistant and the tube filling compound ensures a critical protection of the fiber. The water-blocking material between a single polyethylene (PE) jacket and the loose tube is applied to keep the cable compact and watertight. It is suitable for aerial and duct installation, especially operating in electrical system or frequently lighting areas.


| | | | |
| --- | --- | --- | --- |
| Cable Type | Non-Armored Outdoor | Fiber Count | 36 Fibers |
| Construction | Stranded Loose Tube | Fiber Type | Multimode 62.5/125 OM1 |
| Outer Jacket Material | PE | Jacket Color | Black |
| Cable Diameter | 10.0mm | Weight | 89kg/km |
| Central Strength Member | FRP | Application | Aerial and Duct |
| Tensile Strength(long/short term) | 600/1500N | Crush Load(long/short term) | 300/1000 (N/100mm) |
| Bending Radius(long/short term) | 10D/20D(mm) | Operating/Storage Temperature | -40 to +60°C |
Features and Applications
Low dispersion and attenuation

Light weight and small diameter, easy to lay

Excellent mechanical and temperature performance

FRP ensuring resistance to electromagnetic interference

Water blocking system ensures reliable waterproof performance

Non-metal central strength has an excellent anti-electromagnetic ability

Aerial & duct application

Outdoor distribution

Long haul networking

Trunking lines direct to telecommunications closet

Access network and local network in high electromagnetic interfering and frequently lighting areas
Stranded Loose Tube Structure for Duct and Aerial Application
Cables for outdoor applications are engineered to withstand the more demanding conditions seen outside, from environmental extremes to mechanical forces. Non-armored stranded loose tube GYFTY is outside plant cable suitable for use in duct or aerial-lashed applications. With non-metallic strength member, it is more suitable in electrical system or frequently lighting areas.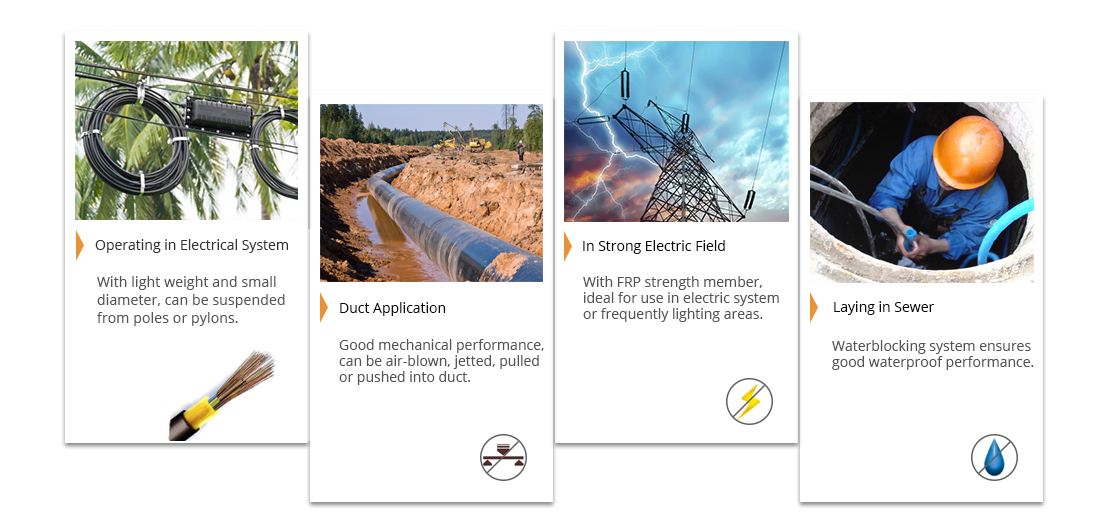 Packaging & Labeling
FS offers two types of cable package. Package 1 is usually for indoor, light weight cables. Package 2 is usually for outdoor, heavy weight cables. Usually we only attach Test Report on the out package of the cable, but we could also mark as your requirements.
More customized needs please contact
sales@fs.com
.