24 Fibers Multimode OM1, AT Jacket Span 400M, Stranded Loose Tube Waterproof ADSS Cable
The fibers are positioned into a loose tube made of high modulus plastics. Filled with a water-blocking filling compound, the tube is stranded around FRP as a non-metallic central strength member into compact and circular cable core. Then covered with thin AT (Anti-tracking) inner sheath and a layer of aramid yarn, the cable is completed with a AT outer sheath. ADSS cables are ideal for outside plant aerial applications, the lightweight cable and all-dielectric construction allow cost-effective and safe installation in high voltage overhead power lines.


| | | | |
| --- | --- | --- | --- |
| Cable Type | ADSS Cable | Fiber Count | 24 Fibers |
| Construction | Stranded Loose Tube | Fiber Type | Multimode 62.5/125 OM1 |
| Inner/Outer Jacket Material | AT | Jacket Color | Black |
| Cable Diameter | 14.9mm | Weight | 180kg/km |
| Strength Member | FRP | Span | 400m |
| Rated Tensile Strength | 45KN | Modulus of Elasticity | 16.4KN/mm2 |
| Thermal Expansion Coefficient | 0.6×10-6/°C | Opterating/Storage Temperature | -40 to +70°C |
Feature and Application
The lifespan is over 30 years

Large span with the largest span of over 1000m

Reliable performance of moistureproof and waterproof

Central strength member FRP gives high tensile strength

PE or AT sheath ensures safety of cable in high voltage environment

All-dielectric structure and light weight provide easy installation and good electromagnetic resistance

Railways, power and telecommunication pole routes

Can be used in areas suffered from frequent lightning

Ideal for transmission lines with high electrical field strength

Suitable for installation on poles and on the power distribution network

Aerial self-supporting applications at short, medium and long span distances
Ideal Solution by Using ADSS Cable
ADSS (All Dielectric Self-Supporting) Cable is suspended from poles or towers in telecommunication and power outside plant application without shutting off the power. Especially with its AT (Anti-tracking) sheath, the cable can be applied when the electric field induction is above 110KV, and the maximum electric field strength at operating point can reach 220KV.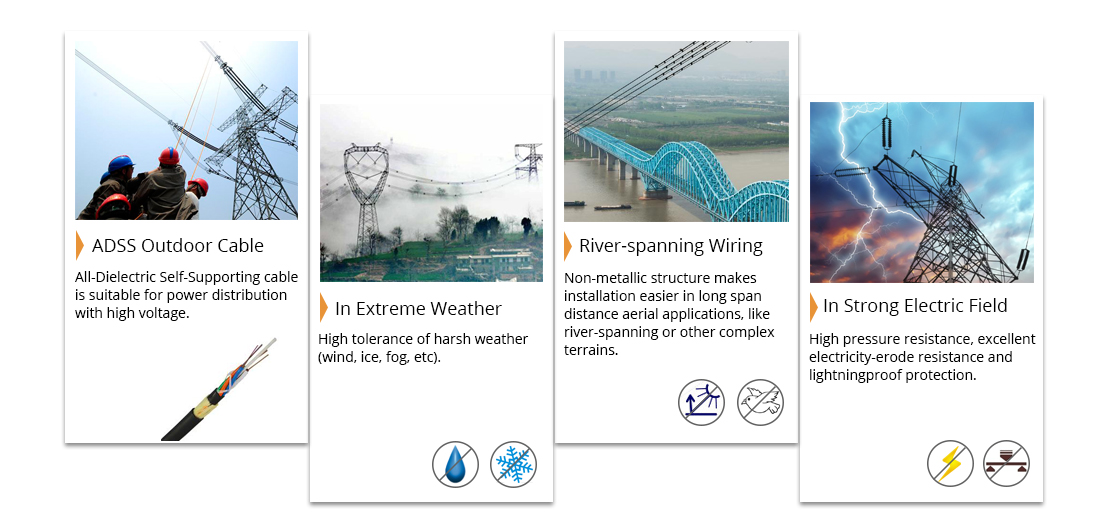 Packaging & Labeling
FS offers two types of cable package. Package 1 is usually for indoor, light weight cables. Package 2 is usually for outdoor, heavy weight cables. Usually we only attach Test Report on the out package of the cable, but we could also mark as your requirements.
More customized needs please contact
sales@fs.com
.