24 Fibers SM OS2, Double-Armored Double-Jacket, Flame-retardant, Stranded Loose Tube, FRP Strength Member Waterproof Outdoor Cable
GYFTZA53 use fiber reinforced plastic as central strength member to improve the tensile strength. The armor structure is with APL sheath longitudinally covered with corrugated steel-tape armored polyethylene outer sheath, which provide good crush resistance performance and moisture proof ability. Applied with LSZH flammability rating outer shealth, the cable has good flame-retardant performance. A layer of water-blocking material is also applied around the cable core to prevent water ingress.


| | | | |
| --- | --- | --- | --- |
| Cable Type | Double-Armored Outdoor | Fiber Count | 24 Fibers |
| Construction | Stranded Loose Tube | Fiber Type | Singlemode G.652D |
| Inner/Outer Jacket | PE (Black) | Central Strength Member | FRP |
| Cable Diameter | 14mm | Weight | 210kg/km |
| Armor Layer | Corrugated Steel Tape & Aluminum Tape | Application | Buried and Duct |
| Tensile Strength (short/long term) | 3000/1000N | Crush Load (short/long term) | 3000/1000 (N/100mm) |
| Bending Radius (short/long term) | 20D/10D(mm) | Operating/Storage Temperature | -40 to +60°C |
Feature and Application
Low attenuation and dispersion

FRP central strength member

Good mechanical and temperature performance

Stranded loose tube improves the tensile strength

Double-jacket structure enusres moisture resistance and crush resistance

Steel tape and aluminum tape enhances water-blocking & moisture-proof performance

Adopted to outdoor distribution and harsh environment

CATV & computer networks system

Used for duct and buried laying method

Long distance and local area network communication

Suitable for frequent lightning area and anti-electric field

Specially used where good flame-retardant performance expected
Ideal Solution by Double-Armored Direct-buried Cable
This double-armored direct-buried Cable has good waterproof, flame-retardant performance and anti-electromagnetic interference ability, can be used for duct and direct buried application, suitable for frequent lightning area and anti electric field.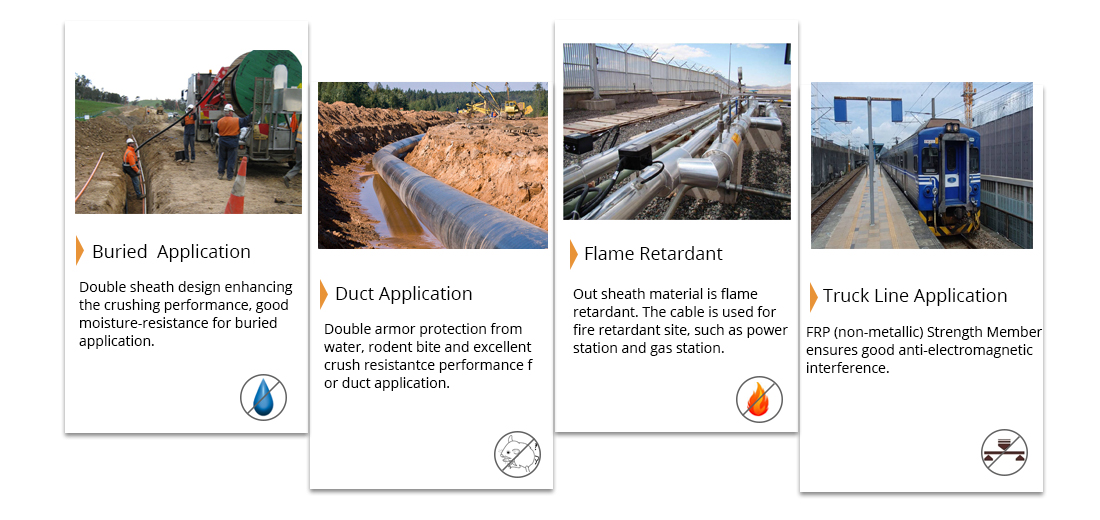 Packaging & Labeling
FS offers two types of cable package. Package 1 is usually for indoor, light weight cables. Package 2 is usually for outdoor, heavy weight cables. Usually we only attach Test Report on the out package of the cable, but we could also mark as your requirements.
More customized needs please contact
sales@fs.com
.