4 Fibers Singlemode 9/125 OS2, LSZH, Single-Armored Indoor Tight-Buffered Breakout Fiber Optical Cable MCAC

The cable consists of several 0.6mm tight buffer fibers, armored flexible metal tube, a layer of Kevlar yarn, and a outer jacket. It is an ideal choice for direct connectorization. It's the easiest fiber cable to install where direct termination of connectors to sub-units and direct run to panels and equipment is desired.
| | | | |
| --- | --- | --- | --- |
| Cable Type | Tight-Buffered Breakout Tube | Fiber Count | 4 Fibers |
| Armor Layer | PSP | Fiber Type | Single-mode G.652D(Blue) |
| Outer Jacket | LSZH | Inner Jacket | PVC |
| Out Sheath Diameter | 4.0mm | Weight | 70kg/km |
| Tensile Strength (long/short term) | 150/300N | Crush Load (long/short term) | 3000/5000 (N/100mm) |
| Bending Radius (long/short term) | 10D/20Dmm | Operating /StorageTemperature | -40 to +60°C |
---
Feature And Application
•Soft, agility, convenience for connect.
•LSZH Jacket provide good fame resistant performance.
•Good mechanical property and environment property.
•High compression resistant, high tensile resistant, rat–bite resistant.
•Used for pigtails and patch cords.
•Suitable for indoor level and vertical cabling.
•Ideal for use in optical distribution frame.
•Used in optical connections in optical apparatus and equipment.
---
Ideal Solution by Using Breakout Cable
Breakout cables are used anywhere multiple fibers must be run from one point to another. Since each fiber is protected by strength members and a jacket, breakout cables are often used in horizontal spaces between work areas and a telecom or equipment room. They are also used within the building fiber backbone for connecting the telecom room to the equipment room in a hierarchical topology. Breakout cables can be used between patch panels or plugged directly into equipment.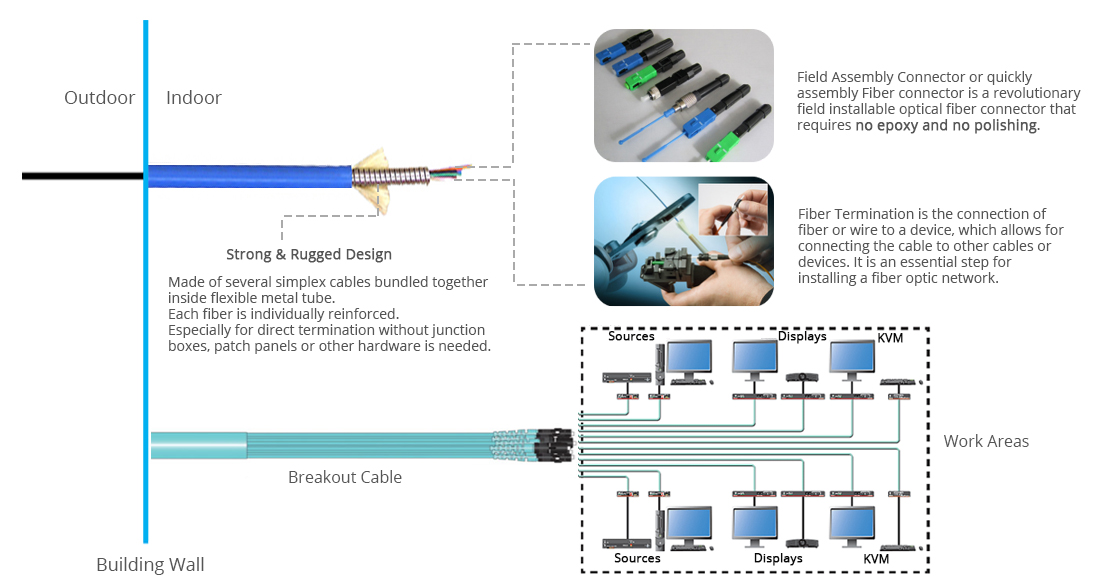 ---
Packaging & Labeling
FS offers two types of cable package. Package 1 is usually for indoor, light weight cables. Package 2 is usually for outdoor, heavy weight cables. Usually we only attach Test Report on the out package of the cable, but we could also mark as your requirements.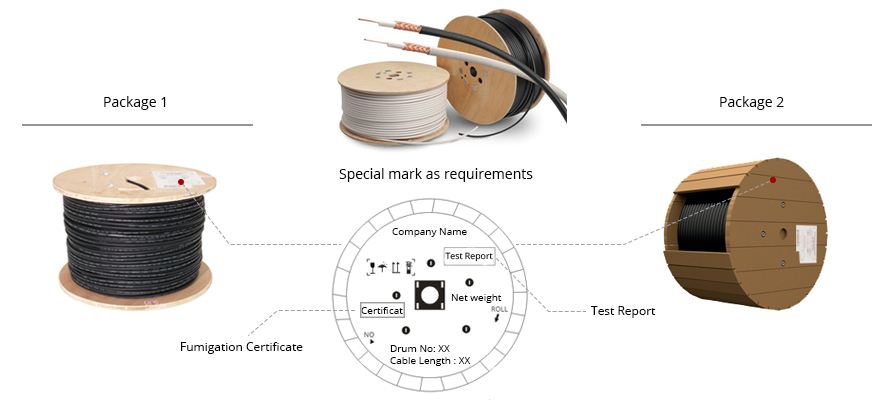 ---