These central loose tube optical fiber ribbon cables are suitable for installation in aerial or duct environment for communication between bureaus, metropolitan network, access network and is especially suitable for the situation where high-density fibers is expected.

The tube is wrapped with a layer of PSP longitudinally,excellent crush-resistant performance. Between the PSP and the loose tube water-blocking material is applied to keep the cable compact and watertight. Two parallel steel wires are placed at the two sides of the steel tape,to ensure tensile strength. The cable is completed with a single polyethylene (PE) sheath.
Item Details
Fiber Count : 4 Fibers
Strength Member Materials: Steel Wire
Fiber Type: Singlemode G.652D (Default)
Armor Layer: PSP
Outer Sheath: PE (Default)
Cable Structure



Features

Light weight, small diameter, easy to lay.

Good mechanical and temperature resistant performance.

Low dispersion and attenuation.

The centrally-situated loose tube minimizes the influence of lateral crush.

Good moisture-resistance, water blocking, and flexibility.

Two parallel steel wires ensure tensile strength.

Good Tensile Strength and Crush Resistance performance.

Application

Laying modes: Aerial & Conduit/Duct.

Bureaus network.

Metropolitan network.

Access network
Package
Package 1
Package 2
Package 1: usually for indoor cable, light weight cables.
Package 2: usually for outdoor cable, heavy weight cables
Usually for each roll, the cable length is 2km, but we could provide customized package for different cable lengths.
Mark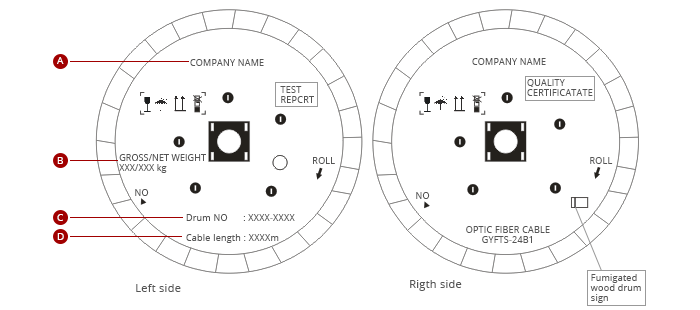 Usually we only attach Test Report on the out package of the cable, but we could also mark as your requirements, such as:
1. Company Name
2. Cross / Net weight
3. Drum No: XX
4. Cable Length : XX
Our Factory

Fiber Coating

Gel Filling

SZ Strand

Sheath cover

Production Line

Warehouse


Cable production throughout the chart