24 Fibers Outdoor Wall Mounted Distribution Box

Outdoor Wall Mountable Fiber Terminal Box is mainly used for connecting the indoor/outdoor optical cables, patch cords and pigtails to realize fiber optic cable termination, use and management. It can avoid unexpected damage to the fiber to provide solid protection and management for FTTX network.

Note: This box comes with splice tray, but no any pigtails or adapters.
Product Specification
Material
201 stainless steel
IP Protection
IP55
No. of Adapter/Port
24
24 Fibers Splice Tray
1
Suitable Adapter
Simplex SC (with Flange)
Duplex LC with SC Footprint (with Flange)
Max. Capacity of Fiber
24 Fibers (SC Adapter)
48 Fibers (LC Adapter)
Installation Type
Wall mount
Color
Milk white
Operating Temperature
-20°C~ +60°C
Storage Temperature
-20°C~ +60°C
Atmosphere Pressure
70KPa~106KPa
Dimensions (HxWxD)
17.91"x15.94"x3.15" (455x405x80mm)
* Note: For other type adapters, please contact at sales@fs.com.
---
Product Highlights
24 Fibers Outdoor Wall Mountable Fiber Terminal Box
Wall mountable for both indoor and outdoor FTTH application
High quality enclosure provides protection from wind, rain, and other contaminants
Cable management limits fiber radius and adds strain relief

---
A Flexible and Reliable Fiber Terminal Box
Extra Security
Provided locking system enhances the security of this product.


Optimal Seal
Blanking plugs to ensure an optimal seal of all cable entries without damaging the cables.
Easy Installation
Adapter slots for installing adapters, without screws and tools.

---
Simple and Easy Connection
Pigtails fiber and adapters (not included in the product) and fiber optic splice protection sleeves can be easily installed in the outdoor wall mounted fiber terminal box for fiber fusion and termination.

---
Outdoor Distribution Box for FTTH Application
Featured with waterproof, dustproof and anti-aging, the outdoor fiber terminal box can be placed in corridor, outdoor wall and so on of outdoor FTTH application. It can realize the connection between optical cable and fiber pigtail and protect the optical fiber from accidental damage.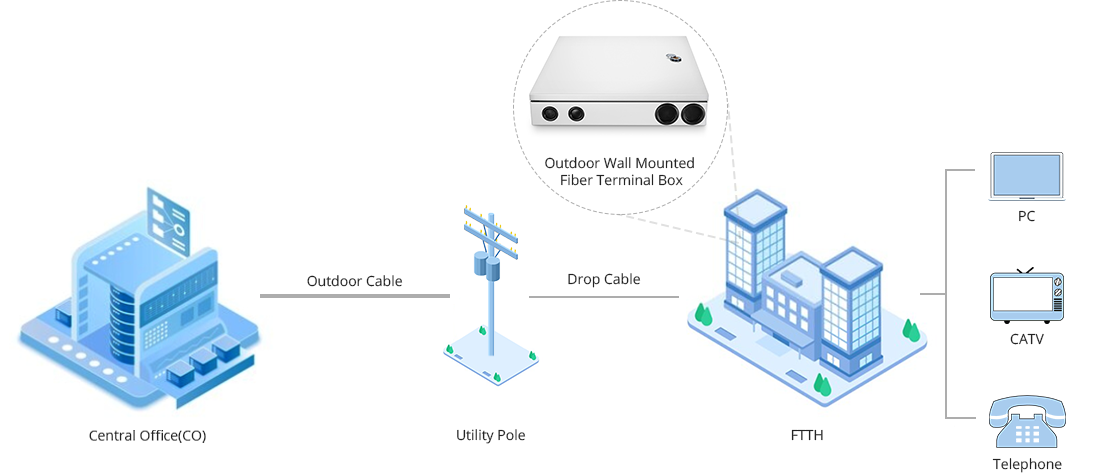 ---