1x8 Blockless Fiber PLC Splitter, Singlemode, 900μm Fiber, SC/APC Connector

Planar lightwave circuit (PLC) splitter is a type of optical power management device that is fabricated using silica optical waveguide technology to distribute optical signals from Central Office (CO) to multiple premise locations.

Blockless PLC splitter has stronger fiber protection than bare fiber splitter, which is a miniaturization result of cassette splitter. It's mainly used for various connection and distribution boxes or network cabinets.
Product Specification
| | | | |
| --- | --- | --- | --- |
| Package Style | Mini Module | Configuration Type | 1x8 |
| Fiber Type | Singlemode G.657A1 | Connector Type | SC/APC |
| Input/Output Fiber Diameter | 900μm | Input/Output Fiber Length | 1.5m |
| Insertion Loss | ≤10.6dB | Return Loss | ≥50dB |
| Loss Uniformity | ≤0.8dB | Directivity | ≥55dB |
| Polarization Dependent Loss | ≤0.2dB | Temperature Dependent Loss | ≤0.5dB |
| Wavelength Dependent Loss | ≤0.3dB | Operating Bandwidth | 1260~1650nm |
| Split Ratio | 50/50 | Steel Tube Dimensions (HxWxD) | 0.16"x2.36"x0.28" (4x60x7mm) |
| Operating Temperature | -20~70°C | Storage Temperature | -40~85°C |
---
Quality Certifications
This product is in conformity with ISO9001. This system is valid to a company engaging in development, production and supply service of fiber optical products. Please

contact us

to learn more.

This product meets applicable RoHS requirements. The RoHS directive restricts the use of ten hazardous materials in the manufacture of various types of electronic and electrical equipment: lead, mercury, cadmium, hexavalent chromium, polybrominated biphenyls, polybrominated diphenyl ethers, and four different phthalates. Please

contact us

to learn more.

This product fully accords with the WEEE, which is an environmental regulation of the European Union and aims to enhance the improvement of collection, treatment and recycling of products at the end of their life. Please

contact us

to learn more.
---
Product Spotlights
Splitter Ratios

Equal splitter ratios for all branches
Operating Wavelength

1260nm -1650nm (full wavelength)
Low Insertion Loss
---
1x8 Blockless PLC Splitter in FTTH Solution
Blockless PLC splitter can integrate multiple functions onto a single chip to significantly reduce size and cost. It is widely used in PON networks to realize optical signal power management. The following figure shows 1X8 blockless PLC fiber splitter interconnected with GPON OLT and ONT through fiber optic splice closure.

| Item No. | ID# | Description |
| --- | --- | --- |
| 1 | 64169 | GPON OLT SFP 1490nmTx/1310nmRx 2.5GTx/1.25GRx Class B+ 20km DDM Transceivers |
| 2 | 12285 | SC UPC to SC APC Simplex PVC/LSZH/OFNP 9/125 Single Mode Fiber Patch Cable |
| 3 | 32479 | 2 Fibers Singlemode, FRP Strength Member, Self-supporting FTTH Drop Cable |
| 4 | 29073 | 24 Fibers 2In-3Out/3In-2Out Heat Shrinkable Type Dome Fiber Optic Splice Closure |
| 5 | 12491 | 1 x 8 PLC Fiber Splitter, Mini Module, 900μm, SC/APC |
| 6 | 42472 | Simplex SC/APC 9/125 Single-mode Fiber Optic Pigtail - 0.9mm PVC Jacket |
| 7 | 48491 | SC/APC to SC/APC Simplex Singlemode Fiber Optic Adapter |
| 8 | 41917 | SC APC to SC APC Simplex 2.0mm PVC(OFNR) Single Mode Fiber Patch Cable |
| 9 | 26388 | Fiber Optic Cassette Cleaner for LC/SC/FC/ST/MU/D4/DIN Connector |
---
Product Highlights
Blockless PLC Splitter
1X8 PLC splitter, uniform distribution of optical signal
Small size, with the splitter type of mini module, SC/APC connector
Ideal for EPON, GPON, FTTH/FTTX network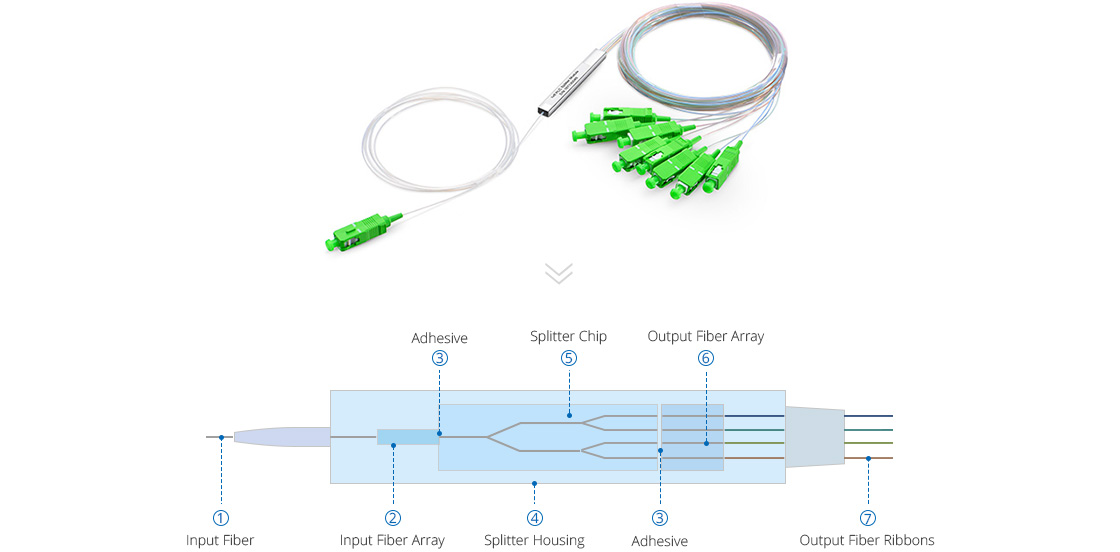 ---
Perfect Details of 1X8 Blockless PLC Splitter

1x8 Splitting, SC/APC Connector
Low insertion loss, low polarization dependent loss, low back reflection, and good uniformity.
Excellent Quality Chips
Loss of light is not sensitive for wavelength, and it can meet the transmission needs of different wavelengths.


Compact Structure
Small size, it can be directly installed in a variety of transfer box and just take up little space.
Exquisite Packaging
The design and packaging is exquisite to ensure the product in good condition.
---
Simple and Easy Connection
Blockless PLC splitter can be easily installed in fiber splice closure, optical distribution box for space saving and no need to splice.

---
Best Alternative for FTTx Solution
Being installed in an outside plant enclosure, PON splitter is used to distribute or combine optical signals, which gives carriers the ability to split optical signals to multiple homes or businesses.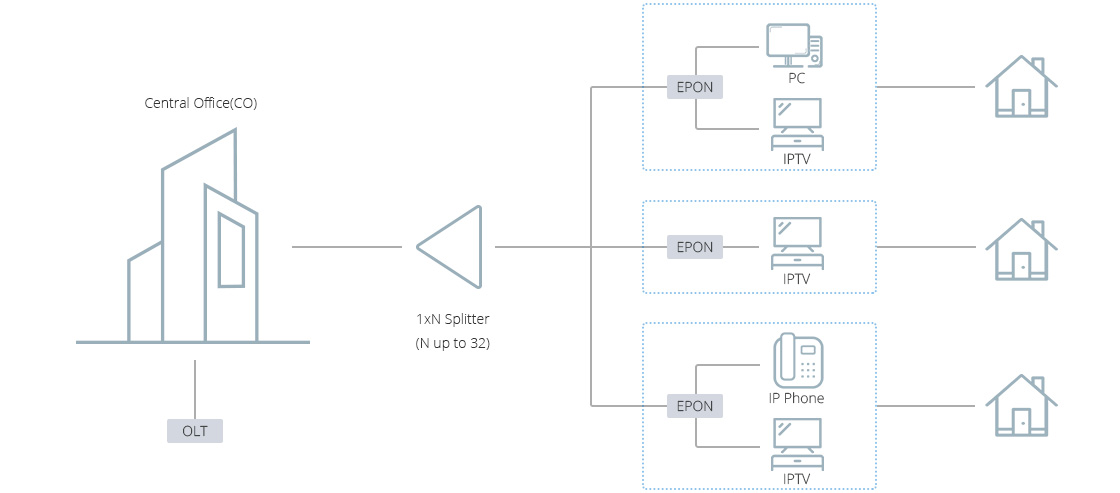 ---
Comparison between PLC Splitter and FBT Splitter

---