4/8 Channels CCWDM Mux Demux, Dual Fibre, Optional Connectors and Housing

Compact coarse wavelength division multiplexers (CCWDM Mux) is the mini version of CWDM Mux. Compared with traditional CWDM technology, CCWDM technology uses free-space optics platform which can significantly improve optical performance, in a package less than 1/4 the size of conventional CWDM modules. Main advantages of CCWDM Mux are high wavelength accuracy and stability, low insertion loss, high isolation and low PDL (polarization dependent loss). It's protocol and rates transparent supporting such applications as the CWDM system, PON networks, and CATV Links.
Product Details
| | | | |
| --- | --- | --- | --- |
| Number of Channel | 4/8/16/18 | Wavelength | 1270-1610nm |
| Channel Spacing | 20nm | Channel Bandwidth | ±6.5nm |
| Line Type | Dual fiber | Technology | Free space |
| Connector | LC/SC/FC/ST, UPC/APC polish | Housing | FMU/1U rack/ABS module |
| 1310nm Port Pass Band Width | 1260nm~1360nm | 1550nm Port Pass Band Width | 1520nm~1620nm |
| Operating Temperature | -40°C~+85°C | Storage Temperature | -40°C~+85°C |
---
Resources
CWDM OADM over CWDM Network

Learn more


Get a Tailored OTN Solution

Learn more


---
Customized Service
Compact CWDM Mux Demux
Ultra low insertion loss and high channel isolation
Extended temperature range and high reliability
Applicable to CWDM system and optional special service

---
Unique Free-Space Technology
The CCWDM Mux adopts Free-Space technology, which uses light propagating in free space to wirelessly transmit data. Inside the device, adjacent signal channels are cascaded by parallel beam instead of the fiber. This saves a lot of space for package box, and the unique workmanship also helps CCWDM Mux Demux with low insertion loss.

---
Dual/Single Fiber Bi-directional Transmission
Dual fiber, the same wavelength is used for both the transmit and receive directions.
Single fiber, "Two-way traffic" is achieved on one single fiber by using one wavelength in the transmit direction and another in the receive direction.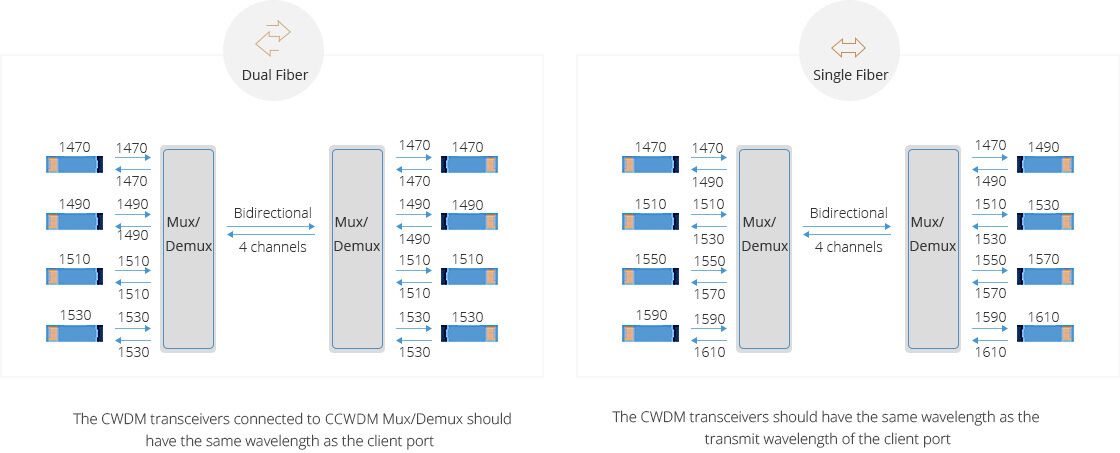 ---