By FS Project Designer2020-04-24

AllKiosk
Industry: IT Services
Location: United States
Background
To cope with the fast business growth and deliver more value to customers, enterprises are always in need of increased network capacity and better system performance. One of our customers, a rapidly growing aerospace technology company located in Arizona, is devising a plan to lift network speed with an optimal IT infrastructure.
Challenge
The company has a two-story building with a data room of approximately 256 utilized ports, which is linked to another building consisting of roughly 100 ports. They expected to set up 3 or 4 48-port PoE switches and 8 more stackable S3900-48T4S switches as access switches. And a 10G network switch like S5850-48S6Q (48*10Gb+6*40Gb) is required as a data backbone or core switch in both buildings. They demanded a cost-effective 10G solution to feed the current network traffic and is scalable enough for further expansion.
Solution
After considering factors such as cost-efficiency, delivery time and reliability, FS innovates the network design with all our Ethernet switches:
We use a S5850-48T4Q 10GBase-T switch to replace S5850-48S6Q 10G SFP+ switch as top of rack (ToR) switch. The interconnections between the S5850-48T4Q switch and the server is achieved via 10G Cat6a Ethernet cables, saving the cost on purchasing SFP+ transceivers. These ToR switches are then uplinked to S5850-48S6Q switches at the aggregation layer via cost-efficient 40G QSFP+ DACs.

The S1600-48T4S PoE switches and the stackable S3900-48T4S switches are all aggregated to the S5850-48S6Q switch with low-cost 10G SFP+ DACs. The 10G DACs are ideal for connection within racks and between adjacent racks.

4×S3900-48T4S switches are stacked as a single entity. The switch stacking can be achieved through 10G SR transceivers or 10G SFP+ DACs. We choose 10G SFP+ DACs to cut down the overall costs. Generally, up to 6 S3900-48T4S switches can be stacked together. This video illustrates the steps for stacking switches.

These two buildings are located within 500ft, so 2 lanes of high-performance, reliable 10G OM3 bend insensitive fibers (BIFs) are placed to connect the aggregation switches of each building.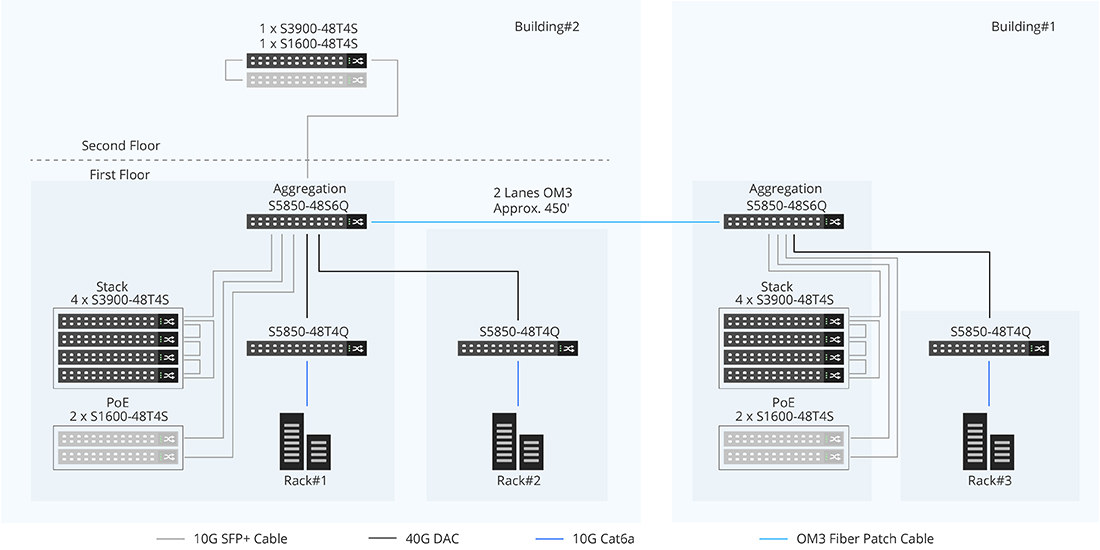 

S3900-48T4S 48-Port 10/100/1000BASE-T Gigabit L2+ Stackable Managed Ethernet Switch with 4 10Gb SFP+ Uplinks
US$ 434.00


S5850-48T4Q 48-Port 10GBASE-T L3 Managed Ethernet Switch with 4 40Gb QSFP+ Uplinks
US$ 4,160.00


1m (3ft) Cisco SFP-H10GB-CU1M Compatible 10G SFP+ Passive Direct Attach Copper Twinax Cable
US$ 9.80


2ft (0.6m) Cat6a Snagless Shielded (SFTP) PVC CMX Ethernet Network Patch Cable, Blue
US$ 1.90


S5850-48S6Q 48-Port 10Gb SFP+ L3 Managed Ethernet Switch with 6 40Gb QSFP+ Uplinks
US$ 3,600.00


5m (16ft) Cisco QSFP-H40G-CU5M Compatible 40G QSFP+ Passive Direct Attach Copper Cable
US$ 46.00
Conclusion
FS successfully assists this customer in renovating the access and aggregation layer of a 10G network. This project is a typical enterprise-level network solution that fit for small and middle business. With over a decade's experience in designing data center cabling solutions and network infrastructure, FS helps customer build highly available network that delivers more stable and reliable services.