Non-unitized Tight-Buffered Distribution Indoor Cable

Tight-Buffered Distribution Cable contains several tight-buffered fibers bundled under the same jacket with kevlar strength members and sometimes fiberglass rod reinforcement to stiffen the cable and prevent kinking. With aramid yarn as a reinforcing member, the cable is light weight, softness and easy to peel. It is widely used as pigtails and jumpers for communication equipments.
Product Specification
| | | | |
| --- | --- | --- | --- |
| Cable Type | Tight-Buffered Distribution Cable | Fiber Count | 24 Fibers |
| Flammability Rating | Riser (OFNR) | Fiber Type | Multimode 50/125 OM4 (Aqua) |
| Cable Diameter | 8.5mm | Cable Weight | About 70kg/km |
| Tensile Strength (long/short term) | 534/1780N | Crush Load (long/short term) | 200/1000 (N/100mm) |
| Bending Radius (long/short term) | 10D/20D (mm) | Operating/Storage Temperature | -20 to +60°C/-5 to +50°C |
---
Features and Applications
• Light weight and compact
• 900μm tight-buffered fibers can be directly terminated
• Flexible, flame-retardant & color coded outer jacket
• FRP central strength member
• For premises wiring
• Work as pigtails and patch cords
• Optical communication cables for inside plant installations
• As backbone in LANs
---
Ideal Solution for Distribution Cables
Distribution cable can be direct connected to optical equipment for the fibers normally have a 900µm buffer. The terminated fibers may be directly connected to equipment without use of a patch panel. The cable is widely used in backbone and horizintal wiring.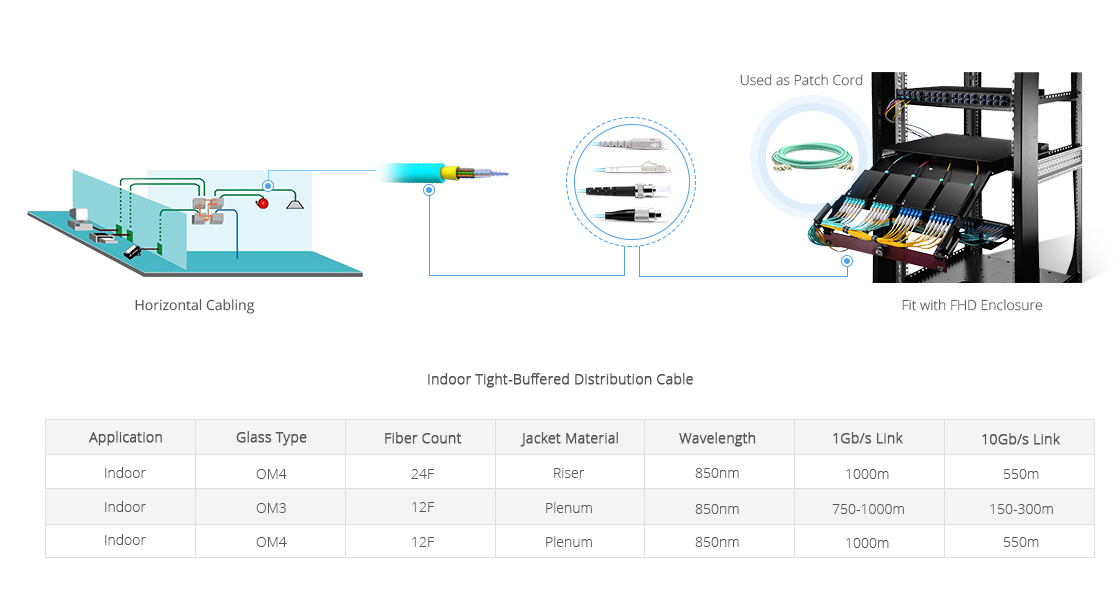 ---
Packaging & Shipping
FS.COM offers standardized packaging of cable, and we can ship it as soon as possible for adequate inventory. We pack the cable with roll, then put it into carton. The package provide good protection for cable. Usually we only attach test report on the out package of the cable, but we could also mark as your requirements.