4/8/16/20 Channels DWDM Mux Demux, Single Fiber, Side-B, Optional Connectors and Housing

FMU Series DWDM Mux Demux is usually used for long-haul transmission where wavelengths are packed tightly together over the C-band, up to 48 wavelengths in 100GHz grid(0.8nm) and 96 wavelengths in 50GHz grid(0.4nm). It's protocol transparent and suit applications including 10/1G Ethernet, SDH/SONET, 16/8/4/2/1G Fibre Channel, FTTx and CATV.

Main advantages of our products are its passive nature – no power supply or cooling necessary, robustness – no special microclimate requirements, and low insertion loss - extend maximum reach of DWDM technology. A variety of wavelength combinations, port configurations and special port options can be supported, different package type can be customized.
Product Details
Number of Channel
4/8/16/20
ITU Grid
C15-C62
Channel Spacing
100GHz (0.8nm)
Channel Passband
±0.11nm
Connector
LC/SC/FC/ST, UPC/APC polish
Special Service
Monitor/Expansion/1310nm port
Technology
TFF (Thin Film Filter) (4ch, 8ch)
AAWG (Gaussian) (16ch, 20ch)
Housing
FMU/FUD/1U rack/ABS module
Operating Temperature
-40°C~ +85°C (TFF)
-5°C~ +65°C (AWG)
Storage Temperature
-40°C~+85°C
---
Resources
WDM Solution for Data Center Interconnect

Learn more


Get a Tailored OTN Solution

Learn more


---
Customized Service
High-Density Modules and Integrated Manageability
FS provides a large set of tailored DWDM Mux Demux to meet your specifications. Its compact and flexible design saves rack space, which are beneficial for the manageability and interconnectivity of WDM Netwrok.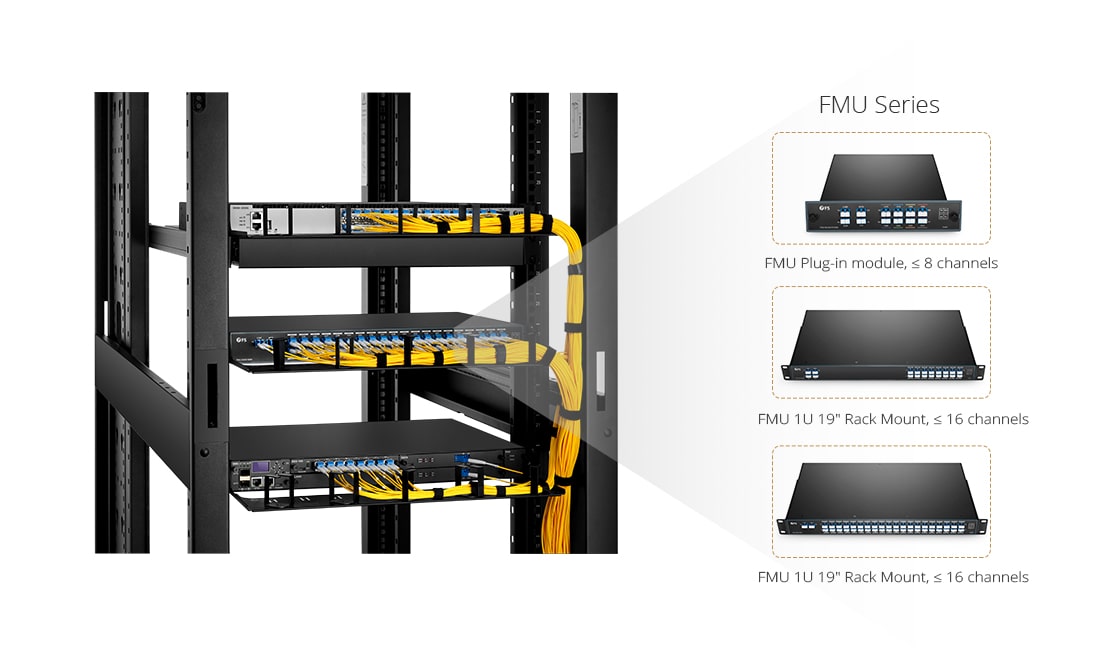 ---
4-48 Optional DWDM Channels in Low Loss C-Band
In compliance with ITU-T G.694.1, channel spacings of 50 GHz (0.4 nm), 100 GHz (0.8 nm) or 200 GHz (1.6 nm) can be provided. But most DWDM systems use 100 GHz spacing from C15-C62 or 50 GHz spacing from CH15-CH62.5, which allows to organize up to 48 separate data channels over single fiber.

---
Dual/Single Fiber Bi-directional Transmission
Dual fiber, the same wavelength is used for both the transmit and receive directions. Single fiber, "Two-way traffic" is achieved on one single fiber by using one wavelength in the transmit direction and another in the receive direction.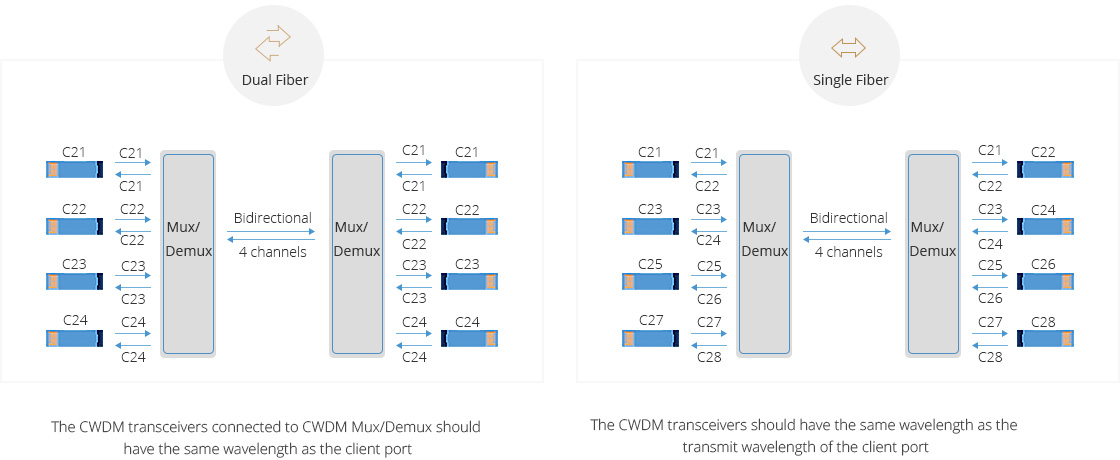 ---
Special Service and Connectors
LC/SC/FC/ST, UPC/APC polish available for line port, client port and special service port.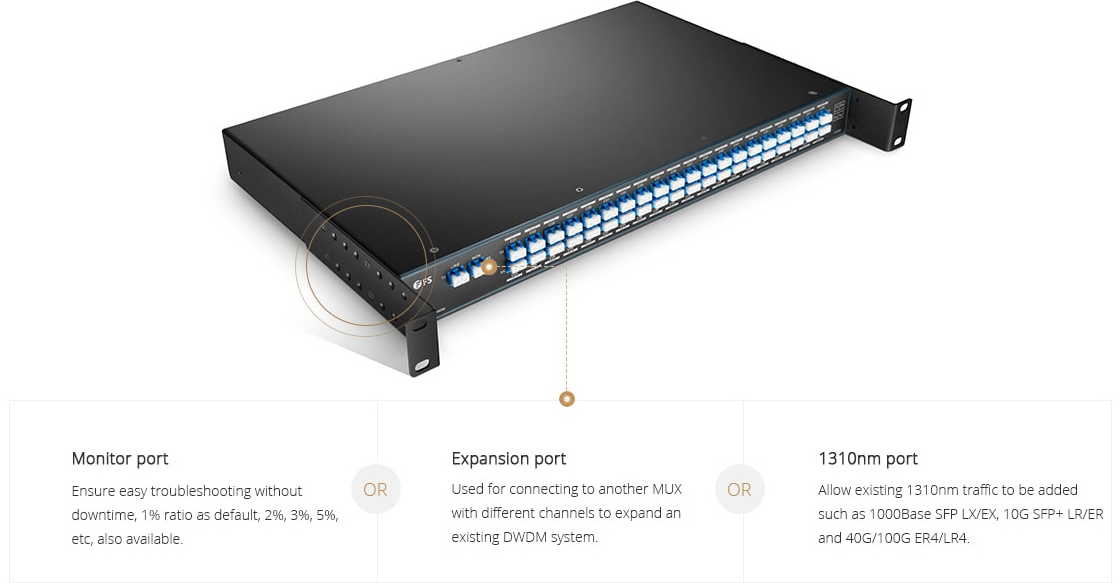 ---
Housing and Enclosure
FS provides 4 different package options for dual fiber DWDM Mux Demux, including FMU & FUD plug-in module, ABS pigtailed module and 1U/2U 19" rack mount, as well as the matched chassis.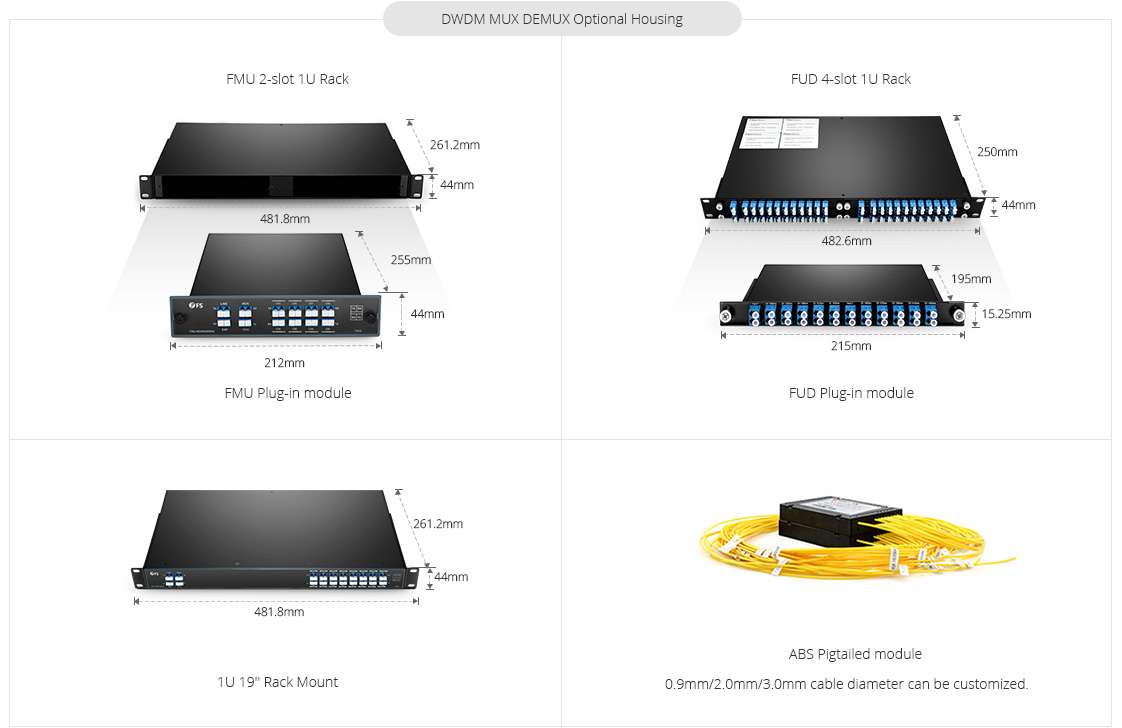 ---
Structure and Dimension of ABS Pigtailed Module
The ABS pigtailed module of single fiber DWDM Mux Demux has 3 kinds of dimension.

---
Cost Effective DWDM Single Fiber Applications in Long Haul
In single fiber applications, the wavelengths amplified by EDFA are split into two spectral bands by red/blue splitters at both ends. Then the wavelengths are connected to two muxes, each transmitting and receiving different wavelengths for reducing overall costs.

Tips
• When it is not in use, please capped with a clean dust cap, and keep adapter ports and fiber connectors clean.
• Attached sticker describes the specifications of MUX, which improves deployment flexibility for your WDM system.
---