Background
The increasing popularity of mobile terminals equipped with wireless local area network (LAN) functions has driven the installation of wireless LAN access points (APs) in families. Our customer prepared to build a home network with FS router, PoE+ switches, APs and fiber related products, but encountered some issues while installing. The following part illustrates the program designed by us and how it is put into use with the help our solution team.Challenge1. There are four VLANs, as shown in the table below. Only the management VLAN 16 is allowed to have access to all VLANs. The rest VLAN are all isolated from each other.VLAN IDNameDevice IncludedPort AllocationVLAN 16ManagementFS Router, S5500-48T8SP Switch, S1150-8T2F Switches, printers, NASPort 37-38 on S5500-48T8SPVLAN 26SecurityNVR, IP CamerasPort 17-24 on S5500-48T8SPVLAN 36IoT DevicesTVs, Smart Home SystemPort 27-28 on S5500-48T8SPVLAN 56Guest WiFiGuest DevicesPort 3-8 on S5500-48T8SP2. A port on the router needs to act as the gateway of four VLANs.3. The AP possesses dual SSID. Our customer wants to segregate them and assign them with DHCP addresses.
Solution
Configure the Access Control List at the TE1 port of S5500-48T8SP connecting to the router, so as to reject the mutual visits from VLAN 56, VLAN 26 and VLAN 36, and to allow the passage of all VLANs, that is to say, all VLAN can have access to VLAN 16.
Configure four sub-interfaces on S5500-48T8SP. S5500-48T8SP POE+ switches support APs, camera and TV while connecting the S3900-24T4S switch via the trunk link through which the tagged frame can be transmitted. The MLAG is configured on the two fiber links between SS5500-48T8SP and S3900-24T4S, increasing the bandwidth and redundancy.
Allocate the two SSID into different VLAN under the bridge mode of the AP. Configure the link between wireless AP and S5500-48T8SP as the trunk link to realize the transmission of tagged frame from different VLAN and the management of APs.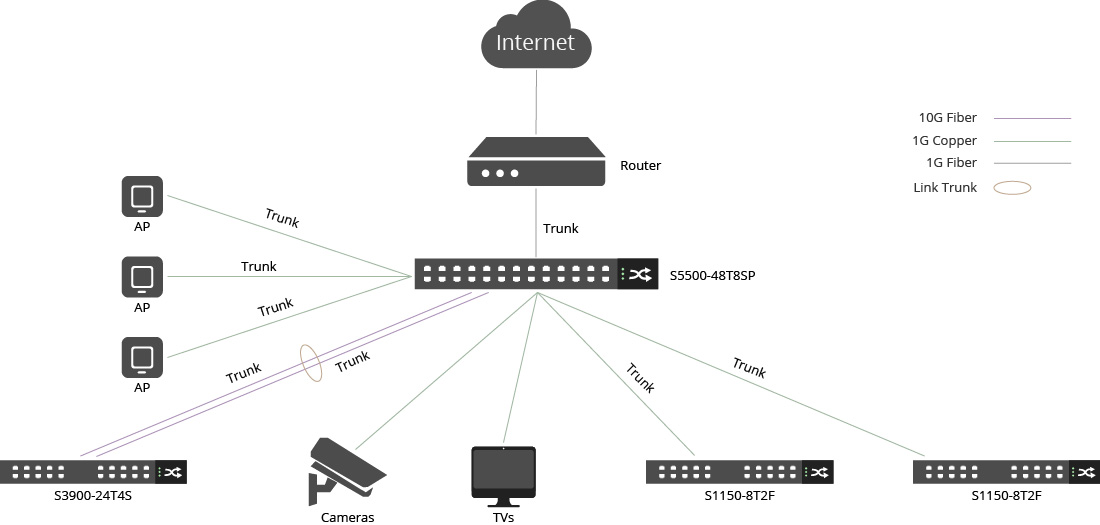 Conclusion
This solution is for a home network concerning VLAN, ACL, DHCP, NAT, subinterface, and Wi-Fi, taking into consideration both the cost efficiency and network redundancy. "The engineer is a great help, patient with me, I am learning as well", said our customer who is satisfied with the whole solution.
Related Resource
A personalized Wi-Fi 6 network solution in a hotel to anticipate today and future's customer expectations and network operations.

Considering that the business is in rapid growth, the IT company upgraded its network with an FS Wi-Fi 6 solution in the 5-floor building where will house up to 1,000 employees in the future.

FS campus network solution brings high-bandwidth, high-security with easy O&M for efficient education.