Background
To cope with the fast business growth and deliver more value to customers, enterprises are always in need of increased network capacity and better system performance. One of our customers, a rapidly growing aerospace technology company located in Arizona, is devising a plan to lift network speed with an optimal IT infrastructure.ChallengeThe company has a two-story building with a data room of approximately 256 utilized ports, which is linked to another building consisting of roughly 100 ports. They expected to set up 3 or 4 48-port PoE switches and 8 more stackable S3900-48T4S switches as access switches. And a 10G network switch like S5850-48S6Q (48*10Gb+6*40Gb) is required as a data backbone or core switch in both buildings. They demanded a cost-effective 10G solution to feed the current network traffic and is scalable enough for further expansion.SolutionAfter considering factors such as cost-efficiency, delivery time and reliability, FS innovates the network design with all our Ethernet switches: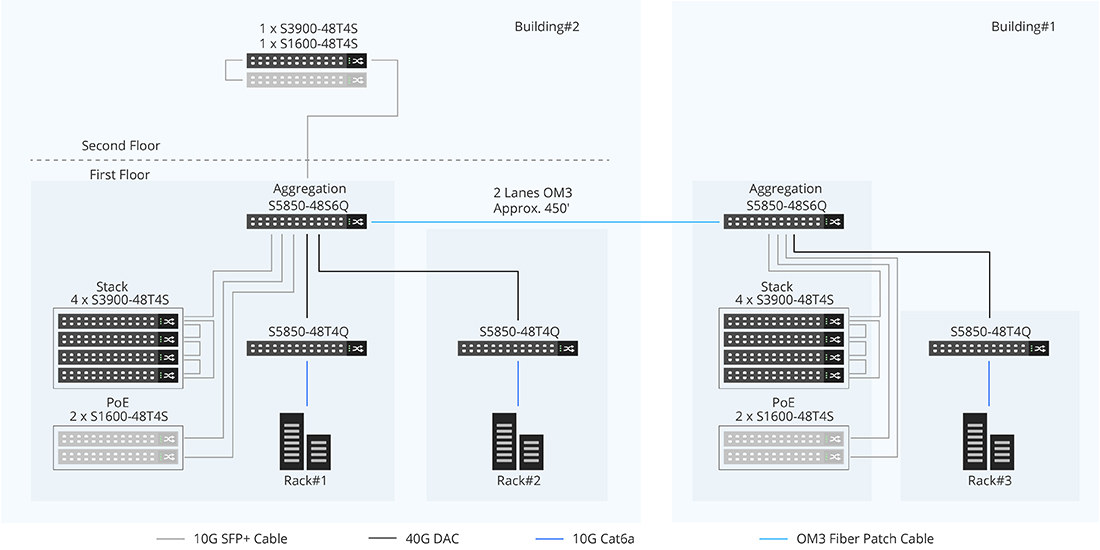 Conclusion
FS successfully assists this customer in renovating the access and aggregation layer of a 10G network. This project is a typical enterprise-level network solution that fit for small and middle business. With over a decade's experience in designing data center cabling solutions and network infrastructure, FS helps customer build highly available network that delivers more stable and reliable services.
Related Resource
Considering that the business is in rapid growth, the IT company upgraded its network with an FS Wi-Fi 6 solution in the 5-floor building where will house up to 1,000 employees in the future.