Alcatel-Lucent QSFP-4X10G-C3M Compatible 40G QSFP+ DAC Breakout Cable (3-meter, Passive, QSFP+ to 4 SFP+, 30AWG)
| | | | |
| --- | --- | --- | --- |
| Alcatel-Lucent Compatible | QSFP-4X10G-C3M | Vendor Name | FS.COM |
| Connector Type | QSFP+ to 4 SFP+ | Max Data Rate | 40Gbps |
| Minimum Bend Radius | 21mm | Wire AWG | 30AWG |
| Cable Length | 3m (9.84ft) | Jacket Material | PVC (OFNR) |
| Temperature | 0 to 70°C (32 to 158°F) | Protocols | 40G InfiniBand 8x DDR, 4x QDR, 10G/40Gigabit Ethernet, Fibre Channel |
---
Quality Testing Program
---
Quality Certifications
Please Note: Installing a third party transceiver does not void your network equipment warranty. Network equipment manufacturers all have guidelines stating that warranty support on their products will not be affected.
---
Partial Test Show
FS.COM Test Bed has completely upgraded for now which set us apart from other third party products provider. All of the 10G, 40G, 100G transceivers and direct attach cables have already passes through the test on the latest top-brand switches.
The original switches marked "Unique" below could be found nowhere but at FS.COM test center, eg: Juniper MX960 & EX 4300 series, Cisco Nexus 9396PX & Cisco ASR 9000 Series, HP 5900 Series & HP 5406R ZL2 V3(J9996A), Arista 7050S-64, Brocade ICX7750-26Q & ICX6610-48, Avaya VSP 7000 MDA 2, etc.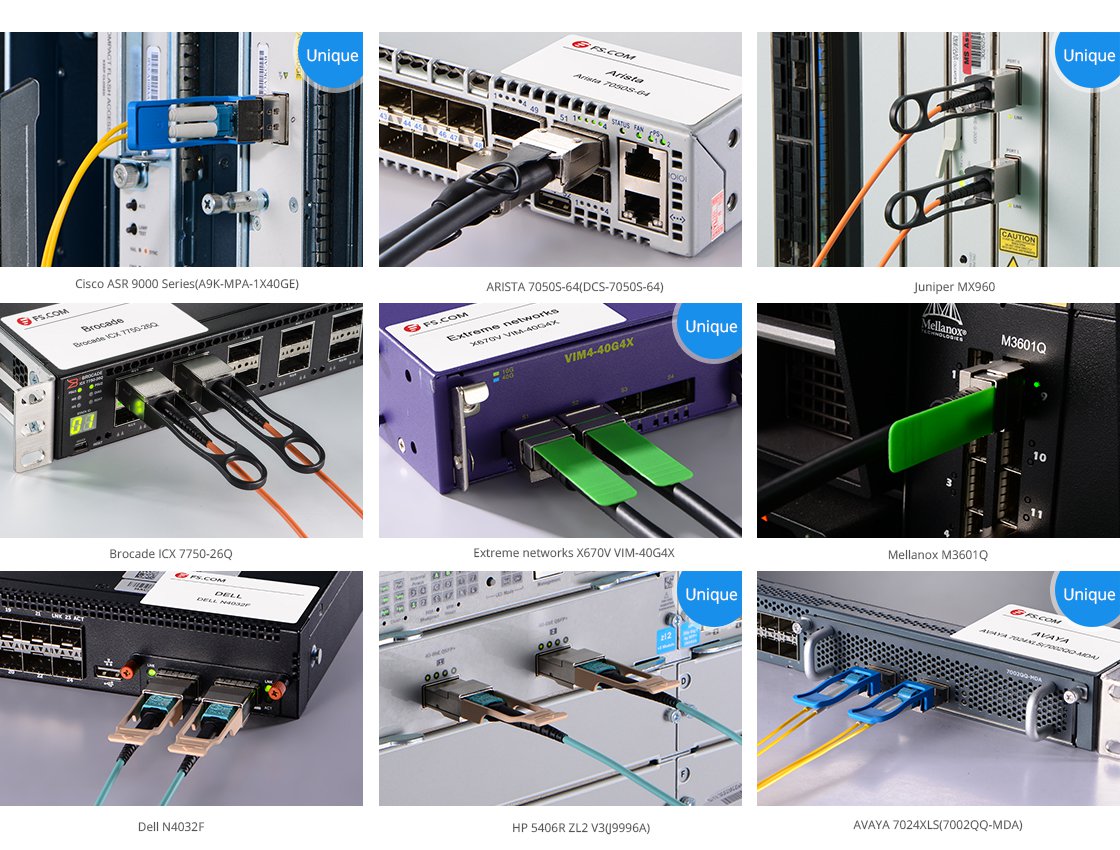 ---
Platform Support
Alcatel-Lucent QSFP-4X10G-C3M is supported on a wide range of Alcatel-Lucent equipment.
FS S5850-32S2Q Switch

Nexus 3524 Switch

Nexus 3000 Series - N3K-C3016Q-40GE

Nexus 7000 Series - N7K-F312FQ-25

Nexus 6000 Series - N6004-96Q

Nexus 7000 Series - N77-F324FQ-25

Nexus 3000 Series - N3K-3172TQ

Nexus 6000 Series - N6K-C6001-64T

Nexus 3000 Series - N3K-C3064TQ-32

FS S5850-48S2Q4C Switch

Nexus 3000 Series - N3K-C3064TQ-10GT

Nexus 6000 Series - N6004-B-24Q

Nexus 3000 Series - N3K-C3064PQ-10GE

Nexus 3000 Series - N3K-C3132Q-40GE

Nexus 3000 Series - N3K-C3064PQ

Nexus 5000 Series - 5672UP

Nexus 7000 Series - N7K-M206FQ-23L

Nexus 3000 Series - N3K-3132PQ

Nexus 3000 Series - N3K-3172PQ

Nexus 5000 Series - N55-M4Q

Nexus 2000 Series - N2K-C2248PQ

Nexus 3000 Series - N3K-C3172TQ-10GT

Nexus 3000 Series - N3K-C3064PQ-10GX

Nexus 6000 Series - N6K-C6001-64P

FS S5850-48S6Q Switch

Nexus 6000 Series - N6K-C6004-M12Q

Nexus 3000 Series - N3K-C3172PQ-10GE

Nexus 5000 Series - 56128P
---