Rack Mount Optical Distribution Frame

An optical distribution frame (ODF) is a frame used to provide cable interconnections between communication facilities, which can integrate fiber splicing, fiber termination, fiber optic adapters & connectors and cable connections together in a single unit. The basic requirement is ODF should allow for easy access to the connectors on the front and rear of those ports for insertion and removal. It is usually used as the interface between optical transmission network, optical transmission facility and between optical cables in access network of optical fiber subscribers. It can also work as a protective device to protect fiber optic connections from damage.

FS.COM 19" ODF offers flexible cabling access, expandable frame design and comprehensive cable management. A series of optical distribution frames of 12 fibers, 24 fibers, 48 fibers, 72 fibers and 96 fibers counts type are available.
Product Specification
No. of Adapter/Port
12/24/48/72/96/144/576/792
12 Fibers Splice Tray
1/2/4/6/8/12/48/66
Suitable Adapter
Simplex SC (with Flange)
Duplex LC with SC Footprint (with Flange)
Max. Capacity of Fiber
12/24/48/72/96/144/576/792 Fibers (SC Adapter)
24/48/96/144/192/288/1152/1584 Fibers (LC Adapter)
Housing
19'' Rack Mount/Floor Mount
Material
SPCC
Operating Temperature
-10°C~ +60°C
Storage Temperature
-25°C~ +85°C
Atmospheric Pressure
70KPa~106KPa
Relative Humidity
≤85% (+30°C)
* Note: 1. This ODF comes with splice tray, but no any pigtails or adapters.
2. For other type adapters, please contact at sales@fs.com
---
Quality Certifications
This product is in conformity with ISO9001. This system is valid to a company engaging in development, production and supply service of fiber optical products. Please

contact us

to learn more.

This product fully accords with the WEEE, which is an environmental regulation of the European Union and aims to enhance the improvement of collection, treatment and recycling of products at the end of their life. Please

contact us

to learn more.
---
Product Highlights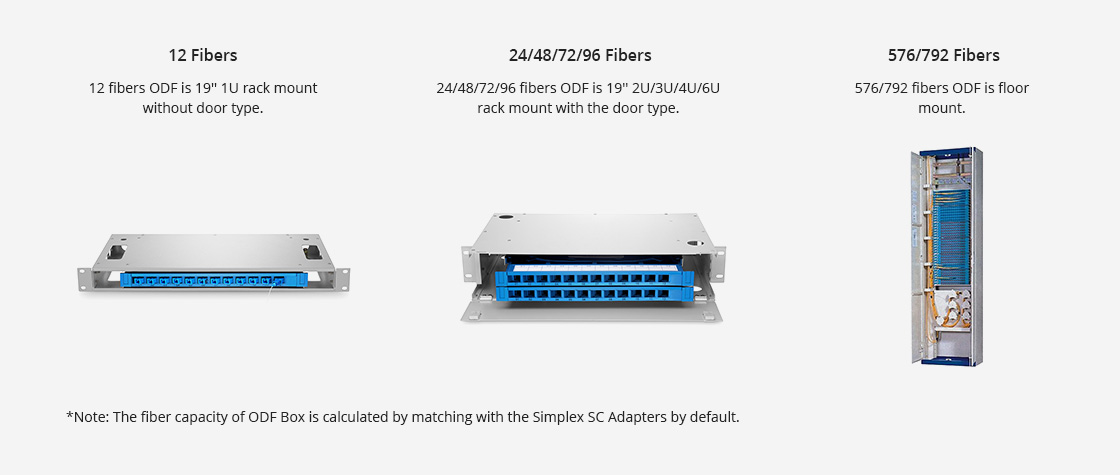 ---
A Flexible and Reliable ODF Box
Reserved Side Space
Reserved side space for ease of cables incoming and outgoing.


Marking Record
Identification label of adapter ports for easy recording of the core sequence number or the transmission path.
Fiber and Pigtail Protection
Splice tray controls bend radius of fibers and pigtails to protect signal integrity.

---
Simple and Easy Connection
Pigtails and adapters (not included in the product) can be easily installed in the ODF Box for the fiber terminal splicing and optical path adjusting. It also can store the excess pigtails and protect optic fibers.
---
Sufficient for High Density Network
Optical Distribution Frame is used for wiring connections between optic cables and communication devices. And the ODF is high density, which suits for the higher requirements network for the capacity, function and structure, such as to use with the photoelectric transmission equipment of central office.