Wavelength Division Multiplexing (WDM) System
As the demand for integrated solution of different business type is being increased, adding more fibres is not a sustainable approach especially when the budget is limited. WDM system is required as it maximizes the usefulness of fibre and helps optimize network investments by increasing bandwidth and allowing different data streams to be transmitted simultaneously over a single optical fibre network.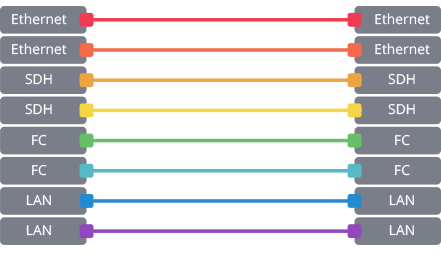 Traditional-Individual fibres each channel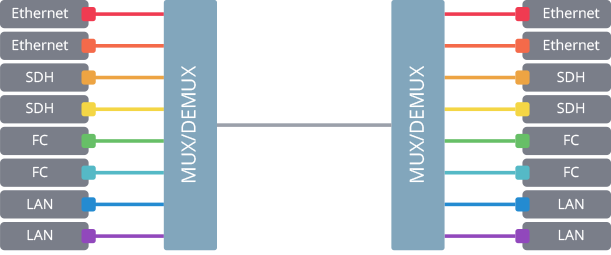 WDM System- MUX/DEMUX combines multiple channels on a single dark fibre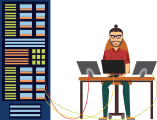 Customer Background
The client comes from a Texas ISP company, they successfully provide innovative, quality IT Services and Software solutions to individuals and organizations. Their new project plan is to upgrade and add new services&features to serve more customers in the world.
What Were the Challenges?
They have troubles in setting up new business between two data centres, the end users will need 10Gbps/40Gbps Ethernet and 16Gbps Fibre Channel business, how to achieve the connection under lowest costs?

Multi-Type Business Solution

The distance between the two datacenters is about 20 to 25km, we need 10G/40G Ethernet and 16G Fibre Channel business.

Necessary Monitoring System

The system must have the monitoring capacity of the DWDM infrastructure (Mux/Demux, WDM Converter and additional components of the solution).
What Solution has FS Offered?
Based on the requirement of the customer, we designed a DWDM monitoring system for him. The DWDM technology lies in the ability to send different data types over fibre networks in the form of light, choosing DWDM system is the best way for multi-type business. With the using of OPD, the remote monitoring and management are available.

Multi-type Business & Cost-effective

Adopting 40CH DWDM MUX solution for transmitting the multi-type business transmission like Ethernet and Fibre Channel, maximizing fibre utilization, as to generate substantial savings.

Easy Monitoring & Management

FS WDM system with OPD cards allows to monitor link situation and business cards' status. The network management system provides full fault, configuration, performance, security management and instant push emails.

Flexible Upgrade

The business can be flexibly added, changed or removed as for the flexible configuration of the whole solution, meeting customers long-term business requirements for future-ready.
40CH DWDM Multi-type Business Solution Product List
Description
Price
Stock
Qty
Add to Cart
DWDM MUX/DEMUX
35887

40CH C21-C60 DWDM MUX, with 1310nm Port for 40G and Monitor Port

A$2,460.00

294 In Stock

·12

In Stock, Melbourne, Victoria

·171

In Stock, U.S. Warehouse

·41

In Stock, EU Warehouse

·62

In Stock, Asia Warehouse

·8

In Stock, SG Warehouse

Multiservice Modules & Chassis
30515

4CH Multi-Rate WDM Converter (OEO), 8 SFP/SFP+ Slots, Pluggable Module

A$1,100.00

176 In Stock

·16

In Stock, Melbourne, Victoria

·

In Stock, U.S. Warehouse

·98

In Stock, EU Warehouse

·52

In Stock, Asia Warehouse

·10

In Stock, SG Warehouse

72284

20dB Gain 13dBm Output Pre-Amplifier C-band DWDM EDFA, Pluggable Module

A$1,907.00

89 In Stock

·

In Stock, Melbourne, Victoria

·34

In Stock, U.S. Warehouse

·27

In Stock, EU Warehouse

·28

In Stock, Asia Warehouse

70941

OPD (AIU) Optical Power Detection, Pluggable Module

A$630.00

Available

·

In Stock, Melbourne, Victoria

·

In Stock, U.S. Warehouse

·

In Stock, Asia Warehouse

39214

1U Managed Chassis Unloaded, Supports up to 4x EDFA/OEO/OPD Modules

A$540.00

214 In Stock

·14

In Stock, Melbourne, Victoria

·56

In Stock, U.S. Warehouse

·58

In Stock, EU Warehouse

·86

In Stock, Asia Warehouse

Optical Transceivers
35209

FS Compatible 40GBASE-PLR4 QSFP+ 1310nm 10km MTP/MPO Transceiver

A$435.00

1643 In Stock

·

In Stock, Melbourne, Victoria

·751

In Stock, U.S. Warehouse

·891

In Stock, EU Warehouse

·1

In Stock, Asia Warehouse

11589

FS Compatible 10GBASE-SR SFP+ 850nm 300m DOM Transceiver Module

A$26.00

114233 In Stock

·2021

In Stock, Melbourne, Victoria

·83681

In Stock, U.S. Warehouse

·22925

In Stock, EU Warehouse

·4242

In Stock, Asia Warehouse

·1364

In Stock, SG Warehouse

73084

16G DWDM SFP+ C17-C61 100GHz 40km DOM Transceiver

A$1,600.00

Available

·

In Stock, Melbourne, Victoria

·

In Stock, U.S. Warehouse

·

In Stock, Asia Warehouse

44058

FS Compatible C21 10G DWDM SFP+ 100GHz 80km DOM Transceiver

A$362.00

229 In Stock

·5

In Stock, Melbourne, Victoria

·126

In Stock, U.S. Warehouse

·98

In Stock, EU Warehouse

·

In Stock, Asia Warehouse

Optical Cables
40191

LC UPC to LC UPC Duplex 2.0mm Single Mode Fibre Patch Lead

A$5.70

33132 In Stock

·4474

In Stock, Melbourne, Victoria

·7926

In Stock, U.S. Warehouse

·14918

In Stock, EU Warehouse

·4493

In Stock, Asia Warehouse

·1321

In Stock, SG Warehouse

40180

LC UPC to LC UPC Duplex Multimode Fibre Optic Patch Lead

A$5.70

47013 In Stock

·2121

In Stock, Melbourne, Victoria

·29681

In Stock, U.S. Warehouse

·9204

In Stock, EU Warehouse

·5240

In Stock, Asia Warehouse

·767

In Stock, SG Warehouse

66262

MPO Female to 4 LC UPC Duplex 8 Fibres Type B Multimode Breakout Cable

A$59.00

Available

·

In Stock, Melbourne, Victoria

·

In Stock, U.S. Warehouse

·

In Stock, Asia Warehouse

31531

12 Fibres Singlemode 9/125 Double-Armoured, Waterproof Outdoor Cable

A$1.40

Available

·

In Stock, Melbourne, Victoria

·

In Stock, U.S. Warehouse

·

In Stock, Asia Warehouse

Accessories
70010

LC/UPC Singlemode Fixed Fibre Optic Attenuator, Male-Female, 10dB

A$42.00

673 In Stock

·67

In Stock, Melbourne, Victoria

·446

In Stock, U.S. Warehouse

·50

In Stock, EU Warehouse

·110

In Stock, Asia Warehouse

29015

25pcs/Bag 10in.L x 0.5in.W T type Magnetic Velcro Cable Tie-Colorfu

A$14.00

566 In Stock

·20

In Stock, Melbourne, Victoria

·324

In Stock, U.S. Warehouse

·87

In Stock, EU Warehouse

·135

In Stock, Asia Warehouse

39721

NEOCLEAN-EZ Pen One-Push Cleaner for LC/MU 1.25mm Ferrules

A$83.00

1854 In Stock

·160

In Stock, Melbourne, Victoria

·947

In Stock, U.S. Warehouse

·747

In Stock, EU Warehouse

·

In Stock, Asia Warehouse
We Are Here for You
Resources
To learn more about FS technical solutions featured in this, please contact your FS sales representative or FS customer service centre, or visit the following web:
Ask Our Experts
OTN Solution Team
Senior Telecommunication Engineers
Network Design, Redesign and Analysis
Network Planning and Component Selection