N8000-32Q (32*40Gb) 40Gb Open Networking Switch

The FS N8000-32Q (32*40Gb) switch is a Top-of-Rack (TOR) or Spine switch delivers a rich choice of interface speed an density, which can be deployed in a wide range of open networking solutions including large scale layer 2 and layer 3 cloud designs, overlay networks, virtualized or traditional enterprise data centre networks. Combined with Cumulus Linux network operating system, FS N series switches allow customers to deploy fast, high-capacity fabrics, simplified network automation and consistent tools, and help lower operational and capital expenditures. With support for advanced features, including MLAG, VxLAN, SNMP etc, this switch is ideal for traditional or fully virtualized data centre.
The N8000-32Q switch supports current and future data centre requirements, including a x86-based control plane for easier integration of automation tools and compatibility with Software Defined Networks. Additionally, N8000-32Q supports the advanced hardware based VxLAN feature to support over 16M virtual networks.
| | | | |
| --- | --- | --- | --- |
| Ports | 32*40Gb | Operating System | Cumulus® Linux® OS |
| Max. 10Gb Ports | 128 | CPU | Intel Rangeley C2538 2.4Ghz 4-core |
| Max. 40Gb Ports | 32 | Switching Chip | Trident 2 BCM56850 |
| Switching Capacity | 2.56Tbps Full-duplex | Packet Buffer Memory | 12M |
| Latency | 480ns | Max. Power Draw | 300W |
| Airflow Direction | Back-to-Front | Hardware Warranty | 5 Years |
---
Product Spotlight
Layer 3 Features

Support IPv4/v6 routing

Support VRF and VRF route leaking

Protocol-independent multicast (PIM, PIM-SM, PIM-SSM)

Bidirectional forwarding detection (BFD)

Policy-based routing
Layer 2 Features

Support MLAG (clagd daemon)

STP, RSTP, PVRST, PVST, BPDU guard, BPDU filter

IGMPv2/v3 snooping, MLDv1/v2 snooping

Virtual router redundancy
Network Virtualization

VXLAN Support

VXLAN active-active bridging with MLAG
Management

NCLU

Native Linux management tools

DHCP, v4/v6 DHCP relays

Authentication with LDAP, authorization with sudo NTP

Interface configuration management (ifupdown2)

Snapshot and rollback of the entire system
Monitoring & Troubleshooting

Buffer monitoring

SNMPv2 and network-specific MIBs

SPAN, ERSPAN, ACL-based counters, DOM optics data

Dnsutils, syslog, log files

Prescriptive Topology Manager
Supported Optical Transceivers and Cables

40GBASE-SR4 QSFP+

40GBASE-LR4 QSFP+

40GBASE-ER4 QSFP+

40GBASE AOC

40GBASE DAC

40G to 4x10G AOC

40G to 4x10G DAC
---
Product Tree
High Availability Redundant Network Solution for Data Centre.



N8000-32Q (32*40Gb) 40Gb L2/L3 Switch with Cumulus® Linux® OS
A$12,083.00


N5850-48S6Q (48*10Gb+6*40Gb) 10Gb Switch with Cumulus® Linux® OS
A$8,444.00


40GBASE-SR4 QSFP+ 850nm 150m MTP/MPO Transceiver Module for FS Switches
A$57.00


10GBASE-SR SFP+ 850nm 300m DOM Transceiver Module for FS Switches
A$26.00


12 Fibres MTP to MTP Female Plenum (OFNP) OM4 (OM3) Multimode Elite Fibre Trunk Cable, Type B, 1m
A$57.00


LC-LC UPC Duplex OM3 Multimode Fibre Patch Lead 2.0mm PVC (OFNR) 1m
A$6.10


RS-7188 2U, 2-Socket Rack Server with Two Intel® Xeon® Silver 4112 for Data Base Workloads in SMB
A$9,608.00


S5800-48F4S 48-Port Gigabit SFP L2/L3 Switch with 4 10Gb SFP+ Uplinks
A$2,475.00


24-Port Gigabit PoE+ Managed Switch with 4 SFP, 400W
A$539.00


1000BASE-LX/LH SFP 1310nm 10km DOM Transceiver Module for FS Switches
A$10.00
---
Product Highlights
How to Install Cumulus® Linux® License Over Switches
---
Powerful 40Gb Trident II ToR/Spine Switch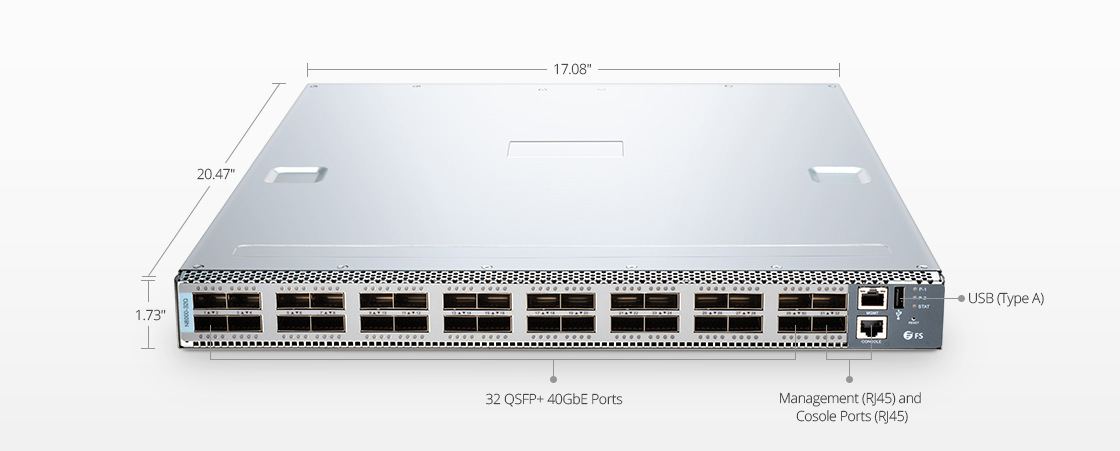 Broadcom Trident II Chip

Eases the bandwidth crunch
2.56Tbps Switching Capacity

Accelerates data processing speed
Advanced Security

Supports ERPS and EAPS etc
---
Highly Reliable Industry-grade Hardware Architecture

---
List of Accessories
Power Supply (Installed)*2
Fan (Installed)*5
Console Cable*1
Power Cord*2
Grounding Cable*1
Screw M4/M6*14
Rubber Pad*4
Rack Mount Bracket*4
Dummy PSU Bracket*1
---