4-96 Channels DWDM Mux Demux, Dual Fibre, Optional Connectors and Housing

FMU Series DWDM Mux Demux is usually used for long-haul transmission where wavelengths are packed tightly together over the C-band, up to 48 wavelengths in 100GHz grid (0.8nm) and 96 wavelengths in 50GHz grid (0.4nm). It's protocol transparent and suited for applications including 10/1G Ethernet, SDH/SONET, 16/8/4/2/1G Fibre Channel, FTTx, CATV, etc.

The main advantages of our DWDM equipment include its passive nature – no power supply or cooling necessary, robustness – no special microclimate requirements, and low insertion loss to extend the maximum reach of DWDM technology. A variety of wavelength combinations, port configurations and housing types can be customised.
Product Details
Number of Channel
4-96
ITU Grid
C15-C62 (≤ 48ch)
CH15-CH62 (> 48ch)
Channel Spacing
100GHz(0.8nm) (≤ 48ch)
50GHz(0.4nm) (> 48ch)
Channel Passband
±0.11nm
Connector
LC/SC/FC/ST, UPC/APC polish
Special Service
Monitor/Expansion/1310nm port
1310nm Port Pass Band Width
1260nm~1360nm
Technology
TFF (Thin Film Filter) (≤ 16ch)
AAWG (Gaussian) (> 16ch)
Housing
FMU/FUD/1U rack/2U rack/ABS module
Storage Temperature
-40°C~+85°C
Operating Temperature(TFF)
-40°C~ +85°C
Operating Temperature(AWG)
-5°C~ +65°C
---
Resources
WDM Solution for Data Center Interconnect

Learn more


Get a Tailored OTN Solution

Learn more


---
Customized Service
4-96 Optional DWDM Channels in Low Loss C-Band
By providing channel spacings of 50 GHz (0.4 nm), 100 GHz (0.8 nm) or 200 GHz (1.6 nm), up to 160 channels can be multiplexed on a single fiber. But most DWDM systems use 100 GHz spacing, 48 channels from C15-C62 or 50 GHz spacing, 96 channels from CH15-CH62.

---
Dual/Single Fiber Bi-directional Transmission
Dual fiber, the same wavelength is used for both the transmit and receive directions. Single fiber, "Two-way traffic" is achieved on one single fiber by using one wavelength in the transmit direction and another in the receive direction.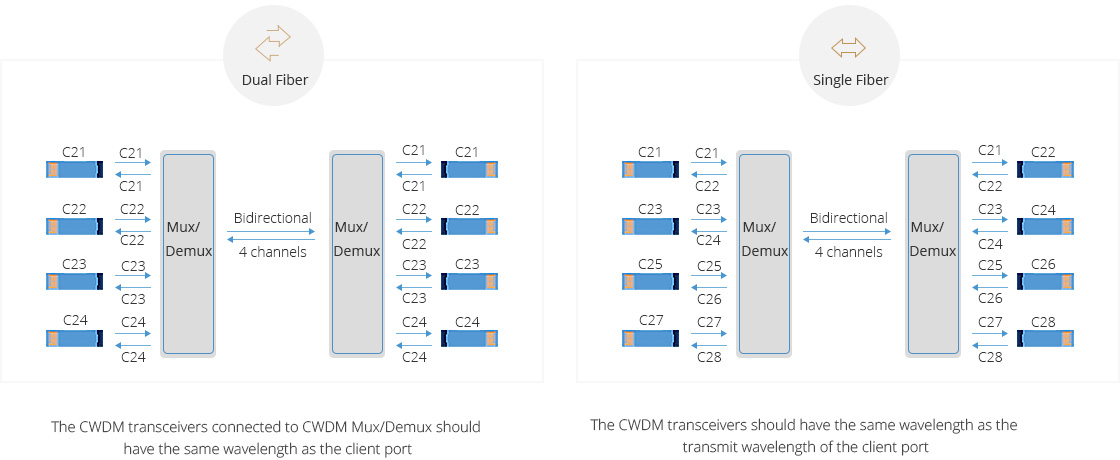 ---
Special Service and Connectors
LC/SC/FC/ST, UPC/APC polish available for line port, client port and special service port.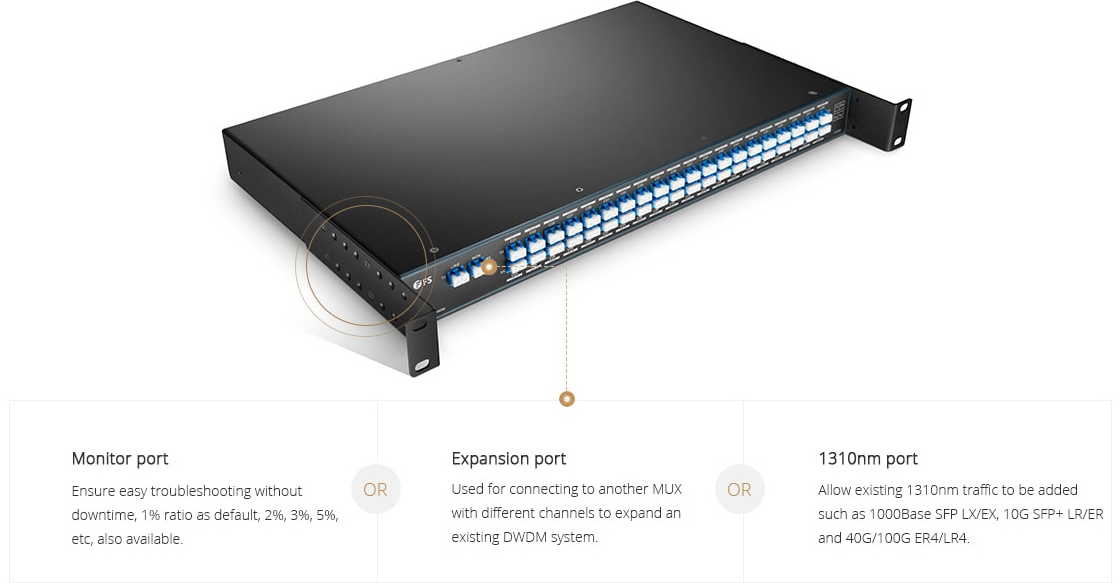 ---
Housing and Enclosure
FS provides 4 different package options for dual fiber DWDM Mux Demux, including FMU & FUD plug-in module, ABS pigtailed module and 1U/2U 19" rack mount, as well as the matched chassis.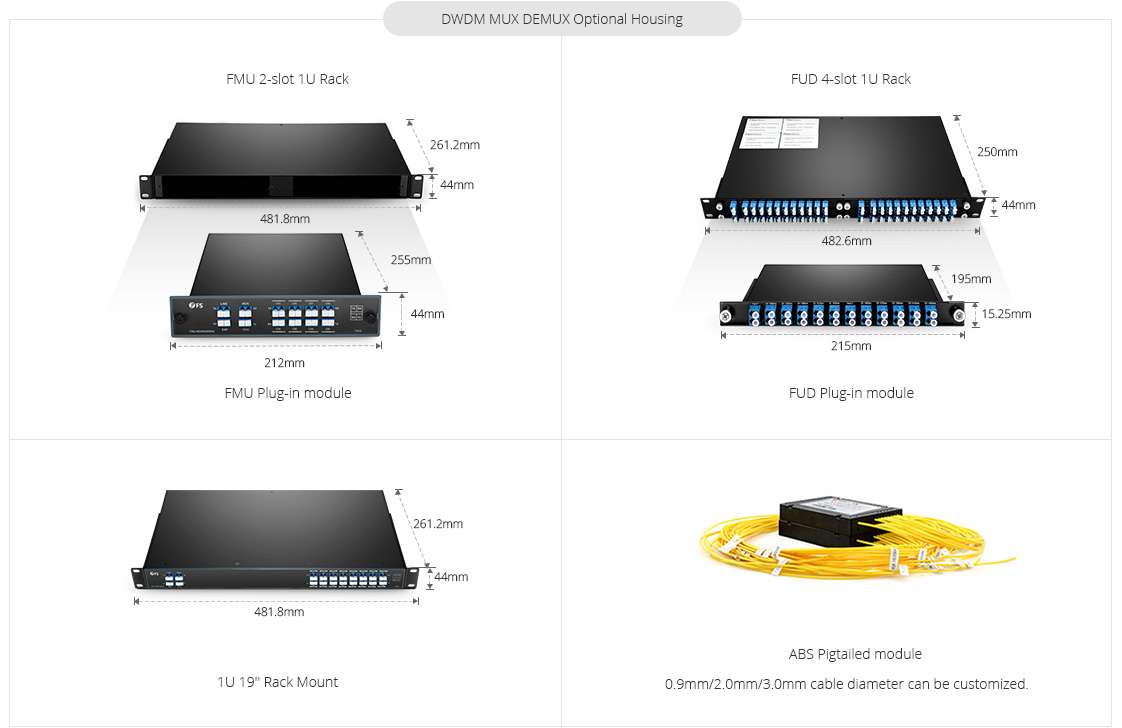 ---
Structure and Dimension of ABS Pigtailed Module
The ABS pigtailed module of dual fiber DWDM Mux Demux has 3 kinds of dimension.

---
Long Haul, High Capacity DWDM Network Solutions
DWDM Mux Demux can increase your network capacity, interconnected seamlessly with EDFA, DCM, etc. to support long haul applications with speed protocols up to 40G/100G.

Tips
• When it is not in use, please capped with a clean dust cap, and keep adapter ports and fiber connectors clean.
• Attached sticker describes the specifications of MUX, which improves deployment flexibility for your WDM system.
---